Chelsea overcome 10 man Stoke
791 //
11 Mar 2012, 12:42 IST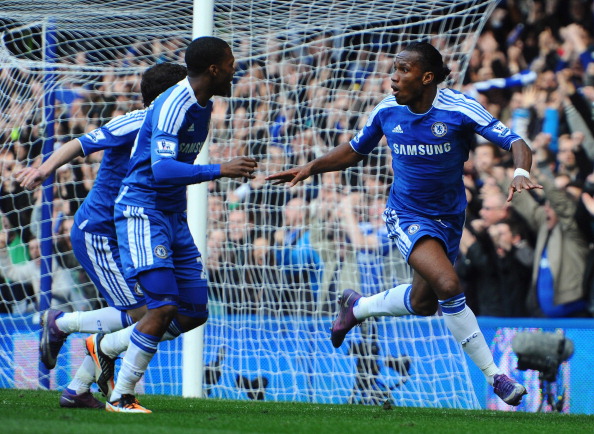 Chelsea  stuttered to a 1-0 victory over 10 man Stoke thereby handing Di Matteo a winning start in the Premier League in what can prove to be a decisive time for the young Italian. A Chelsea legend in his playing days, Roberto Di Matteo shrugged off huge media pressure and the hype and delivered a no-nonsense victory which might not have been pleasing to watch but guaranteed their pursuit towards the elusive fourth spot in the Barclays Premier League table. However Roberto was unable to deny the fact that Chelsea need to improve significantly in the next 3 days in order to mount a spirited comeback and defy all odds to clinch a quarter final spot in the Champions League.
With an eye for the high intensity season defining clash against Napoli at Stamford Bridge, Di Matteo decided to rest key players like Juan Mata, Michael Essien and Daniel Sturridge and instead handed a surprise start to Salomon Kalou. John Terry, fresh from his knee surgery also made a stunning comeback amidst loud applause from the Blues. With the defence leaking goals like the Iraqi navy, his comeback would surely have pacified and intensified the prospects of Chelsea to maintain a clean sheet on Tuesday. However a drab display in front of goal might have been music to the ears of the Napoli scouts who were present to assess Chelsea. Down to 10 men early on due to the stupid dismissal of Ricardo Fuller following his crazy stomp of Ivanovic, Chelsea pressed the trigger button and soon brought on Juan Mata but the score remained 0-0 amidst the growing chagrin at the Bridge. With the Blues unable to even deliver a good chance at goal, save the efforts of Gary Cahill and John Terry and a thunderous volley from Ivanovic  early in the first half which struck the woodwork, Di Matteo brought on Daniel Sturridge to provide the much needed impetus in front of goal. But a touch of class from Juan Mata and Didier Drogba was enough to seal an unconvincing win for the Blues and pacify the resentment growing inside the Bridge. A superb individual display of skill from Juan Mata, arguably the stand out performer for the Blues this season opened up the spirited Stoke defence and Didier Drogba, perhaps providing a lesson or two for the misfiring Torres latched onto the ball and slotted home a decisive goal to hand all three points for Chelsea.
Di Matteo's style, contrasting and opposite to what AVB had unsuccessfully initiated in his days at Stamford Bridge was naturally elated at the end result and decided to downplay the boring and negative display of football from Chelsea.  Di Matteo said: "You can discuss what you want about the past. I'm focused on going forward and getting the team in the right frame of mind to be able to win the next game."
He added: "Sometimes during the season, we have to win like this to get the three points.
"It's not always going to be easy and pretty."
With 2 wins out of two, Roberto Di Matteo, highly regarded as one of the highly talented young managers to have come up recently has certainly made a point . However with the potentially explosive clash against Napoli lurking in front of them, any repeat of mistakes might prove to be costly as they live to fight for another day in their ultimate quest for Champions League football.