Chelsea vs Manchester City: Match Review
752 //
26 Nov 2012, 18:01 IST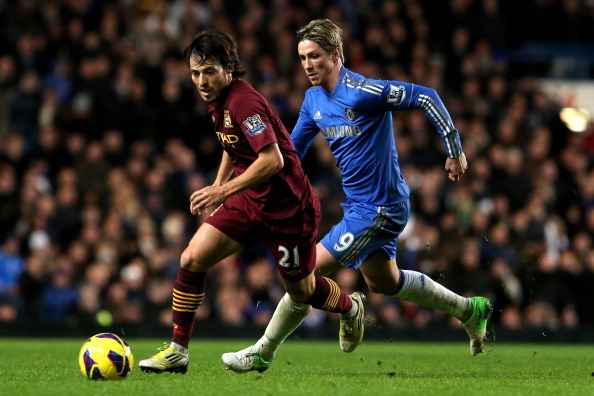 One expects any clash between the 'Big 4′ to be a great one. Sadly, both the members of the 'big 4′ which locked horns yesterday at Stamford Bridge looked very tame at the front and extremely solid at the back, which was Rafa Benitez's primary concern with Chelsea since they had failed to maintain a clean sheet for quite some time now.
Venue: Stamford Bridge
Referee:- Chris Foy
Chelsea- Starting IX- Cech, Azpilicueta, Ivanovic, Luiz, Cole, Ramires, Mikel, Hazard, Oscar, Mata, Torres
Substitutes- Romeu, Moses, Marin, Bertrand, Cahill, Turnbull, Ferreira

Manchester City- Starting IX- Hart, Zabaleta, Nastasic, Kompany, Kolarov, Silva, Toure, Barry, Dzeko, Aguero, Milner
Substitutes- Pantilimon, Balotelli, Javi Garcia, Nasri, Toure, Tevez, Maicon
Kick Off
The match started out on a relatively wet pitch amidst plenty of hostility for our visiting rivals and new manager, the latter perhaps being at the receiving end of harsher treatment. After a few initial exchange of blows, Zabaleta got the first opportunity to actually do some damage, following an unconvincing clearance by David Luiz. After a flurry of passes, Ashley Cole made a last ditch and risky challenge to deny them a shot on goal. On the other end, Torres seemed to be having a lot of trouble shaking off the extremely physically dominant Vincent Kompany, who passed a very late fitness test to secure a spot in the lineup, and Nastasic, who seemed to be dealing with his runs very easily.
The Chelsea fans continued booing their new manager, showing incredible loyalty to Di Matteo, even going to the extent of giving him a standing ovation at the 16th minute; the number's significance being its presence on Di Matteo's blue jersey during his time as a Chelsea player.
Chelsea had their first moment of threat-posing when a lovely pass from Mata was nearly met by Torres, who couldn't maintain it towards the end and the ball was safely collected by Hart. David Silva also had a brilliant chance at goal, but, like his Spanish compatriot, failed to make it work when his header from a Zabaleta cross went sailing above Cech's goal.
Mancini's side continued their relentless assault on the Chelsea goal, who managed to scramble on thanks to excellent defensive work and tonnes of goof ups from the Manchester attacking lineup, especially Edin Dzeko and Sergio Aguero, who failed to head past Petr Cech after Silva had set him up with acres of space and no pressure.
Chelsea had to wait till the end of the first half before finally getting a shot on goal, a rather weak effort and easily collected free-kick by David Luiz.
Half Time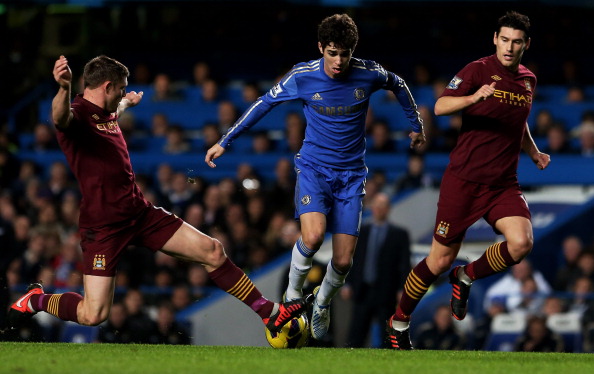 Whatever talking Rafa Benitez had with his boys for the first time in his career at Chelsea at half time started to take effect. Within 7 minutes, Ramires fired in a shot which was inches above Joe Hart's goal. Torres too started playing more physically, while having a personal duel with Nastatic, who ably stepped up to the task, making Lescott's chances of coming back into the first team a whole lot harder.
Man City pegged Chelsea back in full measure in the form of a Yaya Toure strike, which Cech did well to prevent from what would have been the winner. Torres got a chance at goal after Eden Hazard and Mata set him up nicely, which the Spaniard fluffed, sending his left footed shot well beyond Joe Hart and the goal post's reach.
The match seemed to be opening up a bit, and both teams made substitutions in the hopes of opening up the game at Stamford Bridge, which was absolutely drenched by now. While Mikel switched out with Oriol Romeu, Hazard swapped out with a more physical Moses, and the visitors (ironically named the Citizens) brought out Carlos Tevez in place of Dzeko, who seemed to be having a bad run for a change.
Both teams had good opportunities following that, with Cole forcing Hart to make his only acrobatic save of the match, while Manchester brought on Mario Balotelli in place of Sergio Aguero, who seemed rather tame in front of goal. Cech made a fantastic save to deny Nastatic a headed goal from a Silva corner near the death, while Balotelli was booked for faking a face injury following a shoulder-rubbing with Luiz. Both teams failed to break the dead lock and Rafael Benitez got off to a clean sheet start, with the game ending Chelsea 0-0 Manchester City.