David Bentley - A fairy-tale gone horribly wrong
David Bentley, a man whose wikipedia page describes him as an English footballer who plays for FC Rostov (unless you have an outlandish liking for Russian Football, I'd be surprised if you've ever heard of the club) on loan from Tottenham Hotspur. Now, a line or a phrase from a wiki page shouldn't say much about a footballer, should it? But FC Rostov, seriously? A relegation-battling team in Russian top flight for a guy who was destined to be 'the next big thing' of British football. Although, I'm pretty sure that a lower-ranked team in the British top-tier could've easily benefited from his services. Take QPR for instance, an ensemble of world-class rejects, past their prime and ex- recruits of Mark Hughes.
Okay, don't get me wrong. The idea of playing in the Russian Premier League is not something to be frowned upon, especially after Zenit Saint Petersburg chucked all that petroleum money to persuade Brazilian superstar Hulk away from under the noses of Chelsea. The fact that they were willing to shell out an absurd sum for a rather unknown and unproven Lucas Moura verbalizes enough pedigree. With Anzhi Makachuklu/ Makichikli (screw it, the club for which Eto'o plays) having enough money to save the whole of Europe from an economic meltdown, who knows? Maybe the Russian top- flight will have its own share of success stories one day, maybe they'll have their own PSGs and Manchester Citys too. But when the initials of your name coincide with the two most celebrated superstars of the Premier League era (DB, read David Beckham and Dennis Bergkamp), people tend to have expectations. Expectations, which sometimes approach you and bite you in the behind.
Okay, since this piece is not about the potential of Russian club football and is about how Bentley messed up his football career, I'll put things into perspective. David Bentley – a regular, blue-eyed bloke from the suburbs of Cambridge, hailing from a middle-class background with big aspirations. Maybe, just too big. Seized up by the world- famous Arsenal youth academy at the tender age of 13, he had the perfect platform. A senior debut at 16 did nothing to harm his reputation. Hell, he was being compared to Arsenal's very own 'Non- Flying Dutchman', the legendary Dennis Bergkamp (DB10, the curse of initials).
Call it being at the right place at the wrong time, Bentley's escalation up the pecking order coincided with the time when Arsene Wenger was doing his own version of the unthinkable, The Invincibles. Wenger had a world-class squad to his disposal, Bentley's first team chances had received a kick to the curb and it was about to get worse. Loan deals away at Norwich and Blackburn (later made permanent) followed and he ultimately submitted a transfer request in January, 2006, despite having signed a 5- year extension just six months ago. With just one Premier League appearance under his belt for the Gunners, his Arsenal career was over.
 "When I was at Arsenal, it was all about statistics and perfect football. I don't want to play perfect football. I don't want a cross of mine to be a statistic."- Bentley in a 2008 interview with The Daily Mail.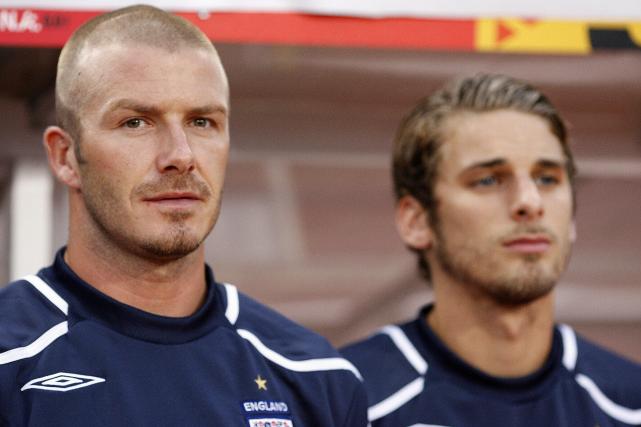 "I can see that [comparison]. His right foot is pretty similar to David's. He's got a great touch, great feel on the ball, and he can deliver that pass." - The ex- England manager Steve McLaren on comparisons between Bentley and Beckham in 2007.
A string of impressive- performances (including a stunning hat- trick in the first match at Old Trafford after permanently signing for Blackburn) in the 2006-07 season meant that a call- up to the England B international team beckoned. A man-of-the-match performance against Albania convinced the coaching staff and supporters alike that England had gotten hold of the 'new David Beckham.' Of course, the right wing, the ability from dead- ball scenarios, the fancy haircuts, the chiseled face, the lack of pace didn't do anything to change their opinion.
A move to the Lancashire club seemed like the perfect way for him to refurbish his career. A 'Player of the Year' award in the debut season was not the most shabby of ways to make heads turn. Seemed like Mark Hughes had steered a new craving into the life of a man who admitted that he had fallen out of love with football at Arsenal. Signing a contract extension, snubbing a transfer approach from Manchester United in 2007 substantiated his willingness to build on whatever success (consecutive 6th and 7th place finishes in the league, huge for a club of Blackburn's stature) he had already had at the club.
 I've done well but we've underachieved as a team. If we can improve, honestly, we are top four. Look at our players, our manager. I'm telling you, we have the capability of the top four.'
Bentley and Blackburn, a match made in heaven, wasn't it? In other news, a call-up to the U-21 championships with England came knocking. An ideal way to validate your place in the national team, you'd say? Well, an unwise and naive David Bentley had other ideas. Citing mental fatigue as a seamless excuse, he blatantly refused the call for national duty, a blunder which landed a permanent, irreparable blow to his England chances. Stuart Pearce, the U-21 manager felt offended, the England faithful dejected, an otherwise impressive career resume had been blotted. Punishment? Excluded from the next international and a permanent place on the not-so-prestigious supporters' hate list.
"Regrets? Of course not. You make decisions, and whether it was right or wrong, I felt at the time it was the right decision for me. That's life, isn't it?"- Bentley, putting it mildly. 
Bentley's career, which had begun to show minute signs of resurrection had hit a roadblock, again. Being labelled as an arrogant, too big for his boots, a better- looking version of Jimmy Bullard didn't help. To make matters worse, Manchester City's money train came calling in 2008, Mark Hughes being among the first acquisitions to be roped in for their cash- equipped 'project'. Blackburn had lost their manager, Bentley lost his mentor, his profession lost its course. A move away from the club, a new setting seemed like the only way forward.
"I really regret leaving Blackburn the way I did. Coming out publicly saying I wanted to leave was a mistake. But so much has been said about me which is wrong."
When it all seemed gloom and doom, David Bentley did catch a lucky break. Tottenham came calling, that too with bag loads of money. A fee of £15 million was finalised, a move to the arch- rivals of his former employers beckoned. Spurs, fair to say, were a work in progress at that time. While Juande Ramos managed to put them through their worst- ever league start in 2008 campaign, Luka Modric was only a quarter of a player of what he's now, keeper Gomes was as reliable in goal as a goalie in front of goal, forwards couldn't score, defenders couldn't defend. And then the White Hart Lane revolution struck, 8 matches in-charge of Bentley and Ramos was sacked, big ol' Harry (Redknapp) came in.
Redknapp, who had previously done the honours of guiding Southampton and Portsmouth towards the drop, had been a veteran in British football. One wouldn't have to be crazy to assume that given all the hype, Harry must've followed Bentley through his career. A glimmer of hope shone. And the glimmer turned into a bountiful of sunshine when Bentley got to start in Redknapp's second game in- charge, a midweek fixture, the small matter of North London derby between the best of pals, the you know which clubs. Ten minutes into the game, almost 35- yards away from goal, a lean guy with blonde hair, with number 5 on the back of his jersey, pops up and bam! An absolute scorcher into the back of Arsenal's net, the red part of the Emirates, flabbergasted!
 "I know that I get criticised when things aren't going in the right direction but that's why (the goal) I play football. I'm so excited, it's brilliant!"- an over- zealous Bentley in the post- match interview.
Unfortunately, David has had only a handful of moments to savour during his time at the lane, also pronounced as White Hart Pain, illustrating the nature of his stint. Harry came with a plan in mind, a plan which aimed at undoing everything that had taken place at the club under Ramos's regime. The director of football went out, the coaching staff followed, even the ball- boys were put to the sword. Him bringing in five new players in January, 2009 (his first transfer window as a Spurs manager) was a testament to that.  The sudden alterations of the club didn't go down well with him. A victim of two storms – bought by a sacked manager who had no idea where and how to use him and being played under a new manager who didn't consider him a part of his plans. Languid and characterless performances didn't help his cause either. He was slowly being frozen out of the system.
Bentley, as I mentioned, had the uncanny habit of finding trouble where it couldn't find him. Already out of favour at the lane, David didn't do his chances of entering Harry's good books any good in August, 2009 when he drunk-drove his £90,000 Porsche 911 turbo into a lamp post. Bentley considered it a personal and professional wake-up call, Redknapp was displeased out of his senses. Having already had a miraculous escape as a victim of drunk-driving himself in the 90′s, he wasn't in any mood to let Bents wriggle out of this scandal. Bentley just couldn't be forgiven.
"I lost my best mate. Four kids were killed, too. Anybody in that situation can surely afford just to take the bus. It is a no-go for me in football, the drinking."- an angry, disappointed Redknapp.
Bentley, somehow made it through the 2009-10 season on Tottenham's payroll. Signs were ominous, and then came Spurs' Champions League berth to the rescue. Spurs met Manchester City in a fixture which would eventually decide the winner of the last, the final UCL place, the play- off spot. Fortunately for the club, they came out glorious winners in the tie. Unfortunately for Bentley, he had his hand firmly on the self- destruct button. An overly-stimulated Bents with some of his team- mates, sneaked in while their decked up boss was being interviewed post the match and chucked a bucket of ice water on him in celebration. A wet manager and a footballer in under-pants, in arms didn't make a very pretty sight on live television. David unknowingly, had just submitted a transfer request, the final nail in the coffin.
"It was all good natured. But he definitely didn't see it like that. It was a celebration and nothing more. He never said anything to my face about it – he didn't really ever say much to me at all – but I knew I was always up against it after that. I hardly got another look-in."- Bentley, back to his senses, back to reality.

Subsequent loan spells at Birmingham City (20 appearances, 1 goal, 1 assist) and championship side West Ham United (a career threatening injury) followed. With 42 appearances in 4 years, Bentley in all his glory, had to be branded as a flop.
"Now I'm going to Russia to show it's all about football. I want to push myself, try something new and get back to where I was. I still believe in myself. I'm buzzing about playing again and that's something I've missed so much. I've never been someone to take the easy way out. Russian football is exciting."- on his prospects in Russian Football.
And with that culminates the story of David Michael Bentley. He comes across as an intelligent and confident chap when you go through his interviews. He has gone through it all and seen it all, yet every time one expects him to come up with something substantial, it all comes shattering down in front of your face. He has admitted to gambling problems, suffered through career- changing injuries, has had a party- boy image, has had differences with managers, has been accused of possessing a condescending attitude. All of that, and he stands at 28 years of age today with just a single runners- up medal to show for glory in his career.
Marred by sheer bad luck or too supercilious for his own boots? Who knows, bit of working- upon in the garage, a little polishing here and there, some refurbishing? Maybe, we'll see this Bentley back in the showroom again.