Eden Hazard was fouled 9 times by PSG and should be protected better, says Jose Mourinho
2.89K //
18 Feb 2015, 13:24 IST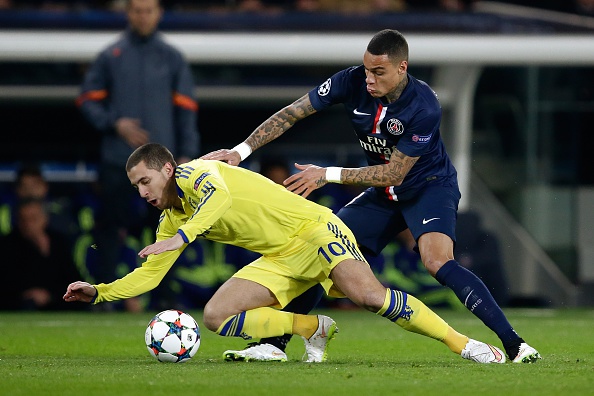 Chelsea manager Jose Mourinho has cried foul over Paris Saint-Germain targeting Eden Hazard during Tuesday's 1-1 first leg draw at Paris. The Portuguese manager claimed that Hazard was fouled nine times during the match and called for greater protection for his key playmaker.
Mourinho claimed that the Belgian, who was one of the five Chelsea players who went on to the pitch on Tuesday carrying an injury, was taken down by an aggressive PSG side time and again. Mourinho has previously spoken of the necessity to protect Hazard, claiming that opponents intentionally target the Belgian.
He repeated his plea post the PSG match saying, "If he's another player he dives, stays on the floor, rolls in the grass, screams. He's asking for cards and cards and cards."
"This kid is pure. Today there were nine fouls. In the Premier League it's no different. For example at Stoke, which was an unbelievable situation, and this is what happened game after game."
When asked how Hazard should be protected, Mourinho said, "Give cards to the opponents, follow the rules of the game. It's as simple as that."
Hazard had been linked with a move to PSG before he penned a new five-and-a-half-year deal with Chelsea. The Paris club have also scarcely tried to hide their admiration for the Belgian.
Mourinho admits PSG were the better side
Jose Mourinho also admitted that PSG were the more likely winner in the second half. He said, "They were losing, they put pressure on us, they were aggressive, recovering the ball quickly and playing very direct.
"The second half was their half. 1-1 reflects one half for Chelsea, one half for Paris. But if you go to chances created and goalkeeper performances, you have to be honest and say they have more than us. If someone was closer to winning the game it was Paris, not Chelsea."
Chelsea goalkeeper Thibaut Courtois had an excellent game enabling Chelsea to escape with a respectable 1-1 draw. His saves from Edison Cavani in the first half and Zlatan Ibrahimovic in stoppage time were particularly crucial. The Belgian was restored to the starting line-up ahead of Petr Cech for Tuesday's match.
Mourinho applauded both his goalkeepers, saying, "If football was nine outfield players plus two goalkeepers we would give no chance to anyone. We would be absolutely phenomenal, because they are both phenomenal."