8 matches to go! Where do Premier League clubs stand in the top 4 race?
5.23K //
27 Mar 2015, 13:28 IST
We return to a regular column in which we figure out That, and Moe had already killed the original Alfafa. In more-relevant news, the weekend was a tantalizing one in which we very nearly saw Chelsea drop points (thanks for nothing, McGregor…), all but killing off the debate over Arsenal reeling in the Blues, at least for a few weeks.
Then again, the symptoms of interlullitis do include delusions of grandeur, so steel yourselves and stock up on vitamins. Everyone else in the top four found ways of winning to varying degrees, leaving the table unchanged until 4 April. Let's have a look at where things stand, then…
Chelsea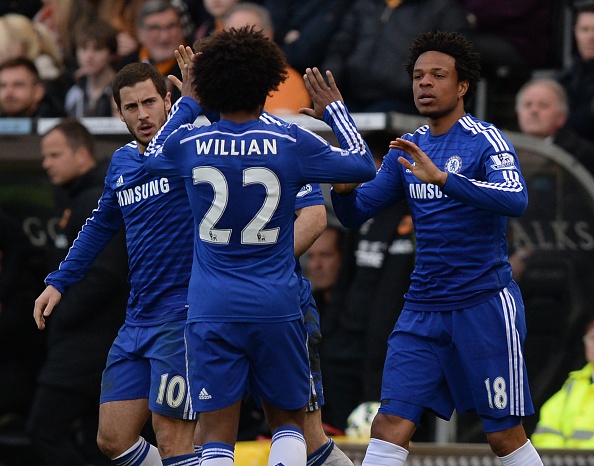 ? Position: 1st.
? Record: 20-7-2 (29)
? Points: 67 (77.0%)
? Form: WWDWDW
? Last matches: Hull 2-3 Chelsea
Chelsea continue to fail to impress, needing Allan McGregor to let fairly tame shot squirm thorough his legs to gift Chelsea a fortuitous 2-3 win. That, by the way, is our scoreline. We beat Hull 2-3 before it was cool. Still, proving the maxim that it's sometimes better to be lucky than good, Chelsea, escaped with three points but still can't dispel the notion that they're fading a bit.
After a season in which they flirted with invincibility and were anointed league champions after matchday two, all the pressure is on them to prove that they actually deserve it. At this point, though, they seem to be relying more on the points they stored up in fall and winter to get them through a very lean spring. Still, they larded up quite well, so Mourinho's little pony still looks likely to cross the finish line first.
? Next match: 4 April vs. Stoke.
---
Manchester City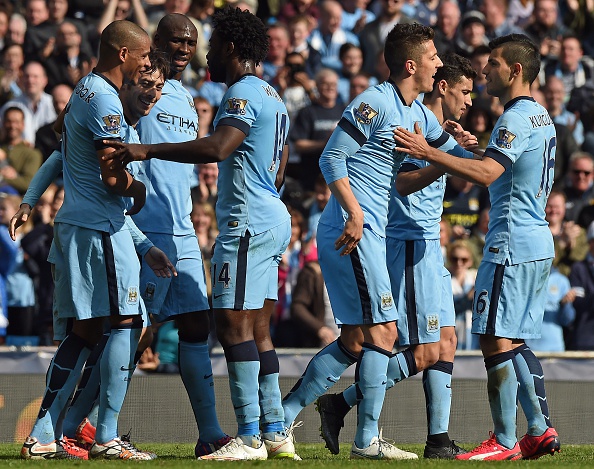 ? Position: 2nd
? Record: 18-7-5 (30)
? Points: 61 (67.8%)
? Form: WWLWLW
? Last match: Man City 3-0 West Brom
Alone among the top-four, Man City enjoyed a bit of a cakewalk against the Baggies, going up 2-0 before halftime through Bony and Fernando. They continue to yoyo in results, waltzing to fairly confident wins or staggering to defeat, dropping enough points to revive questions over their ability to chase down Chelsea or, more pertinently, to hold off Arsenal or Man U.
A squad that looked at one time to be indomitable and deep has started to look a bit more-threadbare, with their reliance on Toure, Silva, and Aguero sustaining them but also exposing them to the risk of collapse if one or more of that trio falters. Like Chelsea, the presumptions of their prowess may have raised the pressure on them, and there is now a very real concern about their ability to hold Arsenal at bay.
? Next matches: 6 April at Crystal Palace
---
Arsenal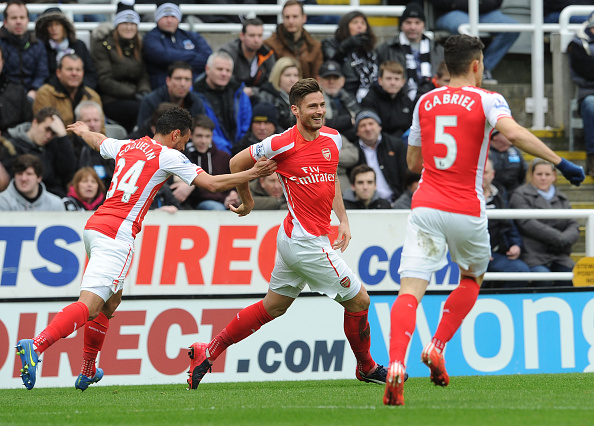 ? Position: 3rd
? Record: 18-6-6 (30)
? Points: 60 (66.7%)
? Form: WWWWWW
? Last match: Newcastle 1-2 Arsenal
For what it's worth, we're now the hottest club in the league, having won our last six Prem matches. Toss in the win at AS Monaco, and we're the only Prem club to have won our last Champions League or Europa League match. That a few quid gets you a pint, although it does reinforce the idea that we're going into the run-in in fine form. However, we do have the added distraction of trying to defend the FA Cup.
Dealing with Reading might look like a zany romp akin to that 7-5 a while back, but we still have to actually play the match. While our chances at overtaking Chelsea remain distant and depend on Chelsea dropping 10 points or so (three of which we could claim...), our FA Cup destiny is very much more under our control. Given our tepid form to start the season, an second successive FA Cup title, along with second in the Prem, would feel very good indeed.
? Next match: 4 April vs. Liverpool
---
Manchester United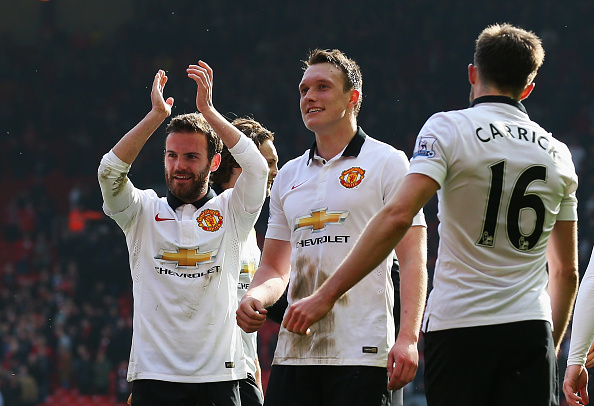 ? Position: 4th
? Record: 17-8-5
? Points: 59 (65.6%)
? Form: WLWWWW
? Last match: Liverpool 1-2 Man U
Locked in a pitched battle with Liverpool, we at Arsenal might have hoped for a 0-0 deathmatch. Steven Gerrard even did his level-best to offer us what we snarkily ask for in these cases, earning a straight red just 38 seconds after being subbed on. Man U, who did look more likely to score first anyway, happily snatched the advantage, scoring about ten minutes later.
Returning to the lucky-or-good paradigm set up by Chelsea, it looked like these two rivals would both drop points, but it's the kind of result that breathes enough life back into Man U's campaign that they're still cheek-and-jowl with us and Man City. They may have the hardest run-in of anyone else in the top four, and despite one of the biggest summer spending sprees in a while, they've failed to rise to the levels that Van Gaal and others had expected. So far.
? Next match: 4 April vs. Aston Villa
---
Liverpool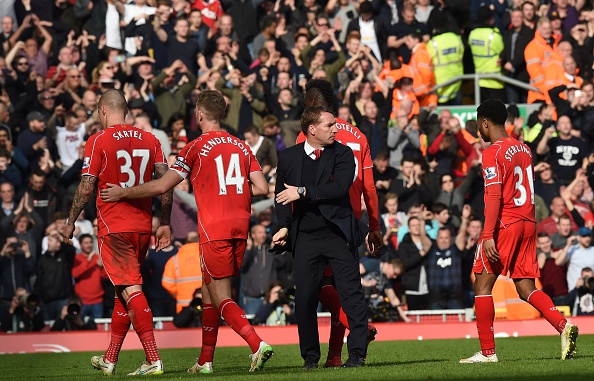 ? Position: 5th
? Record: 16-6-8
? Points: 54 (60%)
? Form: WWWWWL
? Last match: Liverpool 1-2 Man U
With Liverpool now denied the services of both Gerrard and Skrtel (and perhaps little-bit-niggled Lallana, Sturridge, and Sterling—although these might be symptoms of interlullitis as well…), Liverpool now have their work cut out for them. Up until Gerrard's moment of madness, Liverpool held realistic hopes for a draw if not a win.
As it now stands, Gerrard's slip-up was matched by Skrtel whose three-match ban may undercut them even worse than Gerrard's – both will miss the trip to the Emirates as well as to Ewood Park in that FA Cup replay – but we'd do well to remember that the bans may fuel a siege-mentality in the squad as they seek to give the retiring a final season worthy of the name.
Rodgers does now have a selection headache, especially in defense, but I'd wager that players who previously failed to impress (Lovren, Balotelli etc.) might just rise to the occasion.
? Next match: 4 April at Arsenal.
---
Southampton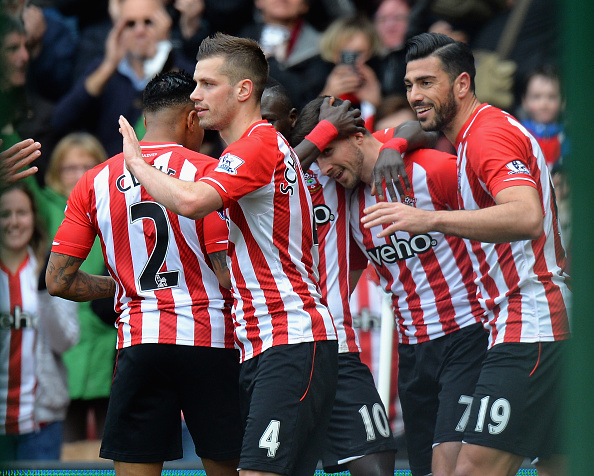 ? Position: 6th
? Record: 16-5-9
? Points: 53 (58.9%)
? Form: DLLWDW
? Last match: Southampton 2-0 Burnley
It's a strong testament to Southampton's early-season brilliance that their recent form, which has seen them drop ten points from their last six matches, hasn't seem them plummet any further. They're still clinging to hopes of a Europa League berth, but like Everton a season ago, they risk fading short if they can't rediscover some of that early form. As it stands, they're still nipping at Liverpool's heels and could benefit from Liverpool's discipline-woes.
More to the point, they have a pretty favorable run-in (aside from a visit to the Etihad for their final match of the season), and it'll be intriguing to see how hard the players fight, either to earn the club a Europa League spot or to audition for their suitors in the summer transfer-window. I'd imagine that there might be a few who've been scanning the headlines and savoring certain rumours either way…
? Next match: 4 April at Everton.
---
There. I'm pretty sure I've included anyone and everyone with serious aspirations of a top-four finish. Don't bother suggesting that this list is incomplete. I know full-well that Tinpottenham are level on points with Southampton, but their abysmal goal-difference (+5) is all the justification I need (justification needed: nil) to continue excluding.
We have two weeks, give or take, to enjoy the table while hoping that our lads don't suffer during various international adventures. Wish 'em well!