Everton 0-1 Arsenal: Defensive discipline sees Gunners come out trumps
1.06K //
22 Mar 2012, 20:20 IST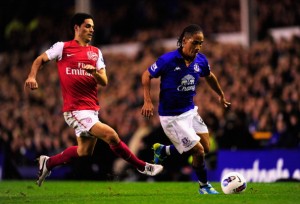 Arsenal's recent wins have been borne out of offensive panache and outscoring the opposition through merciless pressing and slick movement. However, yesterday's match against Everton owed more to defensive solidity than attacking swashbuckle, timely clearances than well-timed volleys, protective headers and goal-scoring ones. Yesterday, Arsenal were a well-oiled Maruti instead of a bloodthirsty Bugatti, and it paid dividends.
Team news
Arsenal made one change from the team that started against Newcastle last Monday, with Alex Oxlade-Chamberlain dropping to the bench in favor of Aaron Ramsey. This was a slightly surprising move; what with Ramsey putting in poor performances of late and Chamberlain possessing that instant match-changing ability that the Welshman arguably lacks. Nonetheless, Ramsey's graft and running are positives that are required irrespective of who the opponents are, and Wenger instructed both him and Rosicky to interchange positions in a bid to confuse the Everton defense.  Mikel Arteta made his return to Everton in a red-and-white shirt, and received a warm reception from the home crowd.
Everton went with Cahill and Jelavic up front, behind a midfield four of Fellaini, Drenthe, Osman and Pienaar. Their left flank of Baines and Pienaar squared up against Arsenal's right flank of Walcott and Sagna, which was set to be an intriguing face-off.
First half
And Arsenal absolutely dominated proceedings for the first twenty minutes or so. Barely a few blinks after kickoff, Rosicky hung a beautiful lofted ball to van Persie, and his cushioned header to Ramsey should have resulted in Arsenal's opener were it not for wasteful shooting from the Welshman. In the next attack, van Persie played it wide to Sagna, who fed Walcott in the box. Speedy Theo couldn't get his feet sorted in time for a shot, and instead passed it to Ramsey, whose shot was deflected over the bar this time.
From the resulting corner however, Arsenal were ahead. A decent delivery from van Persie, but Vermaelen's mazy run to leave Fellaini for dead and towering header to plant it past Howard and four Everton players must take deserved plaudits.
The scoring had been opened, and looking at the run of play, it seemed like the floodgates had been opened too. Quick interplay between Ramsey, Arteta and van Persie saw the Dutchman break free with a clear sight at goal, but his low shot was well parried by Howard.
After a dynamite opening half an hour though, Arsenal slowly lifted their foot off the pedal and Everton were resurgent. Moyes instructed them to press harder, and every blue shirt harried Arsenal in possession thereafter. It almost bore fruit when a careless mistake from Alex Song gifted the ball to Osman in a dangerous position. Neat one-touch play saw Drenthe go clear and slide the ball into the net, only to be thwarted by an offside flag; a flag that turned out to be incorrect on further viewing. As the half petered to a close, Arsenal went down the tunnel deserving to be 2-0 up but lucky to be 1-0 up. Something only Arsenal can do.
Second half
Everton started the second period starkly different to the meek avatar that was on display earlier. Ninety seconds into play, a well flighted ball into the box saw Fellaini rise highest and work Szczesny for the first time in the match. Although there were no clear-cut chances for the home side, Arsenal were on the back foot for majority of the second forty-five.
Ironically, the best opportunities to score fell to the team under the cosh. Alex Song, who is increasingly becoming purveyor of magical through balls, lofted a delicious one to Gibbs in the box. The full-backs downward header fell to van Persie, whose rasping drive could only rattle the outside of the post.  A few minutes later, Walcott fed Ramsey down the left, and his check and shot had Howard sprawling to save it.
The minutes ticked by, and try as Everton would, Arsenal's defense stood firm; something that has not been said much about them this season. To a man, their back five were excellent; Gibbs and his quick interceptions, Sagna and his aerial dominance, Vermaelen and his bloody-mindedness, Koscielny and his cool- this match was an exhibition of the fact that a stable back four begets a stable performance.
Results elsewhere only made the week better for the Gunners. Tottenham needed a last-gasp equalizer to draw Stoke, Chelsea lost to Manchester City (a Samir Nasri goal, quite funny) and Liverpool scandalously blew a two-goal lead to lose at QPR. After finding themselves ten points adrift of Tottenham a month ago, Arsenal now sit pretty in third, a point ahead. There's a long way still to go, but the current picture is a quite pretty one for people with a red-and-white disposition.