Sportskeeda Experts' Picks: Who will finish in the Premier League's Top 4?
6.70K //
17 Mar 2015, 15:13 IST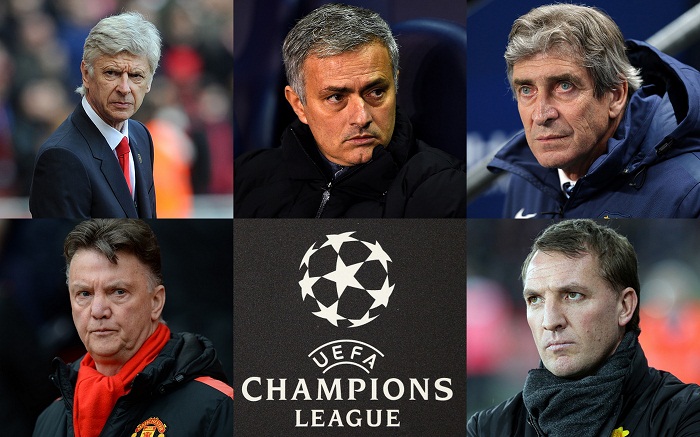 As we approach the final quarter of the season, the 2014/15 Premier League season has gone beyond many fans' expectations by throwing in more teams who stood a chance of at least making it to the Top 4. Gone are the days when the traditional Big 4 were assured of Champions League qualification. Over the years, we have seen new entrants with the potential (and the resources) to make it even tougher.
As things stand after Gameweek 29, Chelsea are top of the table with 64 points and a game in hand. Manchester City are second with 58 points, Arsenal are third with 57 and Manchester United are fourth with 56. Liverpool are not too far behind with 54 points while Southampton and Tottenham Hotspur are tied on 50 points. There is no question that the teams between second place and seventh place will all have a say in who finishes where come May 24.
Remaining EPL Fixtures for Top 5 Clubs

| CHELSEA (64) | MAN CITY (58) | ARSENAL (57) | MAN UTD (56) | LIVERPOOL (54) |
| --- | --- | --- | --- | --- |
| Hull (A) | West Brom (H) | Newcastle (A) | Liverpool (A) | Man Utd (H) |
| Stoke (H) | C Palace (A) | Liverpool (H) | A Villa (H) | Arsenal (A) |
| QPR (A) | Man Utd (A) | Burnley (A) | Man City (H) | Newcastle (H) |
| Man Utd (H) | West Ham (H) | Sunderland (H) | Chelsea (A) | Hull (A) |
| Arsenal (A) | A Villa (H) | Chelsea (H) | Everton (A) | West Brom (A) |
| Leicester (A) | Tottenham (A) | Hull (A) | West Brom (H) | QPR (H) |
| C Palace (H) | QPR (H) | Swansea (H) | C Palace (A) | Chelsea (A) |
| Liverpool (H) | Swansea (A) | Man Utd (A) | Arsenal (H) | C Palace (H) |
| West Brom (A) | Southampton (H) | West Brom (H) | Hull (A) | Stoke (A) |
| Sunderland (H) | | | | |
So we asked some of our writers to predict the final Top 4 and here's what they had to say.
1) Chelsea - Arsenal - Manchester City - Manchester United
Harsh Gupta: With six points clear of second place and a game in-hand, Chelsea are clear favourites to lift their first league trophy in five years. With no other trophy left to play for, Mourinho and his men will now focus all their energy on the league campaign. The rampaging Gunners face a trip to Old Trafford and host Chelsea and Liverpool in an otherwise relatively easier last nine fixtures. They're certain to finish runners-up if they can maintain their excellent recent form.
City's travel woes could potentially be compounded in their remaining away fixtures (Manchester United, Spurs, Crystal Palace and Swansea) but a comfortable home fixture list might prove to be their saviour. Van Gaal's side are yet to play their 'Big 5' rivals, and with tough away games at Anfield and Stamford Bridge lined up, it is unlikely that Manchester United will climb up any places for the rest of the season. Spurs, Liverpool and Southampton will miss out this season.
Liam Newman: Upon his return to Stamford Bridge, Jose Mourinho declared this would be Chelsea's year and the pacesetters are strolling to the Premier League title as the trailing pack fail to capitalise on any presented opportunities. Behind them, it could be any three of four and I believe Arsenal's experience will serve them well. The Gunners finally rediscovered their winning mentality with last year's FA Cup win and, barring a European hangover this weekend, they should qualify for an 18th consecutive season.
Manchester City have dropped points inexplicably throughout the campaign, but their quality should be rewarded with another top four finish. Their five home games look easy. Finally, Manchester United traditionally hit top gear around this time of year and the resounding 3-0 win over Spurs on Sunday suggests they'll be doing it again. A win at Anfield this weekend could be key.
Liverpool could just miss out on the Top 4 as do Tottenham and Southampton.
---
2) Chelsea - Arsenal - Manchester City - Liverpool
Naveen Joseph: Liverpool are very likely to take Manchester United's place in the top four due to their impressive form in the second half of the season and it could happen as soon as next weekend when the two sides meet. While Arsenal's good form and City's lack of it can open up a chance for the Gunners to finish second, it is too late for them to mount a title challenge as it looks destined to go to Stamford Bridge.
Manchester United are likely to finish fifth and qualify for the Europa League ahead of Spurs and the Saints due to the already existing gap between the sides as well as the lack of consistency from Southampton and Spurs recently. My prediction for fifth, sixth and seventh are Manchester United, Southampton and Spurs respectively.
Chittur Ramachandran: Barring a major capitulation, Chelsea would be expected to wrap up the Premier League title in the Special One's second season. On current form, Arsenal would nick the second spot ahead of Manchester City. The Gunners have been in a rich vein of form of late with the win against West Ham this weekend sealing their 5th straight win in the league. With Oliver Giroud hitting a goal scoring purple patch and a kinder fixture list, one would expect Arsenal to seal the second spot.
Manchester City is a side that looks clueless, uninspired, out of ideas, and in complete free fall. The title looks far beyond them and clinging onto a spot in the rat race for Top 4 remains the only hope for the Citizens. Liverpool have been the most consistent and unbeaten team in the league since the turn of the year, and look the most likely to finish in 4th position ahead of Manchester United. Brendan Rodgers' tweaks in the Reds' formation and tactics have liberated them and the next two fixtures against Manchester United and Arsenal could well be the deciding factor for them.
Manchester United, Southampton and Tottenham Hotspur will finish fifth, sixth and seventh respectively.
---
3) Chelsea - Manchester City - Arsenal - Manchester United
Pradyumna D S: It has been a strange season with all the top 4 contenders showing inconsistency. For that reason, I expect the current top 4 to remain the same. Chelsea should comfortably win the title while the faltering Manchester City will finish second mainly due to their good run of fixtures coming up.
3rd and 4th places will be up for grabs until the very last game of the season and the game between Liverpool and United the coming weekend is like a 4th place playoff. But United have played well in the big league games this season and the tough fixtures could actually motivate them to an inspiring performance. I expect Arsenal and Manchester United to complete the top 4 with Liverpool narrowly missing out.
---
4) Chelsea - Manchester United - Liverpool - Arsenal
Rishabh Raheja: Manchester City's free fall seems to have catapulted Chelsea to the brink of the EPL trophy and the title race seems all but over. Arsenal, Liverpool and Manchester United, on the other hand, seem to be riding quite a crest which makes for a piquant scrap for the other three Champions League spots.
Manchester United, and its embodiment Wayne Rooney, both of whom have been blowing hot and cold hitherto, will pull no punches in pushing for second place. Arsenal too, very insidiously seem to have cemented their place in the Top 4, with an uncustomary second place potentially beckoning for Wenger, depending on the degree of Pellegrini's capitulation.
The maximum momentum, however, is with a voracious Liverpool side that seems to be swallowing teams whole. So emphatic has been their turnaround that they could even have contended for the title had it begun earlier. This means Manchester City will finish alongside perpetual Europa League birds Tottenham – outside the elite four, something they can no longer take as theirs for granted. Tottenham will finish ahead of Southampton in sixth place.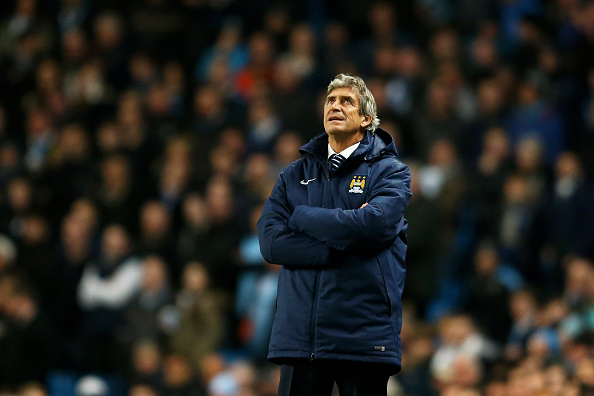 ---
5) Chelsea - Manchester United - Manchester City - Arsenal
Anirudh Menon: Even though Chelsea's attack look sluggish, the defence still looks impenetrable Jose Mourinho's side is unassailable with a six point advantage and a game in hand. United have been comically bad all season, and yet they are a mere two points off second place. Van Gaal's "philosophy" seemingly clicked into place against Spurs (the ball just needed to be passed faster apparently). With that aggression and intensity now in place, we may have to acknowledge that the Dutch boss may just know what he is talking about.
City have slipped and slid through the season, occasionally at their unplayable best, but mostly at their mediocre worst. The lack of any real chance to challenge for the title and likely exit from the Champions League may just demoralize the fragile temperament of the Citizens. As unfair as this sounds, the Gunners still lack the ruthless striker up front that is so very essential for a top-2 finish. Besides, fourth place going to anyone but Arsenal? Hah.
I have Liverpool coming in fifth, followed by the magnificent Southampton and the ever mercurial Tottenham.
---
6) Chelsea - Manchester City - Arsenal - Liverpool
TheFutbolJoker : Chelsea seem to be running away with the league title. Even though they dropped points against Southampton. At this point, only Chelsea can stop themselves from winning the Premier League title. The reigning champions will lose their title after one of their most inconsistent seasons in recent years. Without a clear strategy in the summer transfer window, Manuel Pellegrini doesn't have the tactical flexibility which his Portuguese counterpart does.
Arsenal struggled to find consistency in their performances and then hit a rich vein of form in the business of the season that seals their place in the top 4. With Alexis Sanchez, Mesut Ozil and Santi Cazorla leading the team, a top 4 finish and, perhaps, a second FA Cup title could be in the bag.
Manchester United fans won't like this call, but the Red Devils' erratic nature coupled with the Liverpool's late surge could see the latter take the fourth spot. Both teams are winning games but a quick look at the form guide would suggest that Liverpool are the team in better form (24 out of a possible 30 points in their last 10 games, compared 20 out of 30 of United). The Red Devils will finish fifth ahead of Tottenham and Southampton.
---