FA launches inquiry into Manchester derby mishap
2.25K //
10 Dec 2012, 13:12 IST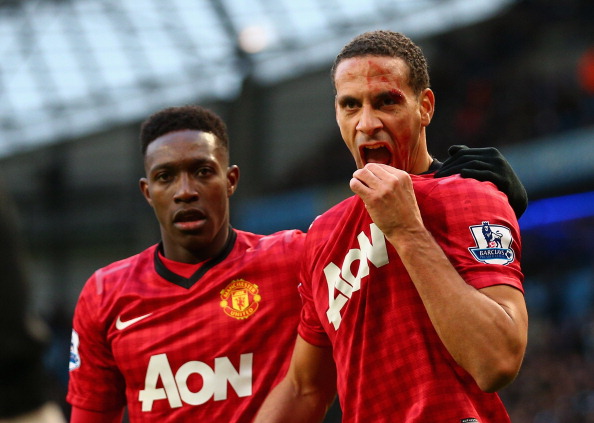 Manchester City have issued a "wholehearted apology" to Manchester United defender Rio Ferdinand after a missile hit his face when celebrating Robin van Persie's late winning goal in the Manchester derby.
The Red Devils won the match 3-2, ending the home team's 37-game unbeaten league record at home and also gave them their first defeat of this season, moving six points ahead of City at the top of the table.
The Football Association announced that it would look into the incident, that came at the end of the match, in which a City fan was arrested for running into the pitch after RVP's winner and he was actually stopped by City goalkeeper Joe Hart. Great Manchester Police (GMP) have also stated that another person has been arrested on the grounds of racial abuse and that they are investigating all the racist tweets.
The Police tweeted saying:
"Man arrested inside stadium on suspicion of committing a racially aggravated public order offence after officers hear racist chanting. Thank you to everyone reporting racist tweets. We are aware and are investigating."
On the Ferdinand incident, a City spokesman said:
"Manchester City FC security officials are co-operating fully with Greater Manchester Police in relation to events leading up to the throwing of missiles on to the field of play, and between the two sets of supporters, during today's game against Manchester United.

"Manchester City wishes to offer its sincere apologies to Rio Ferdinand. The club unreservedly condemns the actions which led to his being injured. GMP's review of all fan behaviour at today's match will be fully supported by the club, through the provision of CCTV footage and eyewitness accounts. Following this review, and any associated police action, the club will also apply its own disciplinary policies for any fans found guilty of offences."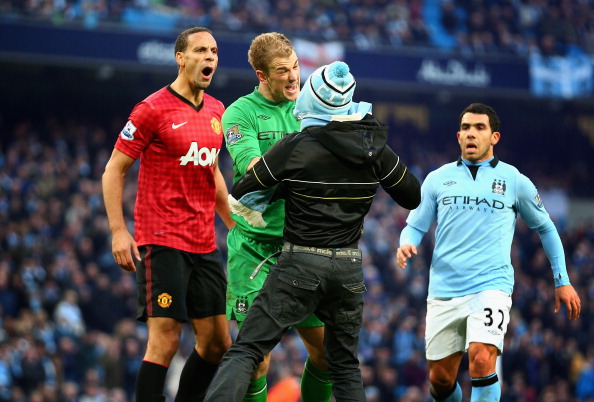 Ferdinand showed some humour and then respect for Joe Hart when he tweeted,
 "what a result, 3points! Sweet! Whoever threw that coin, what a shot! Can't believe it was a copper 2p….could have at least been a £1 coin!

"Respect to Joe Hart for protecting that idiot who ran on!! Love the banter between fans but there is a point when it goes too far…calm it!"
Sir Alex Ferguson seemed to be upset on all that happened, as he told MUTV,
"It's just disappointing at the end that a supporter ran on the field and Rio was hit with a coin in the eye. I don't know whether they are going to stitch it or not, we'll see. The same thing happened at Chelsea and it was all masked by the carry-on [involving Mark Clattenburg]. Half a seat came on and hit [Michael] Carrick and then coins, lighters, the lot – the game doesn't need that."
An FA statement said:
"We will work with the clubs and authorities to identify those responsible and support the strongest sanctions available, including life bans. We condemn any such acts and it is simply unacceptable that any player is exposed to injury in this way. To witness Rio Ferdinand leaving the field with a cut above his eye to receive treatment is appalling."
Earlier, Wayne Rooney scored twice in the first half to take his Manchester Derby goal aggregate to 11, equalling City's Francis Lee and Joe Hayes, before Yaya Toure and Pablo Zabaleta's second-half efforts drew the home side level.
Quotes Source : The Guardian