FC Barcelona: Beautiful football trivial to unfortunate case of Tito
729 //
21 Dec 2012, 10:06 IST
It would come as a blow to almost any club to have a manager with a record of constant success depart into the sun for a year and then have his assistant, his successor, also being forced away from the job after just six months in the position. Barcelona however, as the tag goes, are more than a club; "mes que un club" in the tongue of native Catalonia, a region that had embraced the Nou Camp revolution of Pep Guardiola and Tito Vilanova that not only bought a constant stream of trophies, but a wonderful brand of football to go with it.
Guardiola has gone, enjoying a year out in the sun and flirting with the potential interest of numerous football-orientated oil rich Russians, and now Vilanova has gone too, or at least for a significant period, succumbing to a second fight with a cancer tumour that was first overcome as recently as last November.
It goes without saying that this particular commentator wishes Vilanova the speediest and healthiest recoveries, and an understanding that football, no matter how much a job of Barcelona's magnitude would swamp Vilanova's life, should be negligible to the fact that he is, first of all, a husband and a father of two children.
His club would also have no trouble understanding this, considering the unfortunate events of Eric Abidal who has seen his career virtually ended by a fight with liver cancer in his early 30s. Barcelona acted brilliantly throughout Abidal's plight and it is expected they will preach the same class through Vilanova's. His number 2 Jordi Roura will be in charge for the foreseeable future.
It is however, sad news not only to Barcelona but to the wider football community too. The shocking news came a day before the Catalans drew AC Milan in the last 16 of the Champions League, a winnable tie that makes the task of winning back the trophy that his predecessor won twice in four years more enticing.
Guardiola, winning only the Copa Del Rey in his final year, departed on a note that bred a feeling that, inspired by rival Jose Mourinho, clubs in the shadow of the Barca behemoth had began to figure them out. Both the Inter Milan of 2010 and Chelsea of last season managed to overcome them in the semi-finals by way of a performance based on team-work and heavy defensive discipline, whilst Real Madrid took their first La Liga title in four years by a margin of nine points.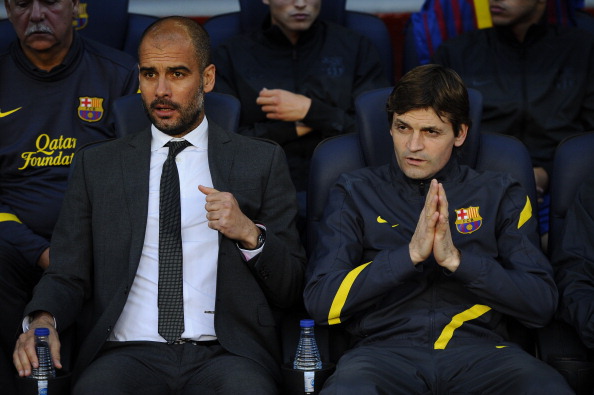 In spite of a view that a Barcelona in decline would be largely effected by the loss of their all-conquering manager, the transition from Pep to Tito has been remarkable. Vilanova has won 15 of his first 16 games, a draw to Madrid the only blight on a record that sees them nine points clear of second placed Atletico Madrid. Mourinho's Real meanwhile, so often the scourge of Guardiola's utopia, lie 13 points behind in third.
Such is the individual brilliance littered throughout this Barcelona team that one would expect them to continue their superb run in Vilanova's absence without much address or disruption, but you cannot escape the feeling that it's the work of the innovative 44-year-old that he will not be able to carry on.
From the emphasis on high-pressing, expansive attacking that cherished possession enough to produce a style of football verging on the masterful, Vilanova has installed a more direct approach with less importance on Victor Valdes, for example, to play out short from the back. La Blaugrana have sped up the build-up, seeking to do more passing in the final third, a difference in style that has yielded an average of over 3.3 goals per game, a ratio that would see a record-breaking 128 goals scored if continued. It is something that Vilanova now can't ensure, neither can he continue to oversee the progression of La Masia graduates Marc Bartran and Martin Montoya who he has integrated into the senior squad.
It is rather disappointing that Vilanova will now not get the chance to test his Barcelona in the latter stages of Europe's premier competition. La Liga is proving a doddle for Xavi, Andres Iniesta, Sergio Busquets and co. while Lionel Messi, having already eclipsed Gerd Muller's 85 goal calendar year record that had stood for 40 years, operates on another planet. Now able to guide this superb generation of players down the route to further success, Jordi Roura is a lucky guy, but Vilanova, having already proved his managerial skill to a phenomenal tune, has had that chance ripped away in the most disheartening of circumstances.
Vilanova has been alongside Pep Guardiola throughout the ex-midfielder's meteoric rise to the top of the managerial pantheon, following his move from Barcelona B to become the trophy-seizing double act of the first team back in 2008. Together they won 14 trophies in four years. Not the household name his partner had been, Vilanova was little known before he took the reigns but it should not shift his defining role in the game to this short spell that has tragically been suspended.
Testament to his role in the Spanish game has been symbolised by the long role of tributes that have poured into the public eye from David Silva, David De Gea, Sergio Aguero, Gary Lineker, Denis Suarez, Victor Wanyama amongst others not associated with Barcelona. Fans have been unanimous in support along with Messi, Abidal, captain Carlos Puyol whilst Barca sporting director Andoni Zubizaretta made no secret that the "sporting side of things now come secondary".
Zubizaretta's sentiments will be shared universally to a man that had already achieved so much in the game and had attracted much fondness over the years, yet it remains a regrettable thought that he will now not get a shot at the immortality his devastating Barcelona side was threatening.
To take a step away from the hypothetical however, one will be accepting of Vilanova's need to put his health first and to wish that his spell in recovery will be as short-lived as possible so he can resume his journey to marvellous success, which will one day surely come.