Ferguson disapproves as Benitez picks up his new colours
874 //
24 Nov 2012, 00:09 IST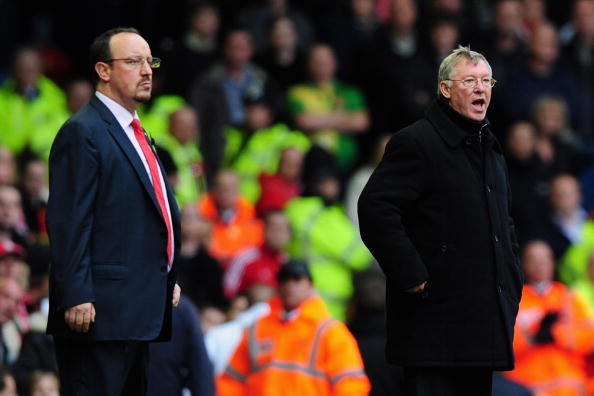 It has been a rather tumultuous week for managers across the spectrum; while some withstood the storm, the others weren't so lucky. Di Matteo made a high profile exit; expected or not, that's best left untouched. Mark Hughes was also shown the door after Queens Park Rangers realized the lack of potency in his strategies. Harry Redknapp is going to take up the mantle for QPR; hopes have risen again and for good reason. While most expected Guardiola to take up Chelsea's cause, Benitez was a surprise swoop in. Benitez's appointment as the manager wasn't taken too very well, but what it has done, effectively, is escalate the debate around Fernando Torres.
Several entities, including Chelsea fans, had a lot to say about the former Liverpool manager; however, Alex Ferguson's impression of the man garnered most interest. Benitez lead Inter to a title soon after taking over and Abramovich probably had the same incident in mind while considering the candidature, but Manchester United's oldest standing legend has some choice words for him. Ferguson, when asked about Benitez's appointment as interim manager, said: "On his CV he could have two world championships and nothing to do with the construction of the teams." In fact, Fergie went on to say that Mourinho won the treble at Inter and they would have won the world title without any major input from Rafa Benitez, except for his impeccable timing of course.
With respect to Di Matteo, the Manchester United boss feels that the decision was made in haste, considering the fact that he helped Chelsea bag the Champions League and the FA Cup. He expressed his disdain, saying: "It's quite amazing that you win the FA Cup and the Champions League and lose your job."
Ferguson's disapproving nature towards Rafa Benitez isn't too surprising considering the fact that they have had a long standing disagreement with each other. This peevish relationship was further fractured in 2009, when Benitez insinuated that Ferguson and his club got preferential treatment from the match officials and the Football Association. Benitez is out to prove his worth next week against Manchester City and Ferguson believes that the match will be won only by a stroke of luck. He also stated that it is standard procedure that when a new manager takes over a team, they win their first few games. Ferguson also went on to take a dig at Abramovich by saying that it is "strange" how club chairmen are encouraged to change managers because they believe that it would help them win their first couple of games.
In another stance against the Blues, Alex Ferguson also lent his support to Mark Clattenburg as he was cleared by the Football Association following allegations of racism by Chelsea players. He stated that he didn't believe them to be true, suggesting also that people in the game are happy from him, well, "apart from Chelsea".
Two years of inaction put Benitez a couple of points behind Ferguson in the ring but now that he's back with the big league, here's hoping to witness a clash of the titans.