Finally after 86,400 seconds, the improbable happens
3.63K //
14 Mar 2012, 21:31 IST
This is a transcript of how satellite technical problems caused the mixing up of audio broadcast signals of the cricket match between India, Sri Lanka and football match between Chelsea, Liverpool. The fans received the perfect video but a mixed voice signal. Watch out for the commentary and what transpired next.
Cricket commentators: Ravi Shastri, Rameez Raja, Tony Greig, Navjot Singh Sidhu and Nasser Hussain
Football commentators: Martin Tyler, Andy Gray
Ravi Shastri: Ladies and Gentleman, hello and welcome to..
Andy Gray: the match between Chelsea and Liverpool from Stamford Bridge.
Ravi Shastri: The atmosphere is electric, and the noise is deafening. We should be in for a cracker. One change each for both the sides….
Andy Gray: Roberto Di Matteo replaces Andre Villas-Boas for Chelsea, while Luis Suarez returns after nobody knows how many match bans.
(The camera focuses on Tendulkar on the field)
Ravi:  The genius, legend, the master.
Andy Gray: Fernando Torres starts today.
Ravi: This will be his best chance to get his 100th…
Andy Gray: Manager signing in the last 8 months.
Ravi Shastri: The first hour is crucial.
Andy Gray: Liverpool have made a bright start to the game, It's Suarez, he's made a surging run, he is piercing the defense here, he races past three defenders, Suarezzzzzz……
(As always inventing new words, describing great fielding effort)
Rameez Raja: is a magnificent "Raceist", what an athlete, what speed, ran behind the ball at the rate of Knots and stopped it, brilliant just like Inzi!
Martin Tyler: (Tide turns in Chelsea's favor now): This is looking ominous, Torres in the box, side steps one, two, three defenders…..
Ravi Shastri: I get a sense that something's gotta give.
Andy Gray: Given, given, "Howard Webb" has given a penalty to Chelsea; Torres goes down, the Manchester United fans…
Tony Greig: are dancing in the isles
Martin Tyler: "John Terry" steps up to take the penalty
Ravi Shastri: Edged……..and taken in
Andy Gray: Slips, slips, Terry slips again, oh my goodness!
Martin Tyler: it's wide, it's wide…….
Ravi: Ah well that was close, but the line belongs to the umpire!
Rameez Raja: What a magnificent 'slips' fielder he is turning out to be
Tony Greig: What a playa, what a wonderrrrrrrrfulll playa. (Tendulkar has taken stunner!)
Martin Tyler: (80th min) Substitution for Liverpool, Andy Carroll comes on for Dirk Kuyt
(Someone from India has misfielded)
Nasser Hussain: There are one or two "Donkeys" in the field still!
Andy Gray: Carroll, its Carroll,
Martin Tyler: He is in the box one on one with the keeper and has
Ravi Shastri: Given it a full monty and has travelled like a tracer bullet….
Tony: Into the crowd she goes, it's out of here………
Andy Gray: What a chance, what a wonderful chance goes a begging (Meanwhile the ball doesn't come back from the crowd)
Sidhu: "You don't judge the Horse-power of a vehicle by the size of its exhaust!"
Ravi Shastri: Make no mistake; the new ball will be crucial……
At this moment, there is a total power failure in Hobart, and Ravi Shastri gets stuck in the lift………………
Tony Greig: The match has turned on its heads now, after a long struggle, India finally have an upper hand in this match.
Andy Gray: We are into injury time now 3 minutes of added time, Wait a minute,  this is amazing, Torres has made a fantastic run from the half line, he side steps five defenders in his path, rounds off the keeper and unleashes a brilliant strike, it's in!, it's in! What a goaaaaaaaal, Torres has scored, this is unbelievable, and after 86,400 seconds Torres has finally scored. 
Sidhu: The goal is never important. It is the time that takes you to the goal which is more important. (On the need to complete the match within 40 overs)
Meanwhile Ravi Shastri, perspiring like hell, has been rescued and he rushes back to the commentary box…………….
Martin Tyler: What now for Liverpool and King Dalglish…..
Ravi Shastri:  Still, at this stage, all 3 results are possible………
Tony: It's all over, India has won the match with a bonus point, and they are still alive in this tournament…
Andy Gray: The final whistle has gone, Torres has won it for Chelsea, it all started when…….
Ravi Shastri: I was stuck in the lift for 55 minutes!
Andy Gray: Torres has handed Roberto Di Matteo a life line and…
Ravi Shastri: That's just what the doctor ordered!!!!!
A day later, Liverpool fans were heard singing: "Please walk alone, never use the lift"
We criticize him, make fun of him but he is the real hero for the sporting teams, yes there are no half measures here, he is Ravi Shastri!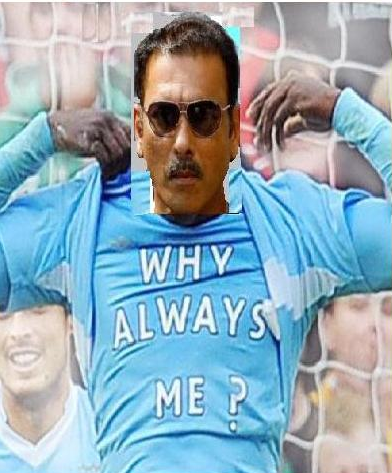 Yes the real action starts when……….Ravi Shastri gets stuck in the lift and there are rumors that Manchester City and Roman Abramovich are already preparing a 100 Million bid for the Lift!
The author respects each and every individual/player mentioned in this article and requests readers to read the article in the right spirit of humour.