Five reasons why David Beckham chose Paris Saint-Germain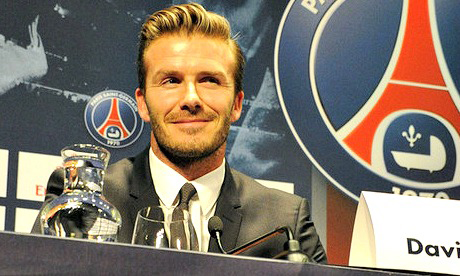 On one of the most happening days in European football – transfer deadline day – it was David Beckham and his move to Ligue 1 giants Paris Saint-Germain that grabbed all the headlines.
The 37-year-old former England captain, who has been a free agent since running down his contract with Los Angeles Galaxy in December, has now signed a five-month deal with moneybags PSG, which will give him a chance to compete for French league title and also the Champions League this year.
Paris would most probably be the last stop on a highly successful career that began at Manchester United before moving to Real Madrid, Los Angeles Galaxy and AC Milan. But why did he choose PSG?
Here we have a look at the reasons behind Beckham choosing Paris over other numerous destinations..
1. Carlo Ancelotti
The former Chelsea boss is a manager that Beckham knows very well and has worked under during his loan spells at AC Milan, and is also a manager who he regards as one of the best in the world. Don't forget, he has worked under the likes of Sir Alex Ferguson and Fabio Capello during his career. At the same time, Ancelotti is a man who has a reputation of getting the best out of the players who are in the twilight of their careers, and Beckham would be expecting nothing less.
2. Club's Ambition
Paris Saint-Germain may have been founded recently and might not have a rich history compared to other clubs that did make an offer for Beckham, but like any other top European club they have lofty ambitions and are backed by the rich Qatari owners. They have an impressive project in place, and with the players they have signed in the past couple of seasons, they are not only one of the top sides in France but also among the Europe's elite. In the next few years, PSG can dominate world football, and who wouldn't want to be a part of something special like that?
3. Champions League Football
Its been some time since we last saw Beckham play in the Champions League, and a chance to compete against the top European sides in Europe's elite club competition is too good to reject. Paris Saint-Germain topped their group and now have a winnable last-16 tie against Spanish side Valencia, which gives the England star a chance to enter the quarter finals of the Champions League and also a chance to prove everyone that he could still produce the goods at the highest level.
4. Near Home
A move to Paris Saint-Germain was always going be the best possible option for Beckham outside the Premier League, keeping in mind the fact that he wanted to stay close to his family and friends. He relocated his family in London, his kids go to school in London and the decision to join PSG makes complete sense. The distance between Paris and London is 350 km and it approximately takes 45 minutes to travel via flight. Beckham could easily visit his family and friends whenever he wants, and there is no doubt that the chance to stay close to them played a huge part in his decision.
5. Manchester United
Last but not the least, his love for Manchester United and his loyalty towards them. Beckham had numerous offers from Premier League sides but he rejected all of them just because he couldn't see himself playing against Manchester United. The former England captain made his name with United and had highly-successful ten years at Old Trafford. Playing for any other Premier League side other than Manchester United was also going to be very difficult for a man who has been so passionate about his clubs.