The look alike theory is an intriguing one indeed. Almost everyone among us have heard the myth from their grandparents, that there are exactly seven people in the world who exactly look like us. But the fact is, although two people may not exactly look alike unless they are twins like the Da Silva brothers; there are a few people who do look uncannily similar. How many times have you felt while watching a movie that the actor on screen, bears significant resemblance to a popular football icon? I have felt it many times and here I am trying to put together a collection of look-alikes of the men in dark suits, standing in front of the dugout – the club managers.
1. Phil Brown-Hugh Laurie
This former Hull City boss looks a bit like Mr. Frederick Little doesn't he?
2. Andre Villas Boas- Bradley Cooper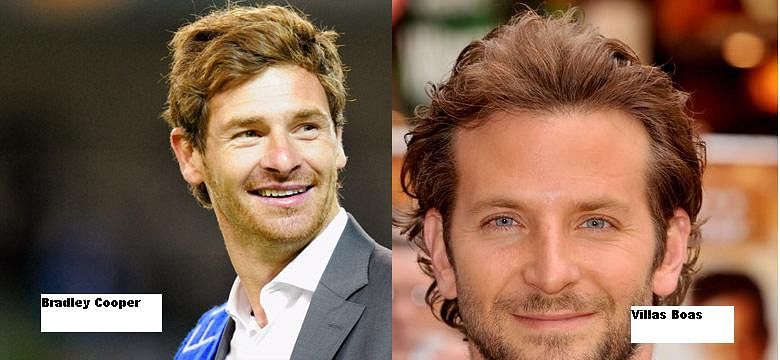 The former Chelsea manager, Andre Villas Boas looks strikingly similar to Hollywood hottie Bradley Cooper. He was sacked by the club only months after his appointment, and his assistant, Roberto Di Matteo took charge on as interim manager and lead the club to the FA Cup and Champions League double. Still got the 'Hangover' Andre?
3. Steve McClaren- Donald Trump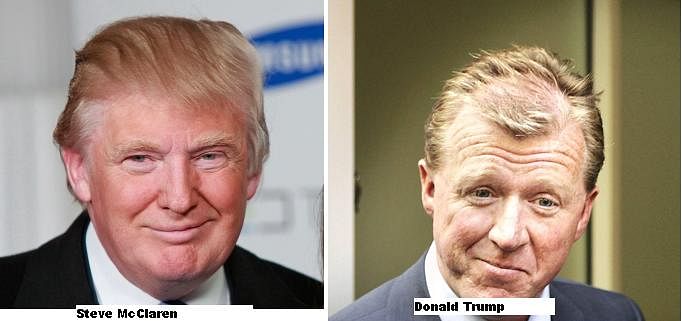 This is epic. One is a failed football manager while the other is a billionaire. What would The Donald say if these two ever meet?
"You're fired".
4. Jupp Heynckes-Martin Sheen
Jupp Heynckes will be still gibing from the UCL final defeat against Chelsea last weekend, at their home turf in spite of dominating the game for 90 minutes and in extra-time. This temperamental Bayern boss does quite look like Martin Sheen. And with Bayern having lost two Champions league finals in the last three years, will it be 'Apocalyse Now' for the Bavarian giants?
5. Vicente Del Bosque- Gene Hackman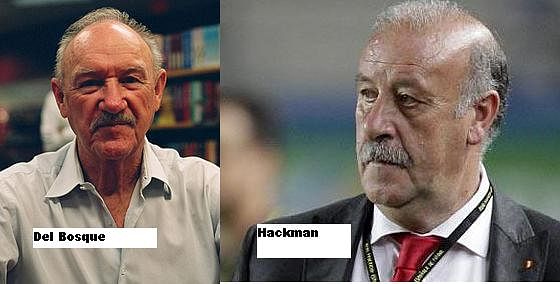 Both these individuals are legends in their own way. Vicente Del Bosque masterminded the Spanish football team to their first ever World Cup triumph, only a couple of years back. And with the Euros knocking on the door, they would once again be favorites to win this. A Hackman style pre-match pep-talk perhaps? "Gentlemen, I intend to put you in harm's way."
6. Alex McLeish –Seymour Hoffman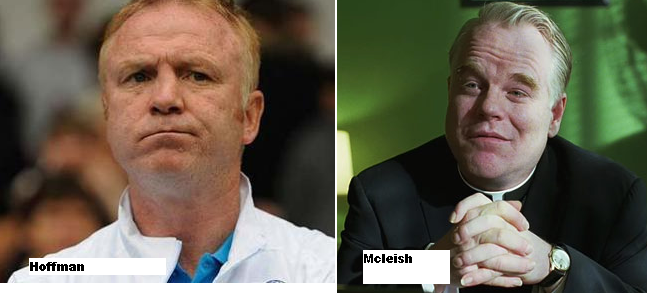 Alex McLeish has recently made the front pages when he was fired as the manager of Aston Villa, a move greeted with cheers by both Villa and Birmingham fans. McLeish angered the Birmingham faithful when he moved from BFC to take charge as manager of Villa at the beginning of this season. However, Mcleish will take great pride from the fact that he does indeed resemble the legendary actor/director Phillip Seymour Hoffman. There you go Alex, you're 'Almost Famous'.
7. Bruno Metsu – Antonio Banderas

How did Bruno Metsu, the Senegal coach in the 2006 World Cup, look like when he was young? Well, like Antonio Banderas. A young Metsu could have possibly been a better bet, as the dangerous El Mariachi with a guitar in hand, and a gorgeous Salma Hayek to romance as well.
Well this was the first edition of the Manager look-alike series. If you want to check out part 2 of the manager lookalikes series, click here. If you have any more in mind, feel free to comment below.
Paul Merson predicts Man City vs Liverpool and other Premier League GW 29 fixtures! Click here