Galatasaray on the edge of bankruptcy
1.43K //
21 Mar 2013, 14:43 IST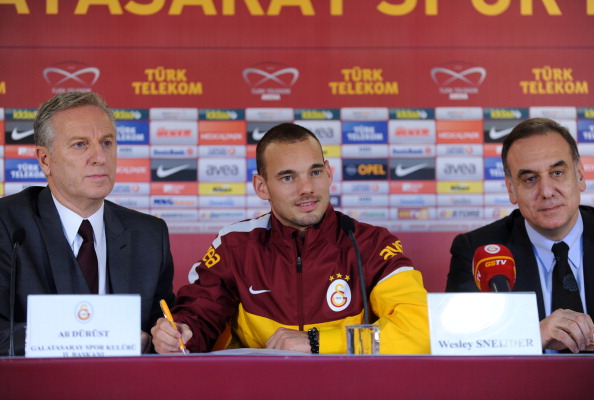 From the outside, it's a great time to be a fan of Turkish club Galatasary. Things can't get any better as they have a star studded line-up, are in the quarter finals of the Champions League, and have now been handed a tie with Real Madrid – life is certainly a smooth sailing for the defending Turkish champions.
However, the club has spent huge amounts on players to gain immediate success, and hence, recent announcements from the club confirms the club are in some serious trouble.
Aysal, the Galatasary President, recently announced that the club is faltering and are on the edge of bankruptcy with a debt of $328m in total. Worryingly, the immediate issue for the club is that they have $78m of short-term debt.
Aysal is worried about the club being financially exposed and stated that if anyone had made a petition to wind up the club, it might prove successful! In a recent interview, he also revealed that he would not have taken the job as President if he had known things were really as bad as they are.
Galatasaray have spent a great deal and are on an all out assault to land the Champions League so that they can break into the elite of European football on a lasting basis. There is a theory floating in and around the club that once the club becomes a permanent fixture in the top tier of Europe, commercial success will automatically follow. Hence, the club has been paying outrageous wages in pursuit of on-field success, as their recent pursuits of Didier Drogba and Wesley Sneijder would testify.
The catch though, for a club like Galatasaray, is that they don't function on a private ownership vis-à-vis a benefactor model like clubs such as Man City or Chelsea, but they are part of a Public Limited Company with shareholders. When Galatasaray needs an inflow of cash, the company needs to create more shares, which could undermine the value of investments of the existing shareholders.
Politics and football go hand in hand in Turkey, and there remains a suspicion that Aysal is somewhat overestimating the threats of bankruptcy so that it helps the club pass through the controversial disinvestment of shares smoothly.
Aysal told reporters that they not only need funds to clear parts of the debt, but also to meet Financial Fair Play (i.e. FFP) requirements. As stated Under FFP rules, any new losses should be covered by injection of equity from the club owners. For Galatasaray, the owners are the shareholders.
The President's announcement suggests that a significant injection of cash is needed by the end of 2013 just to meet FFP requirements. Without the injection of cash, Galatasaray would fail the FFP test.
One thing is for sure – Galatasaray will find themselves in a very tricky position if they fail to raise the required funds as per new FFP rules. Although Aysal's philosophy is that "permanent success creates revenue", the jury is still out on just how permanent Galatasaray's success will be.