Hazard ball-boy incident: Much ado about nothing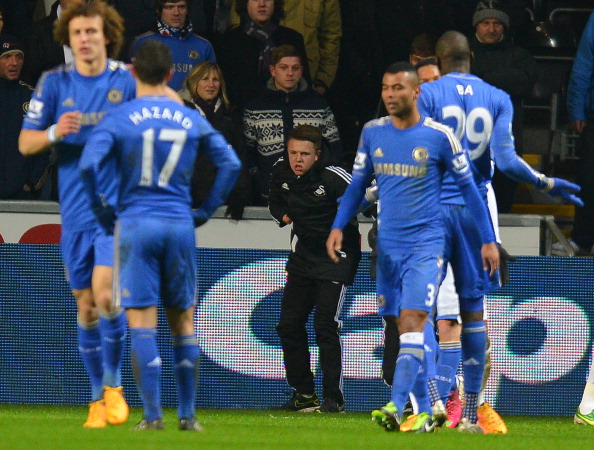 Michael Laudrup's Swansea drew 0-0 with Chelsea in their second leg of the Capital One Cup, and the first leg result was enough to send them into the final, where they will face League Two giantkillers Bradford City. It was a momentous night for the Dane, as he guided his Welsh side in to the final of a domestic cup competition in his very first year at the club.
It's a splendid matchup, and one that should give other teams hope. Victory for either side will see them qualify for the Europa League, a great incentive for teams like Bradford City, and indeed Swansea.
But instead of talking about a potential windfall for either club, the media is choosing to focus on Eden Hazard "kicking" the ball-boy, an incident unworthy of such scrutiny. Overreaction is perhaps not the right word, but it's the first one that comes to mind.
Are we idiots? Have we finally lost ourselves in the quest for ultimate coverage of the game? On a night when we should be hailing Laudrup's side for going the distance and upsetting a side that was one of the favourites, on a night Arsenal put four past West Ham in a blitzkrieg that lasted barely 10 minutes, and on a night the much-maligned Olivier Giroud scored two goals, we are discussing the morality in "kicking" a ball-boy who wasn't even doing his job right.
Put yourself in Eden Hazard's shoes, metaphorically. There's a little more than 10 minutes left on the clock, your side is trailing 0-2 from the first leg, the Swansea goalkeeper is already wasting time with his goalkicks, tensions are running high and time is of the essence. And then a ball-boy, who's only job is to put the ball back into play as quickly as possible, decides to smother the ball and play dead, so that more time is wasted and his team gets a much needed breather. Hazard, no doubt already stressed, has to decide whether to wait for the young man to finish his love-making act with the ball, or just kick it out from under him so that play can go on. A simple decision for a professional footballer, and I think it's clear from this footage that he was careful  not to hurt the boy, but simply get the ball out from under him. All good, game on then? No, hardly. There's still a red card to be given, and Hazard has to take the walk of shame for doing something that the commentators referred to as "indescribable, indefensible and unforgivable."
The last time someone used those words to describe a situation wherein a footballer went mad was when Eric Cantona kicked that hooligan. And this is what Cantona had to say about those who described his momentary lack of control as "unforgivable".
Apt, isn't it, what Cantona has to say? Not the swearing, but how things are blown out of proportion by those who we entrust with the responsibility of providing us with information about the game and its events.
Footballers are people too. Just like the rest of us, they have every right to express their emotions. The only difference is that most of the time, they cannot and don't, for fear of sullying their or their employers' reputation. Eden Hazard has had to put up with a lot of crap, fans booing and swearing at him, journalists calling out for a 5-game ban – all for having the audacity to get the ball back into play, back where it belongs.
And all this is ignoring the fact that the "boy", a fully grown 17-year-old, had intended on doing this exact thing, even going as far as to tweet what he was going to do. One pre-match tweet on his account reads: "The king of all ball boys is back making his final appearance #needed #for #timewasting." The fact that he is the son of a Swansea director only adds to the conspiracy, that somehow Swansea had decided beforehand and told their ball-boys to waste as much time as possible.
Ridiculous. The things we say and do to sell papers, get more clicks and grab more eye-balls. Football happened last night, and amidst all that, one idiot had his 15 seconds of fame, and some more idiots chose to fixate on that moment, completely ignoring the show but focusing on the backstage altercation. The only silver lining is that there are sane individuals, and those are the ones who will laugh off this minor incident and will remember the football on display.
Here's a more realistic roundup of the day's matches: Swansea held on for a memorable draw that sees them reach the League Cup final, Arsenal thumped West Ham 5-1, with Giroud scoring twice, and fans all around the world were left disappointed when Hazard mildly kicked the ball-boy who was acting like a total prick. The fans think the ball-boy got off easy, and wished they too took could kick the boy up his backside to restore sense and parity in the world of football.