How Arsene Wenger slowly destroyed Arsenal's ambition
1.93K //
09 Mar 2017, 10:02 IST
It was during a speech at Arsenal's Annual General Meeting in 2012 that Arsene Wenger had infamously equated qualifying for the UEFA Champions League to winning a trophy. He got widespread ridicule for that statement, especially as it had come during the peak of Arsenal's long trophy-less run under Wenger. The ridicule was a little unjustified, as Wenger had not used the word 'Trophy' in a literal sense, but as a substitute for the word achievement.
He could just as well have said that Champions League qualification is important, and no one would have disagreed.
However, even so, somewhere in those words lies the start of Arsenal's rot into mediocrity, which has brought them to the point that they lose a Champions' League tie 10-2 on aggregate and no one is really surprised that it happened.
Also Read: Arsenal 'in great shape' claims Wenger after Bayern humbling
Those words showed that for Arsenal, qualifying for the Champions League football was an end in itself. It was an admission that Arsenal and Wenger had completely lost sight of the real prizes in club football. Champions League qualification is important, no one will dispute that, but Champions League qualification is important not as an achievement to be celebrated at the end of the season, but because it presents the club with an opportunity to embark on a glorious journey.
Champions League qualification is important only because a club then has the opportunity to lift the biggest prize in club football. The top set at Arsenal, however, seem happy to celebrate merely making up the numbers in the competition, even though they must be fully aware that they don't have the squad to win the competition. Contentment with just participating in an event and never challenging to win it is that start of the end of ambition.
Arsenal are guilty of far worse that just being content with a participation medal and regard the opportunity to just make up the numbers in the UEFA Champions League as a real achievement.
Arsenal, under Arsene Wenger, have lost sight of the fact that UEFA Champions League qualification should be nothing more than the by-product of genuinely challenging for the league title.
The focus should have been on building a strong squad that can challenge for honours and is capable of winning the competitions that the team participates in. Arsenal and Wenger seem to have completely forgotten these basics, and the start of the decline can be traced back to the 2012 AGM and Wenger implying that UEFA Champions League qualification was an end in itself.
Also Read: Arsenal and Arsene Wenger - To settle for mediocrity or risk uncertainty
Finishing 4th without genuinely challenging for the title is no better or different than finishing 17. Both teams just get to stay on in the league the following season, that is all. The only 'extra' that the team gets by finishing 4th place finish just for the sake of it, is that they get to make up the numbers in the Champions League and exit the competition early. Is that really worth anything?
Arsene Wenger's achievements in the first half of his tenure have ensured that he will go down as the most successful Arsenal manager and one of the best managers to have worked in the English Premier League. If one takes Sir Alex Ferguson out of the picture, then Wenger's record of three Premier League titles and six FA Cups is still the best record in English football, by some distance.
However, the Wenger that won those trophies, seemed to have been a much more ambitious manager than the one who presently manages Arsenal.
Over the years Arsene Wenger and his teams in big matches have shown tactical ineptness unworthy of any side that takes itself seriously. Wenger's teams no longer have the stomach for a fight and have regularly caved in at the first sight of pressure and consequently underdelivered, season after season.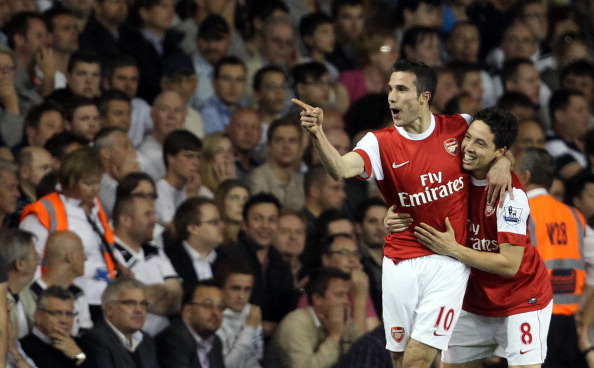 Arsenal's best players have regularly jumped ship because they realised that their targets and goals were far higher than Arsenal's and Arsene Wenger has shown an incredulous amount of naivety when it came to transferring out such players. A lot of Arsenal's top players, Robin van Persie, Samir Nasri, Bacary Sagna, Kolo Toure were sold to direct rivals.
Most of these players have won major trophies wherever they have gone. Wenger weakened Arsenal and strengthened Arsenal's rivals at the same time, by selling Arsenal's best players to them.
Also Read: Will Arsenal survive if Alexis Sanchez, Mesut Ozil and Arsene Wenger leave this summer?
Wenger has remained unchallenged in his come-fourth zone at Arsenal for far too long and this attitude has been passed onto the players. This lack of accountability at Arsenal has hurt the team. The players know that Arsene Wenger is not going anywhere, and as long as he is around, their fat paycheques will keep rolling in, without them needing to do anything different or pushing themselves any harder.
The total and utter lack of accountability at all levels of the club has birthed a strong culture of mediocrity at Arsenal and under-delivering on the football pitch has come to become not only acceptable but the standard.
Success in the Premier League is now harder to come by than it has ever been and Arsenal, rusting in the culture of mediocrity that Wenger has allowed to flourish, are like the titanic heading straight for the iceberg of mid-table anonymity.
Arsene Wenger has brought a lot of success to Arsenal, but it doesn't entitle him to slowly and systematically rot the club to its foundations. Arsenal's board needs to stop treating Wenger as the only manager who could ever possibly bring Arsenal success.
The Arsenal boss is the fourth highest paid manager in football, and few, if any, of the top managers will turn down the chance to take over as Arsenal manager, especially for the kind of salary that Arsenal pay Wenger. Therefore, in naming a successor to the Frenchman, the London club will have the pick of the best managers from around the world
The change of manager alone will send the message to the players and the football world loud and clear that Arsenal are no longer okay with being just average. That message alone could spark Arsenal, currently plagued by inconsistency and lack of ambition, back into being a real football club.
The clock is ticking for Arsenal and they need to act now.