How it all went down at Old Trafford
832 //
06 Mar 2013, 14:35 IST
From the insurance broker having a tough time at his office, right up to the police officer who probably caught his last violator of the day, they'd all generally return to their homes tired and wanting to sleep the night out. But, however, their walk back home last night had a lot more purpose about it. They knew that they'd come home to be welcomed by 22 stars that took to the pitch at Old Trafford. No matter what chores you had to do, or no matter which exam you had to give the following day, OLD TRAFFORD WAS THE PLACE TO BE!
I had to get this off my chest,
"United played extremely well, our team selection was baffling but the fact that we managed to silence a team who are very well known for their counter-attacking football is greatly appreciable, but every story has a villain, and the villain of this spectacle was a Turkish referee known for asserting his authority against English sides. Chelsea, Manchester City and now Manchester United have all fallen victim to his red-card shenanigan. All it took was one fiddle of his pocket, one outstretched arm to give Nani his marching orders, I'm utterly dissapointed that a tie of such magnitude was settled by a controversial decision.."
Feels better to let all your frustration out, doesn't it?
Right, now getting back to the subject.
Manchester United had probably played some of their best football of this season against Real Madrid.
Danny Welbeck was sublime as ever, with his runs into the box, he gave the French new boy, Raphael Varane a tough time at the back!
Giggsy was sublime as ever, It just felt so awe-inspiring when he would win the ball back from the likes of Ozil or Di Maria, the latter would look at the Manchester United no 11 like some 11 year old kid hungry for the ball back. This was the very attitude of his that brought him into the first team 22 years ago.
Rio and Vidic looked solid at the back, the most experienced pair of defenders on the night, and rightly so.  Higuain looked to trouble with his clinical running off the ball, but he was dealt with by de Gea, who again had very little to do on the night.
Rafael probably had the time of his life as he succeeded in every attempt of his to stop the homecoming hero, Ronaldo.
Evra did look out of position, but he was a trouble for Arbeloa as he barged down the left flanks.
Carrick and Cleverley did extremely well in making the midfield tight for the omnipresent threat, Alonso. Ozil looked dangerous, but the first line of defense did their job to near perfection.
Nani had an extremely fruitful night as well. RvP probably was left alone up front, but did have a pop at goal when presented with the opportunity.
With all 11 men doing their jobs perfectly, it couldn't have gone any better when Manchester United took a much deserved lead in the opening stages of the second half.
But as they say, when everything seems to be going just right, you're in for a surprise.
Real Madrid threw as many men forward as possible, in search for an equaliser.  The ball was romped forward from a resulting set piece, Nani's eyes were clearly at the ball. Arbeloa knew what he had to do, draw a foul to thwart the United attack. As Nani raised his foot up to deal with the height of the ball, Arbeloa slams into him, torso first. Both players went down, and Nani knew he was going to get cautioned for a high foot. Nani recieved medical attention, probably was making his way towards the by-lines, customary.  But the Turkish devil, as termed by a contingent of the United fans, tugged into his back pocket, and changed the complexion of the game. You know you're up for it when you see Sir Alex Ferguson get up from his seat! He darted down to the fourth official who said,
"I don't understand what's happening, when I do, I'll let you know". 
The satan to United's treble dream, Cuneyt Cakir was then assaulted by a hum of boos from the Old Trafford faithful, who produced one of the best atmospheres ever achievable on the night. Surprising to note that Modric's goal was responded to by an echo of United chants, most notably,
"We"ll never die! We'll never die. We'll keep the red flag flying high, cause we're Man-United we'll never die!"
Chelsea were robbed of the chance of making the second consecutive final in 2009 by some very dubious and controversial decision. Ever since then, Chelsea fans have been awaiting the chance to avenge their defeat to Barcelona. When presented with the chance, who else by Cuneyt Cakir tried to be the spoil-sport yet again!
John Terry was sent off for something that looked like antics from Alexis Sanchez. But the referee, graded as a 'top-level' referee had a different view of things.  How do you explain this to be a red card? A yellow, agreed, definitely. But Alexis reacts as though he had been stung by a meat-cleaver into his buttock!
Gary Cahill faced the same resent by the same referee in the Club World Cup final, again sent off by the 'A-graded' Turkish referee, Cuneyt Cakir.
For those of you who felt Nani was rightly sent off, here are a few clips, all got yellow for drilling their studs into the opponent's chest, so are the rules different for Cuneyt?
So, was it a red now?
There were reasons aplenty for watching this game, but that sending off killed it.
Ronaldo's name being said as the team sheets were released was greeted with a chorus of cheers. His emotional return, Giggs's 1000′th game as a United player are all in the back-pages as the fronts of all newspaper would show a dejected Nani staring at the red card. The Telegraph even published the front cover of their newspaper dated 6/3/13, which read,"CHEATED",right after the sending off, has it happened before? I doubt.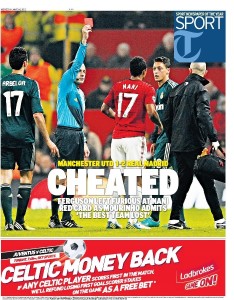 Everything else apart, take nothing away from Real Madrid, Modric's goal was worthy of an equaliser. And who else could settle this tie, other than the 'Monster that United created'! Ronaldo's celebration, where he looked as though he was apologetic and apologised to United fans has increased his already sky-rocketing respect.
Jose Mourinho seems determined to get Real Madrid their much coveted, 'La Decima'. He's set his sights at the Champions League trophy, and he hopes to step down as the Manger of Real Madrid who made their dream possible. Their future opponents will be vary of the threat they posses, and as a Manchester United fan, I wish them the very best, and hope they go ahead to win this tournament this year.
It was a night of mixed emotions at the 'Theater of Dreams', is this the place where Real's dreams take flight? Is Ronaldo finally going to get the last laugh above Lionel Messi? Will Jose Mourinho establish himself as one of the best managers, and the first to win the CL title with three different clubs? Only time will tell, but it was a night for some to remember, and for some to forget.
A spectacle, it was. Debatable, it was. It has all the ingredients that an ideal fixture of this magnitude would offer. It's probably a defeat that'll keep Sir Alex Ferguson gunning for revenge. It's a win that probably kicks off Luka Modric's career as a Galactico. A match that Cuneyt Cakir would want to forget. It's a night that'll remain etched in the hearts of the Stretford enders as an unfair defeat. How else to round this up, but with a quote from the Special One.
"The best team lost. We played bad. I don't know about the red card. The best team lost."