Idle Mancini fails Manchester City
2.05K //
19 Mar 2013, 18:37 IST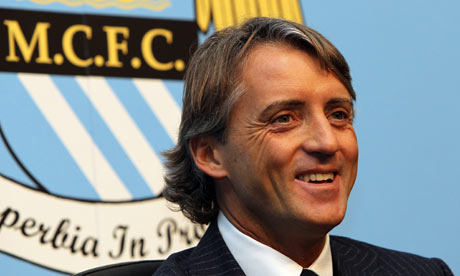 Perhaps that scarf is cutting the blood supply to Roberto Mancini's brain. Because while Manchester City's manager stands on the sidelines like a dumbstruck animal, sporting his classic Italian frown and gesturing like a traffic cop, Alex Ferguson's Manchester United are running away with the title.
Let me explain what I mean.
Manchester City, as I'm sure you're aware, were beaten 2-0 at the hands of Everton on Saturday. This might have been largely due to the absence of Vincent Kompany, Yaya Toure and Sergio Aguero, who are without question the spine of this team. It might also have been due to Everton's outstanding performance on the day. It was at least partially due to the ineptitude of Roberto Mancini.
First of all, it took the Italian until mid-way into the second half to realise that his three centre-half formation was leaving Everton full backs Leighton Baines, and especially Seamus Coleman free all afternoon. The Republic of Ireland international had a fantastic game from the right side, but that was largely because of the amount of space he was allowed by the City defence.
The 3-5-2 formation (or 3-2-2-1-2 to our pedantic readers) has caused some controversy among City fans over the course of this season. Supporters of the shape believe that it allows City to have all of their best players on the pitch at the same time. The sceptics blame the system for some lacklustre performances that have lost City valuable ground in this year's campaign. The debate rages on.
Regardless of whether it is the answer to the team's troubles in the long term, on Saturday afternoon it was blatantly obvious to everyone watching that the 3-5-2 just was not working. Obvious to everyone, that is, except Mancini.
The Italian, who is a big advocate of defensive security, took far too long to realise the ineptitude of his system in defending Everton's width. Time and again, City's flanks were exposed at Goodison Park, as Baines and Coleman burst from the back in counter-attacking waves. Mancini did nothing to stop it. He kept his scarf nice and tight against the Merseyside chill and folded his arms.
His punishment for that was Everton's opening goal, which was set up by Coleman, again finding ample space on the right flank.
Mistake number one.
Then on the hour mark, referee Lee Probert handed Steven Pienaar his marching orders after the South African received a second yellow for a nasty looking foul on Javi Garcia. At 1-0 down, this was the perfect opportunity for Mancini to get creative. He could make a substitution or change the system to best exploit that extra man advantage and get back into the game. Now was the time to strike.
We'd seen it mere weeks before when Manchester United's Nani was controversially dismissed during the Red Devils' Champions League tie with Real Madrid. As soon as the red card was hovering over Nani's head, Madrid boss Jose Mourinho wasted no time replacing Arbeloa with the more cultured Luka Modric. After all, a team is most vulnerable when they have just gone down to ten men. They need to adapt to the change, and that will inevitably leave holes to be exploited.
Mourinho understood this, and his influence on the game changed everything. Fifteen minutes later, the game was over. Modric had scored from a wonderful effort on 66 minutes, followed quickly by a goal for Cristiano Ronaldo on his return to Old Trafford. Two away goals; 3-2 on aggregate; game, set and match. The 'Special One' had made his presence felt. He did what he was supposed to do; he managed his team.
Mancini, on the other hand, didn't manage his team on Saturday. After Pienaar's dismissal, instead of pouncing on Everton's vulnerability, he seemed content to let nature takes its course. Perhaps his mentality was that City had the better players, so naturally with the extra man they would find a way to win. If it was, most people would agree that it was a foolish and lazy reaction.
It was a full ten minutes before Mancini finally went proactive, replacing Gareth Barry with French midfielder Samir Nasri. By this point, Everton had re-organised their lines, and Nasri's introduction did little to aid City's situation. It didn't help that the plan involved with introducing Nasri was nothing more sophisticated than "let's put more attacking players on the pitch".
It got even less sophisticated in the final, desperate moments. In an obvious attempt to bring pace into the game, Mancini brought on speedsters Scott Sinclair and Gael Clichy. Only one problem with that; the game wasn't stretched enough for speed to make a difference. At 1-0 up at home against the reigning league champions, what could you expect David Moyes to do other than play a deep line and compress the space? Of course he was going to sit his team back deep, and look for the counter-attack. In that scenario, speed becomes as useless for City as a chocolate fire-guard. Mancini did it anyway.
In truth, the Sky Blues looked disorganised and creatively stifled in attack for the entire afternoon, not just the last half an hour. With Aguero out of the side, Mancini failed to produce a gameplan that would compensate for the loss of their star striker. The centre of the field was compact and offered no joy to the likes of David Silva, Tevez and (when he came on) Nasri, who all seemed to want to occupy the same areas of the field.
Mancini does not deserve sole ownership of the blame for Saturday's defeat. The City players, down to the last man, gave a poor account of themselves on what was a depressing day for the Citizens. There's certainly enough shame to go around Eastlands this week.
The season, however, is largely Roberto Mancini's fault. Now 15 points behind rivals United, it looks like the title will be returning to the red half of Manchester this year. City's failures have caught up with them, taking their toll on a long and unforgiving season. They have struggled with formations, personnel, substitutions and motivation as they played second fiddle to Sir Alex Ferguson's version of a Manchester club.  By failing to find the answers at Eastlands, Mancini has shown that despite winning the Premier League last season, he is still far behind the likes of Ferguson and Jose Mourinho when it comes to managing his football team.
Following Saturday's defeat at Goodison Park, Mancini refused to talk to the media. According to assistant manager David Platt, "He's angry at everything in general" and "didn't want to say anything that would get him in trouble". Presumably his anger is directed at Lee Probert's failure to spot a blatant handball by Everton's Marouane Fellaini. A mistake that would have given City the chance to level the contest.
He should instead be angry at himself for failing his team when they needed their manager to act.
Yes, Probert's decision was wrong . But you cannot ever rely on the referee to put you back into the game. Mancini should have used his supposed football knowledge to influence the contest and take the advantage that was presented to him. That's what he's paid a lot of money to do. He didn't do it, he hasn't all season, and Manchester City are suffering because of it.