In Arsène They Must Still Trust
1.02K //
04 Nov 2012, 20:17 IST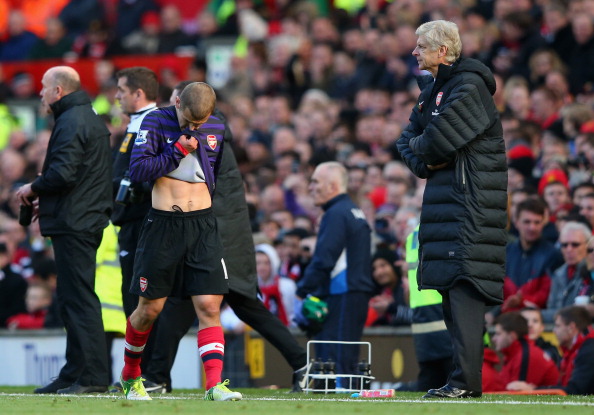 A fleeting glance at the scoreboard would tell a tale completely different to what was witnessed on the pitch at Old Trafford on Saturday afternoon. Manchester United had numerous occasions to put the game to bed; Arsenal had plenty of instances to ponder over what went wrong in defence. And attack.
Sporting a puffy coat that looked like something the Stasi would wear were they still terrorising Germans in the 21st century, Arsène Wenger cut a dejected figure on the touchline. Sir Alex, on the other hand, was all smiles in his cushy Recaro seat.
Andre Santos, supremely shoddy at left-back, successfully reiterated his desire to win the Less-Illustrious-Than-Kléberson tag. Jack Wilshere – already booked and fatigued by chasing shadows across Old Trafford's expansive pitch – lunged at Patrice Evra, studs-first, in order to get sent-off. Lukas Podolski looked nothing like the mercurial forward he is for Die Mannschaft and Olivier Giroud is one gloomy London day away from flying back to the Mediterranean.
In all fairness, Manchester United were less than clinical. However, Sir Alex's problems were limited to Wayne Rooney's nervousness while taking (and missing) the penalty conceded by Santi Cazorla, Antonio Valencia's embarrassing stumble in the six-yard box and David de Gea's repeated complaints of boredom due to lack of action. Manchester United weren't ruthless. They were, however, ruthlessly dominant. The 2-1 scoreline flattered Arsenal and bemused Sir Alex who vowed to take all of United's penalties henceforth.
Arsène Wenger's problems aren't ones he hasn't faced earlier. Low morale, faltering tactics and inexperience have been characteristic features of Wenger's youthful Gunners. Arsenal were a distant second best at Old Trafford. They lacked desire and commitment. Robin van Persie's performance for his new club forced Arsenal fans to chant 'We want our Arsenal back!' Ivan Gazidis must reply with, 'Here, take your Arsenal back'. A change in ownership might appease a section of Arsenal's exasperated supporters but Arsenal still need Wenger and in Wenger they must continue to trust.
Digressing from the topic, former official Clive Wilkes suggested that some referees are contemplating boycotting all Chelsea games in light of the allegations made against Mark Clattenburg last week. Mike Dean employed a novel way of expressing his displeasure at players by booking seven and dismissing one at Old Trafford on Saturday.