Interesting Talking Points from EPL Game-week 16
1.61K //
11 Dec 2012, 00:28 IST
Presenting the weekend that was in the EPL:
New Talent Discovered: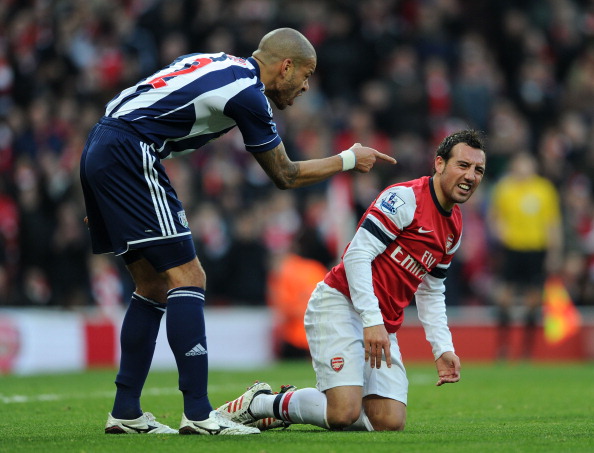 If not for Michu and possibly Robin Van Persie, Santi Cazorla would have been the signing of the season. Although Arsenal went through a bad patch and have not been quite consistent throughout the season, Santi has been a real star for Arsenal. Gunners and neutrals alike, all were dazzled by his vision and creativity in driving the Arsenal attacks.
However, this Saturday, Cazorla showed the talent he had kept hidden till now, his diving skills! And wow, what a great dive that was! At first look it was a clear penalty. But then replays showed there was no contact whatsoever, but he still fell like Titanic hitting an iceberg. To add insult to injury, he got the penalty and Arteta scored too. Well, watch out Suarez, Busquets and Young, you guys have competition.
Miracles do happen, Believe in them: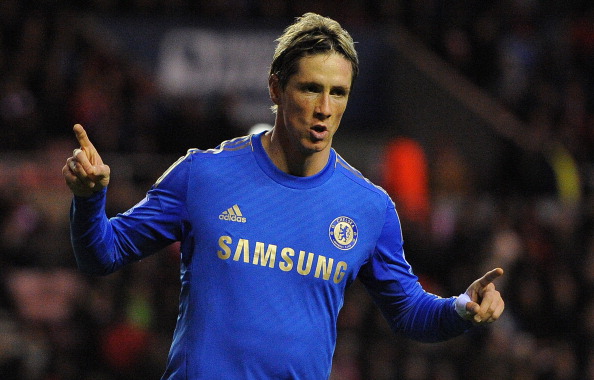 Torres in Chelsea colours scores 2 goals….no, not in the whole month but in a single match. Considering the Champions League game, it's now two braces in two consecutive games. As a direct consequence, all the football troll-sters in the world are really disappointed with the happenings. Torres, since his move to Chelsea, has been a true superstar in the troll world. Whenever there was a drought of ideas, they could time and again go back to 'Torres misses open goal' trolls. Now they are in a fix. The legendary option seems gone. High time that they revert back to the original football troll icon 'Heskey'.
 Deja vu: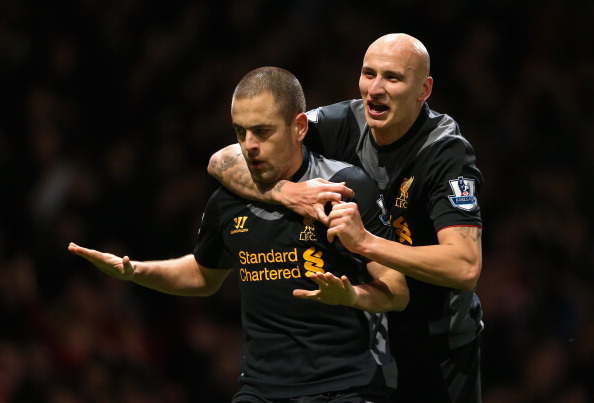 What goes around comes around. And in the club football world, it happens so often that any player facing his former club scores a goal. But very rarely does it happen that two guys playing for a side, score in the same match against an opponent which actually is their former club. So what happened this Sunday at Upton park was an epic statistic in its right. Three ex-West Ham players Glen Johnson, Joe Cole, and Jonjo Shelvey playing for Liverpool scored against their former club West Ham, all in the same match! No one saw that coming! Deja vu for the Hammers really!
Respect for Joe Cole though, his first EPL goal in 18 months but still did not celebrate as a mark of respect towards the club he once captained.
Trend of the season:
16 games, 13 wins and 3 losses. Judging by the goals statistics, matches that have United involved have been the most exciting in all of EPL. 40 goals scored and 23 conceded. Normally with that many goals conceded at this stage of the season, a team should be struggling. However, United sit at the top of the standings with a 6 point cushion. Along with the 'comebacks' tag, the mantra for Man United has been 'we will score more than we concede in a match'. One wonders till when they can keep this on. But one stat that will please the United faithful is once Man Utd lead in a match, at the end of 2nd half injury time, I repeat 'end of 2nd half injury time' and not end of 90 minutes; no matter the opposition, the venue, United will win. They have not dropped any points from matches that they have taken a lead at some point in the game.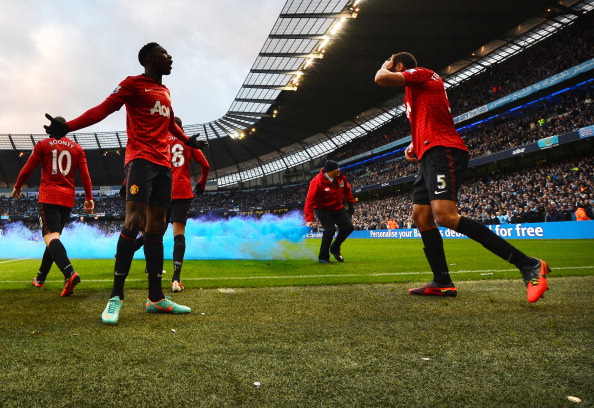 Lesson to be learned:  One can buy trophies, but can't buy class.
Last year United were humiliated at home by City. That 6-1 scoreline was even more devastating than the 8-2 they themselves had inflicted on the Gunners. But no matter how disappointed the fans were on the day, nothing of this sort happened. And what the City faithful did- throwing coins, entering the field of play to charge the opponents – was disgraceful really. And although Man City have come out and apologized to Rio, hopefully the FA will take some fitting action.