Is this Chelsea really the 'Champions Of Europe'?
1.35K //
02 Dec 2012, 20:07 IST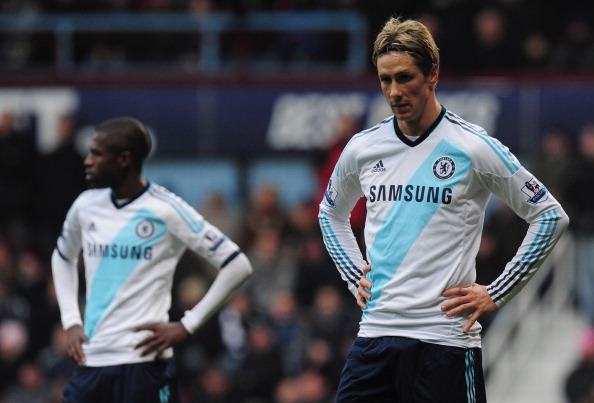 PROBLEMS
Is this the same Chelsea who won the Champions League six months ago? Are these the champions of Europe? Seven games without a win, sees the champions of Europe sitting in 3rd position, already 10 points behind leaders Manchester United who don't seem to know how to lose and 7 points behind 2nd placed Manchester City who are the only unbeaten club in England's top 4 leagues. Before this 7 game winless streak, Chelsea had a good 4 point lead over 2nd placed Manchester United. This winless streak started when Chelsea lost 2-3 at home to Manchester United, their first loss to the Red Devils at Stamford Bridge since more than a decade. But the win did come in a controversial manner. First, two red cards for the Blues and then an offside goal scored by Man United's Javier Hernandez. The referee, Mark Clattenburg came under heavy criticism by Chelsea fans, after his poor decisions cost the Blues the game. Chelsea then lodged an official complaint with the FA saying that Clattenburg had racially abused Chelsea's playmaker Juan Mata and Defensive Midfielder John Obi Mikel. But a month later, the case was dismissed due to lack of evidence. Clattenburg could resume his refereeing duties only last week after which he regarded November as 'the scariest period of his career'.
Moving on from the Manchester United game, Chelsea then played Swansea away at the Liberty Stadium. The game ended as 1-1 draw with Victor Moses putting the Blues ahead from a Juan Mata corner and then Pablo Hernandez scoring a late equalizer to level it up for the Swans. Then came Liverpool, who played Chelsea at Stamford Bridge. That game ended as 1-1 too, with John Terry marking his return by scoring from a Juan Mata corner. However, he had to be stretchered off after 25 minutes when Luis Suarez made a late tackle, twisting the centre back's leg badly. He was ruled out for another four weeks in his return game. Luis Suarez later scored the equalizer.
However, the misery did not end there, Chelsea then lost 2-1 to West Brom at the Hawthorns, putting Roberto Di Matteo's job as Chelsea manager in serious jeopardy. Coincidentally AVB's sacking too, came when Chelsea lost 1-0 to West Brom last season at this very ground. Then came RDM's last game as Chelsea manager, when they played Juventus in Turin. RDM played 5-2-3 in this game, opting for Fernando Torres on the bench and playing with three attacking midfielders. Spain too, used this strategy in the Euros earlier this year, which played a major part in crowning them champions. However, it didn't quite work out for the European Champions, playing 7 in defence and 3 in attack. It ended 3-0 in favour of Juventus.
Then came Rafael Benitez, who Roman Abramovich appointed as the new Chelsea manager. He hasn't done any good for Chelsea so far, drawing two against Man City and Fulham at home and losing 3-1 to West Ham away yesterday, which has left many Chelsea fans furious as to why Benitez was appointed in the first place, when RDM gave Chelsea such a good start to the season.
SOLUTIONS
1. Moving away from the 4-2-3-1 will benefit Chelsea big time. You may argue that the 4-2-3-1 has led us to the UCL and the FA Cup title too, but on the other hand, we have lost the Community Shield, Super Cup and this 7 game winless streak in the League, 8 in all competitions. Playing a 4-4-2 or a 4-3-3, where Torres will get support, will be a lot better.
2. Torres has now gone over 11 hours on the field without scoring for Chelsea. RDM showed him his place in the Juventus game i.e. on the bench, signalling that he should not take his place in the starting XI for granted. But this angered Chelsea owner Roman Abramovich as he had told RDM to start Torres. Giving Torres support ahead could help.
3. Squad rotation. Another problem which Chelsea have faced. Since the start of this season, Chelsea have used 20 of their 25 players, putting them last in the terms of number of players used.
4. Torres hasn't been able to score, then why not give the youth a go? Islam Feruz scored nearly every game he played for the Chelsea U-21 side this season! Patrick Bamford, his striking partner has combined with him, to score, very well.
5. The manager can't be blamed for every loss. Torres has been the main reason behind the sacking of Ancelotti, AVB and RDM. If your team does badly, sacking the manager is so easy, isn't it? Anyone would prefer sacking one person rather than the whole squad! But the managers give their best too, is my point here. It's upto the players to perform.