Jose Mourinho confident Chelsea will win the Premier League
1.90K //
24 Mar 2015, 00:48 IST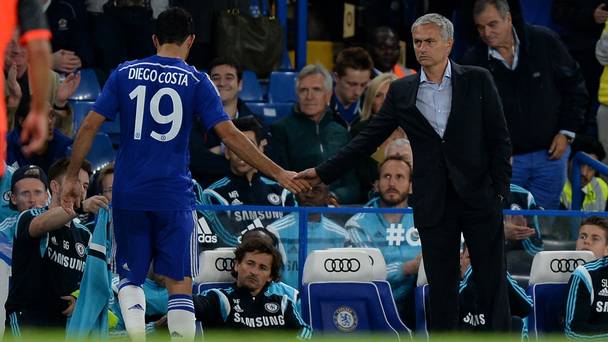 Chelsea manager Jose Mourinho is confident of his team clinching the Premier League following a 3-2 win over Hull at the KC Stadium on Sunday. Chelsea avoided a shock defeat courtesy of a late Loic Remy goal after Hull scored two goals to cancel out Chelsea's early strikes.
Eden Hazard opened the scoring for the Blues before Diego Costa fired home to double their lead within 10 minutes. But Steve Bruce's men fought back with a double strike of their own by Ahmed Elmohamady and Abel Hernandez. The second goal came after a loose touch by Chelsea goalkeeper Thibaut Courtois.
Courtois made amends on the 64th minute with excellent triple saves before Loic Remy restored the league leaders' lead in the 77th minute.
After the match, Mourinho told Chelsea's official website, "The title race should be over, in normal conditions Chelsea should have eight, 10 or 12 more points than we have but football is unpredictable. The reality is that we have a six-point lead, the best situation we've had all season.
"The maximum distance we had was eight points but at that point we had 20 matches to go. At this moment we have a six-point lead with one match in hand, which could help us or not. I'm pretty confident, I believe in my players, I believe we can do it but I know it's difficult."
The Portuguese talked about the match and revealed what he said at half time when his side went in level despite leading by two goals at one point.
"We let the lead go, but we played fantastic football with the ball from the first minute. When at half time it's 2-2 and you want to win the game, the most important thing is to play how we did from the start, that's what I told the players," the 52-year-old said.
"There was no point analyzing details and mistakes. We had to get back to playing the football we lost in the last 15 minutes of the first half. From the first minute of the second half we went back to quality football, creation and movement. Sooner or later the goal was going to arrive.
"In the second half we played, there was a difficult situation on the break when Thibaut had to make three saves in a few seconds. After that we created and tried everything, so I think we deserved it.
"If we didn't win the game after the way we played we would have had the same feeling as Southampton. Today by winning we got what we deserved and it's a good feeling."
Mourinho confirmed Diego Costa suffered hamstring injury
Eventual match winner Remy replaced forward Costa and Mourinho confirmed initial fears of a hamstring injury for the Spanish international.
He said, "It's a hamstring injury. When a striker is playing, the team needs a goal to win the game and he says it's over for him, it's over. He tried to play the Champions League final with Atletico [Madrid] and was injured, he has that fragility, we know his hamstring is not a strong one.
"He works hard in the week to compensate for the weakness he has there but the injury can come. We have Remy and [Didier] Drogba, we never cry about injured players so let's move on."
Mourinho also praised Remy's impact after coming onto the field, stating, "Every time he plays he's there. He probably deserves more than what I've given him. Sometimes a coach can feel he owes something to a player and with Remy that's the case.
"I think I owe him something, every time he plays he gives us a lot, I'm so happy for him because he deserves it," the Chelsea manager concluded.