Jose Mourinho: The other side of instant success
1.67K //
18 Oct 2016, 13:27 IST
On paper, Jose Mourinho is a manager who has enjoyed success at every club he has managed, be it Chelsea, Inter Milan or Real Madrid. So much so that having him as manager almost guarantees success wherever he goes.
However, although Mourinho's success has been almost instantly guaranteed, it has also always been short lived.
Also Read: EPL 2016-17: Manchester United bossed the game while Liverpool played defensively, claims Jose Mourinho
The Portuguese manager prefers to bring in established stars that ensure him immediate success, rather than focusing on developing the already existing talent at his disposal; a method which has led to his downfall in the long run.
However, never before have the players, once let go by Mourinho, come back to haunt him, as has been the case with his former Chelsea players.
The Irony
Mourinho first made his mark as a manager by guiding FC Porto to the Portuguese League title in 2003. He followed that up by defending the league title and also winning the Champions League the next season.
The most impressive aspect about Mourinho's success was the fact that he achieved all this with a very young but extremely talented squad, which included the likes of Ricardo Carvalho, Deco, Paulo Ferreira and Helder Postiga, among others.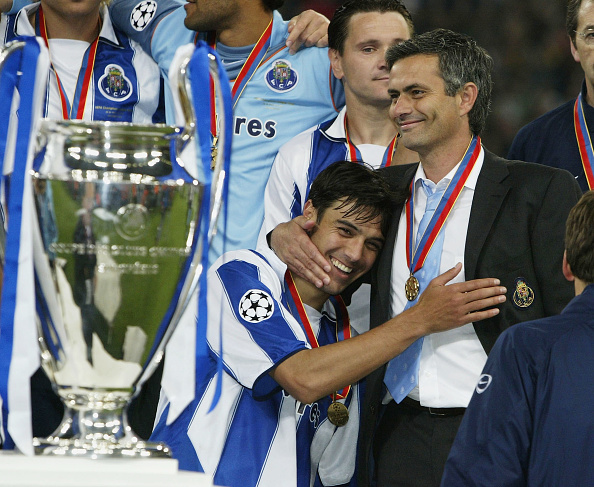 The above mentioned triumphs clearly show that Mourinho had an eye for scouting promising talent. But this is also exactly what makes Mourinho's lack of player development in recent times even more ironic.
Though Mourinho brought Carvalho and Ferreira with him for his first spell in charge of Chelsea, he simply hasn't done enough of this, ever since. For his claim that he has handed 49 players their club debuts, hardly any of them have had the success that his Porto players enjoyed.
Changing times, changing ways
Although Mourinho has gone on to cement his reputation as a serial winner, by achieving success at every club he managed, somewhere along the way, he stopped developing the young players he had at his disposal.
Instead of nurturing the talent that was available to him, Mourinho chose to sell them and invest in already established star players, who were guaranteed to bring him immediate success.
However, it is important to note that Mourinho's decision to let his young guns go had nothing to do with them lacking the necessary talent to make it big at the highest level. The Portuguese manager probably simply did not want to invest the necessary time, to let their talent reach its true potential, and there can be no better examples of this than Mourinho's decision to sell Romelu Lukaku and Kevin De Bruyne, while still in charge of Chelsea.
In addition to the two Belgians, Mourinho also sold Juan Mata and Petr Cech to Manchester United and Arsenal respectively. The Manchester United claimed Mata did not fit his desired style of play back then, and was thus replaced by Oscar.
However, the reason why Cech was sold to Arsenal and replaced by Thibaut Courtois, is still beyond the comprehension of many, particularly given that Cech was the rock, upon which Mourinho built the foundations of his success during his first spell in charge.
Gone too soon
Little did Mourinho know that not only would the players he sold achieve their true potential, they would also return to be a thorn in his flesh in the near future. This was certainly the case with De Bruyne, as the Belgian was at the heart of plotting United's downfall in the Manchester derby earlier this season.
More importantly, with every touch of the ball that De Bruyne had that day, you couldn't help but wonder what went on inside Mourinho's mind. Perhaps had he held on to the Belgian for a bit longer and allowed his unquestionable talent to blossom, he would not have to eat humble pie on derby day.
A similar argument can be made about Lukaku. While he was at Chelsea, he was primed to be the one to fill the boots of Didier Drogba, but he simply wasn't given enough time. But ever since he was sold, he has established himself as one of the best strikers in the Premier League at Everton, and in the recent past there have been rumors of Mourinho looking to resign Lukaku as his main man.
The virtue of patience
Patience is said to be a virtue and good things in life are said to come to those who wait. Unfortunately for Mourinho, this is the one quality that he has lacked the most in the recent past, particularly with the kind of players he let go while at Chelsea.
This is not to say that Mourinho's methods of acquiring players are not successful, they obviously are, and a quick look at his record tells you why. In his quest for instant success at his clubs, Mourinho stopped building for a sustainable future. Had Mourinho cared enough about developing talent, rather than buying talent, he could have been more successful over a longer period of time.
More importantly, he wouldn't have to rely so heavily on a select few players to bring him success during his managerial tenure at a particular club, as was the case with Eden Hazard during his second spell at Chelsea.
Mourinho has no one but himself to blame for the disastrous end to his second spell in charge of Chelsea, given the kind of players he allowed to leave the club.
It probably still isn't too late for Mourinho to mend his ways with regard to how he handles the budding prospects of a club he manages. The only things that stand in his way are his own pride and ego. Moreover, now that he's in charge of Manchester United, it might just be the perfect place to start.
If Mourinho chooses to change, he can start planning to nurture players for the future.
But then again, as he once famously said, "I'm Jose Mourinho and I don't change. I arrive with all my qualities and my defects."