La Liga Roundup: Records being broken by the minute
675 //
12 Dec 2012, 15:39 IST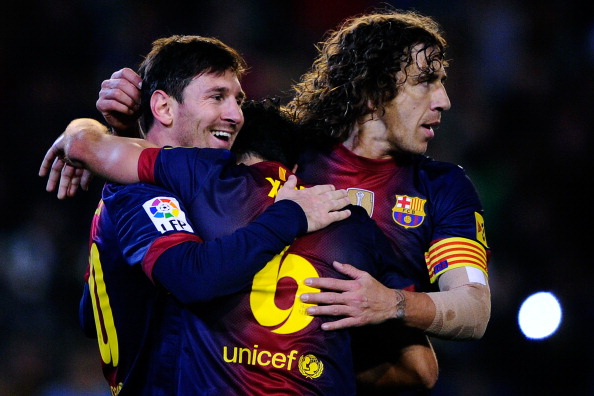 It was a day for the world's greatest present Number 9 and Number 10 to leave another one of their marks in the football history books. Currently the two best players in La Liga, Messi and Falcao, grabbed their chance to single-handedly destroy the chances of their opposition to get any sort of result from their matches. Barcelona's was a rather well-fought and a close win and it took nothing less than the best of Messi to penetrate the resolute and confident Betis defense which was riding on some great recent results, most admirably the win against Real Madrid, 2 weeks ago. Athletico Madrid, on the other hand, destroyed Deportivo's defense on 6 occasions, 5 times through the magical feet of Falcao.
In doing that, these two players matched or surpassed two of the more formidable records standing today. While Falcao's feat of matching the maximum number of goals hit in a La Liga match since 2002 was no puny feat, Messi's surpassing of Gerd Muller's record for the highest goals scored in a calendar year, 85, did make it look like one.
According to the record books, it came as a surprise to many that Messi had indeed never won a match at the Estadio Benito Villamarín and Barcelona had won only once since 1999. But that was just another record waiting to be broken. Betis performed admirably, pulling one back through the Castro's 9th goal of the season. Their strategy of putting in balls to their two speedy wingers through the talented feet of Sevilla and Benat, who would eventually put crosses and through balls to Castro, looked threatening. They kept pushing and looked determined about getting that equalizing goal all through the second half, but just couldn't break down Barcelona's defense for the second time. Had a few decisions here and there gone their way, especially the Pique hand-ball, we could have had a really interesting fight on our hands. Having said that, there were a few particularly displeasing plays from Betis, notably the first Messi goal, where all the defenders seemed to have simply gone to sleep.
In a huge contrast to the league-leaders' match, Athletico Madrid seemed up for the daunting task of catching up with them and did brilliantly on and off the ball. Radamel Falcao's lethal touch in front of goal seemed impossible for Deportivo to respond to, and the result was monstrous. He showed a few of his finishing skills – a placed shot, a half-volley, a penalty exactly into the bottom-right corner, a diving header and a tenacious dribble combined with a cool finesse – and he single-handedly ran away with the match and the MOTM award. But nothing should be taken away from the excellent play from the men behind him, who constantly strived at creating chances for their No. 10.
Talking Points-
- Given the injury Messi picked earlier last week, it was looking bleak that he would be able to lead Barcelona to their 14th league win of the season. Betis players and fans must have been wishing really hard that the main outlet of Barca's incredible play was closed, but those prayers were not to keep Messi from finding his 86th goal of the year. The only question that remains now is that just how much harder Messi makes it for the generations to come to break this record of his.
- Chelsea fans' mouths must be watering right now by the prospect of Falcao joining them soon but Roman and Rafa realize that their past acquisition worth 50 million could just go down the drain, and given the seemingly regained spark of Torres, they might just let Falcao lay at La Liga.
- Arsenal youngster Joel Campbell, currently on loan at Real Betis, performed well and consistently put in numerous crosses in from the wing, but was equally guilty at losing the ball to wayward passing and high pressing of Barcelona players.
- David Villa continues to be absent from the starting 11, and even an injury to Fabregas isn't enough to get him off the bench. Consequently, rumors linking him away from Barcelona would only increase.