Learning from your enemies – how Real Madrid and Barcelona have evolved
3.80K //
22 Mar 2015, 15:03 IST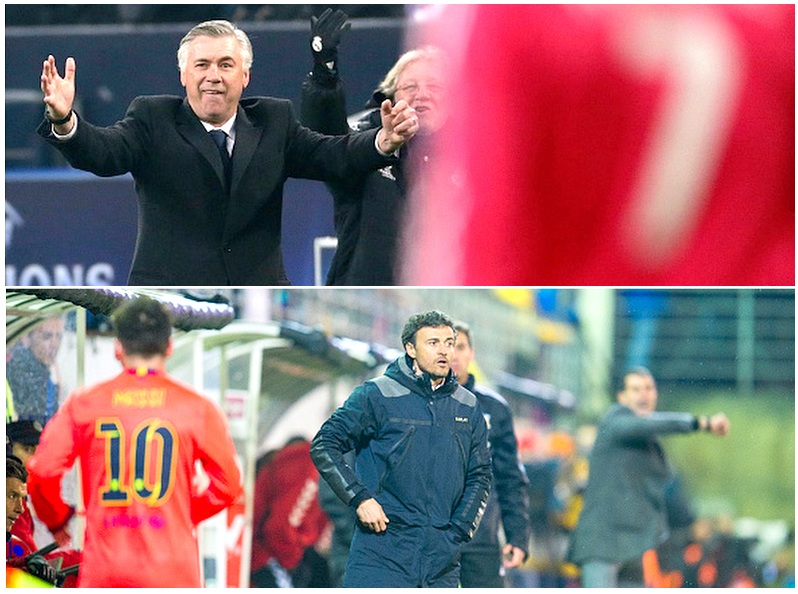 Time is change, change is nature. This universe is like a sine graph in motion; constantly changing like the opinions of Pele. And now we are witnessing a change that few, not so long ago, thought was possible.
There was once a time when FC Barcelona were ruling the world of football with their brand of astute tiki-taka football. Not one player in that team kept the ball with him for more than 2 seconds or as many touches. It was beautiful, it was efficient, and, most importantly, it was legendary.
However, as the orchestrator of that Barcelona – Xavi Hernandez – hit the beginning of his downslide, the style that once conquered everything that fell in its way also started to wane.
And it took the fall against two of the most brutal counter-attacking teams of that time – Bayern Munich and Real Madrid.
At first, Bayern desecrated the holiness of Barcelona in 2013 when they beat them 7-0 over two legs – and that too in a stage as big as the semi-final of the Champions League. The very next season, Real Madrid showed their dominance by overpowering their once-dreaded foe by pure brilliance of swift-attacking football.
Both Real Madrid and Barcelona enjoyed success with their respective styles.
Now, however, both Real Madrid and Barcelona have amalgamated some aspects of each other's playing styles – Barca are now more direct with their game and their bitter rivals enjoy playing a possession-based brand of football.
During Real Madrid's brightest hour, they were the accurate specimen of direct football led, tactically, by the brilliant Angel di Maria. The Argentine – who was nicknamed 'Noodle' because of his thin legs that became wavy while dribbling – was the spearhead of Madrid's playing style.
He was, in fact, the epitome of Blancos' identity. If there was any player that truly represent the playing image of his team, it was di Maria. He himself was quick, direct, relentless and technically exceptional – exactly how the Galacticos were last season.
But with his departure to England, the Whites have had to rethink their tactics as he was the crux of the old system.
And they changed. With the arrival of Toni Kroos and James Rodriguez, and the incorporation of Isco coupled with Luka Modric's versatility, Real Madrid now play a slightly different game than they used to.
Toni Kroos' presence has been the key in this regard. The German is among the highest passers in the team and his mobility allows him to do what Xabi Alonso couldn't – get out of tight spaces with the ball. That, in turn, helps keep and spray the possession.
The other major fact to this tweak was Carlo Ancelotti's subtle change of the system. Real Madrid are no longer the outright 4-3-3 team they were last season. When without possession, they shift to a 4-4-2 in order to make-do for the absence of the tenacity that Angel di Maria provided last season.
This change has helped Real Madrid win possession quicker and that, like the domino effect, has helped in retaining the possession.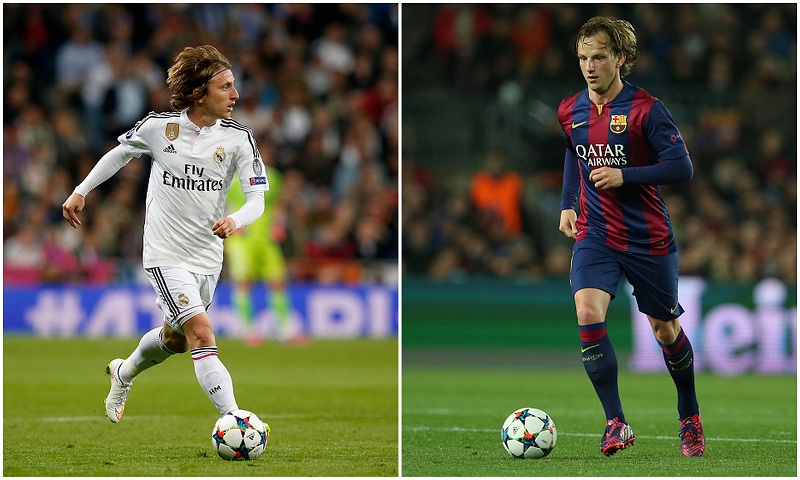 Meanwhile, the architect of the golden Blaugrana team was Xavi Hernandez. He was the centrifugal force of that Barcelona's eternal glory hymns. His genius on the pitch is understood far more now when he is actually spending more time on the bench.
To play the type of tiki-taka Barcelona did, a superintendent like Xavi Hernandez is an absolute must and the current Barcelona team shows why.
Xavi's worst season in recent memory was last season – which, not-so-coincidentally, was Barca's worst too. Their tiki-taka seemed to lack the olden zest and felt like a long and overdrawn attempt to save a dying breed of football.
It also didn't help that Andres Iniesta was also going through one of his worst seasons. While Xavi was the engineer, Andres Iniesta was the interior designer who gave the system a cutting edge and neatness.
As Xavi is no longer the player he once was, playing the olden golden way was no longer plausible or wise. So there had to be a slight change in style. And that is what happened.
With Xavi's star fading, Ivan Rakitic was bought to replace the Spaniard and he has done a fine job thus far – but not in the tiki-taka way of doing things. He is not the type of player that Xavi is or was. He is own kind of player – and that is why Barca have been successful in integrating a more direct approach to their game.
The Croat was the generalissimo of the counter-attacking Sevilla team that finished 5th last season. He was the root of almost every superb Sevilla move – and he has been the same for his new employers.
While Xavi liked spraying the possession sideways and backwards in order keep possession and initiate slow attacks, the former Sevilla man is more of a forward and direct passer – largely thanks to his football upbringing.
Along with Rakitic, Suarez's arrival has also helped Barca become better at counter-attacking football. With Lionel Messi on the right and Neymar on the left, respectively, Suarez finds himself spearheading the trio from the center – and that gives Barcelona two direct players in the middle of the pitch.
What that does is cut out meaningless side and back passes to an extent. Once upon a time, Barca had only two regular players in the starting XI who could play direct football – Lionel Messi and Pedro/Alexis Sanchez. Now they have four.
This has helped them become more direct since they focus playing from the middle instead of the flanks – an added weapon in their arsenal that has helped them catch up with bitter rivals Real Madrid.
Both these teams face off today in the highly anticipated Clasico. This could be the season-defining Clasico as a win for Barca would take them 4 points clear the capital club and a win for the Whites would give them a 2 points cushion over the Catalans. And both of these teams will be chasing the win playing a part of each other's game.