Legends of club football: Peter Schmeichel
1.84K //
29 Nov 2012, 22:27 IST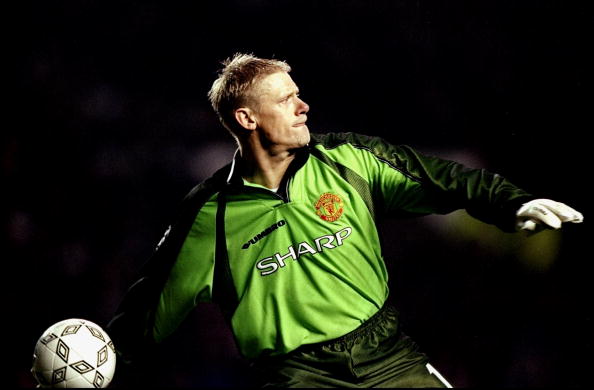 "I'm Peter Schmeichel. I'm as big as Man United. That was his attitude."

- Steve Bruce
Bravery, passion, dominance; Peter Boleslaw Schmeichel was an embodiment of all three qualities. Standing apart as a shining beacon in the cold, thankless world of goalkeeping obscurity, Schmeichel created a legacy for himself, save by save; a legacy unsurpassed. A man who loved preventing goals just as much, nay, much more than an outfielder loves scoring them, Schmeichel was an immovable object that shattered the unstoppable forces of Barcelona, Inter Milan, Bayern Munich, and a thousand other. The era of United dominance, and the decade of the golden generation would be just one thing without Schmeichel; a distant fantasy.
The Gentle Giant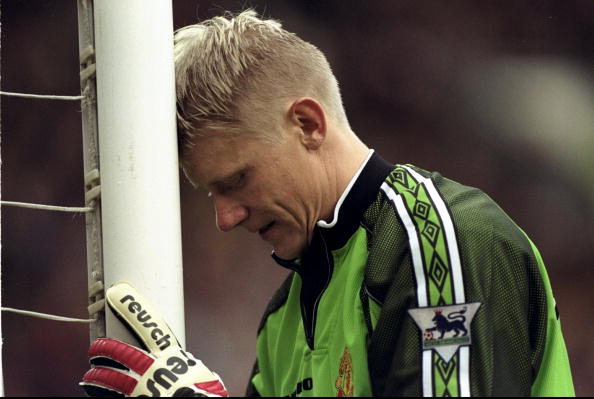 "I think goalkeeping is the best part of football.. it was the right thing for me."
-Peter Schmeichel
Having worked his way up from his modest beginnings at Hoje-Gladsaxe, through Gladsaxe-Hero and Hvidovre, and finally into professional football with Brondby, Schmeichel never for a moment doubted that he would be the number one goalkeeper in the world. If there was one thing that Schmeichel had in abundance, it was confidence. If another, it was the talent to match. Roaring his way through the ninety minutes, Schmeichel would often terrorise opposition attackers into submission through sheer will power, claiming any ball into his territory as his and his alone. A poorly organized defence was anathema to the man, and an error in judgement from a defender would earn him an earful of exactly what Schmeichel thought of the slip.
In the summer of '91, it was Christmas come early for Schmeichel, as the club of his childhood dreams came knocking. Then, having secured his signature for just £505,000, something Sir Alex Ferguson would describe later as the 'bargain of the century', Manchester United thrust Schmeichel straight into the heart of the Red revolution at Manchester; a revolution he would lead to glory. In a career spanning eight years, and 393 games as the undisputed number one at Old Trafford, Schmeichel pulled off a series of legendary saves which would earn him 177 clean sheets, and catapult him into the hall of fame, not just of 'keepers, but of the footballing world as a whole.
Arriving from relative obscurity at a time when United were in a drought, and Alex Ferguson was under pressure to deliver, having focused on grooming the likes of Ryan Giggs, Paul Scholes, Nicky Butt, and the Neville brothers, Schmeichel was a blessing; the likes of which had never been witnessed by the fans. The memories of Alex Stepney, and Gary Bailey had begun to fade, and the defense was held intact by the commanding presence of Steve Bruce, and Gary Pallister. The two men, who bled red, and were absolute dominators of the opposition attack, would soon find out that the man behind them, in between the sticks was even more so. Over the '91 – '99 period that Schmeichel spent at Old Trafford, he would often be seen screaming his lungs out at his defenders, every time a shot managed to make it past them. It was true; Schmeichel didn't just hate conceding goals, he hated when an opposition player had the audacity to even think he could score past the Dane. He hated it even more when his defenders allowed them a chance to do so, be it the legendary Steve Bruce himself.
Off the pitch, however, Schmeichel has been described as a fantastic personality, who left all that happened on the pitch just there. Having worked, out of necessity, for the World Wildlife Fund back in Denmark, Schmeichel would develop a passion for active causes, and even wrote columns for the WWF magazine when he was at the peak of his career. Also described as an excellent musician, who can play the piano well enough to make the hair on the back of your neck rise in attention, and an exceptional drummer who can't really sing that well, Schmeichel's passion was the key to holding together a Manchester United team, who never fell apart in spite of their meteoric rise. Where others would have driven away in their flashy cars, or serenaded the hordes of eager women, Schmeichel would lead celebrations in the dressing room, firing everyone up just by looking into their eyes, and giving them a mighty roar of inspiration. That was how much a win meant to him, how much the club meant to him.
No way past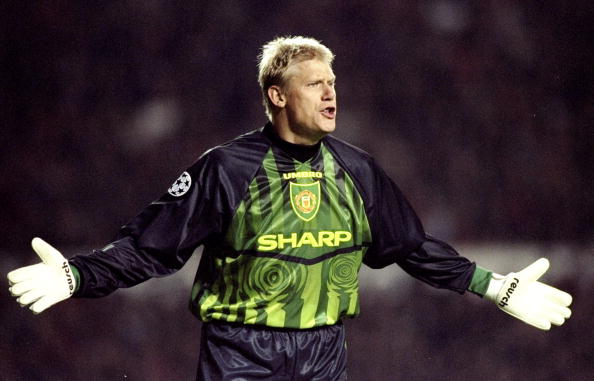 "He'd give you the biggest rollickin' in training. He'd give you the biggest rollickin' on the pitch. He didn't bother. All he bothered about was his clean sheets."
-David May
All the roaring, and screaming, and infuriated gesturing that Schmeichel did would have been written off as arrogance, and he would have been shipped out of Old Trafford on the next available flight, if his talent were insufficient justification. Schmeichel's talent, however, if anything, was beyond that of all his peers, and arguably, those of all the 'keepers to have ever taken to the pitch. Someone who did not go by the book in any conventional sense, he was famed for his starfish-like jump, where he would launch himself across the goal in a spread eagled fashion to make himself as big as possible. It was a hugely successful tactic, and many players who are rightful legends in their own rights were denied a goal time and again by the man from Copenhagen.
Ot the top of the list of notable performances for the Red Devils would surely be the match against Arsenal in the FA Cup semi-final of '99. With the scores level at 1 – 1, and Gary Neville conceding a penalty in the 90th minute, Manchester United's dreams of a treble needed a miracle to survive. That miracle was Peter Schmeichel. Facing off against the fearsome Dennis Bergkamp, Schmeichel dived to his left to deny Arsenal the lead, before celebrating vocally and driving his team forward through sheer passion. This paved the way for the mesmerizing run from Giggs that ended with the lanky Welshman running across the pitch shirtless in celebration of his goal.
Another notable performance, this time for country, was in yet another semi-final; that of the Euro tournament of '92. Yet another penalty, yet another save, yet another legend denied; only this time, it was Dutch star Marco van Basten. Having barely made into the tournament, after Yugoslavia's participation was cancelled due to civil war, Denmark beat the likes of Platini's France, and world champions Germany to lift the trophy, and earn Schmeichel plaudits of the highest order on the international stage.
In between those two games, at the opposing ends of his career at United, Schmeichel would pull off miraculous saves, and double saves to deny the best in the world, including the likes of Brazilian Ronaldo, Ian Wright, Alan Shearer, and many more. The numbers speak for themselves with Schmeichel still holding the record for the highest percentage of clean sheets in the top tier of English football with a remarkable 42%. He also boasted 177 clean sheets over eight seasons in all competitions for the club, making an average of 22.125 clean sheets a season; a somewhat mythical number in today's world of football.
An early exponent of the goalkeeper's move to run forward and attack corners when his team is trailing, Schmeichel scored 11 goals across his career, without ever being caught out while going forward, indicating just how influential this 6' 3'' behemoth was. In fact, if not for Schmeichel's run into the box against Bayern at Barcelona, in the Champions League final of '99, we might not have had one of the most historic memories of the club at all..
The Great Dane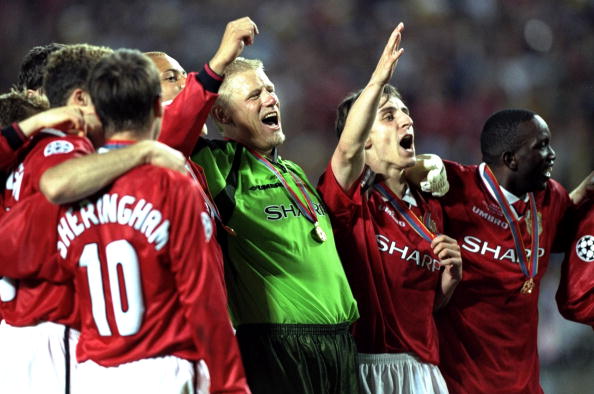 "Beckham.. into Sheringham.. and Solskjaer has won it! Manchester United have reached the promised land.."

-Clive Tyldesley
The treble of '99, which was sealed with the late win over Bayern Munich, where Schmeichel captained his side, and put in an incredible performance as always, was the crowning achievement of Schmeichel's career at Manchester United. Although that very game was to be his last for the Old Trafford based outfit, Schmeichel left with his head held high, having won five Premier League titles, three FA Cups, one League Cup, and the UEFA Champions League in just eight years.
Personal accolades were aplenty for the man of original Polish citizenship, both at the club level, and for his adopted nation of Denmark. Winning the UEFA goalkeeper of the year for the years of '92, '93, '97, and '98, along with being named as Danish footballer of the year thrice, and being inducted into English football's hall of fame in 2003, Schmeichel has been named in every respectable dream team that has been prepared, and includes the decade of 1990 – 2000. Thus, having achieved all he set out for, and more, the veteran Schmeichel finally bid adieu to United, for the less hectic pastures of Portugal, at the age of 36.
Playing for Sporting Lisbon, Aston Villa, and Manchester City subsequently, Schmeichel would pick up a few more accolades in the twilight of his career. Helping the Portuguese club end their 18 year championship drought was one of them, while becoming the first 'keeper to score in the Premier League was another. A slightly bitter one though, was that Schmeichel never lost a Manchester Derby, helping the blue side from Manchester to a win at home, and a draw at Old Trafford in his last season of professional football.
Those memories, however, pale in contrast to all that this Great Dane has given to the club, helping make Manchester United the force they currently are. The struggle to replace him is well known to fans and rivals alike, and although Edwin Van der Sar did finally manage to get close to the levels of perfection Schmeichel demanded of himself, there is no doubt that there will never be another Peter Schmeichel.
A legend, at Old Trafford, and beyond.