Legends of Club Football: Phillip Lahm
2.06K //
04 Dec 2012, 12:18 IST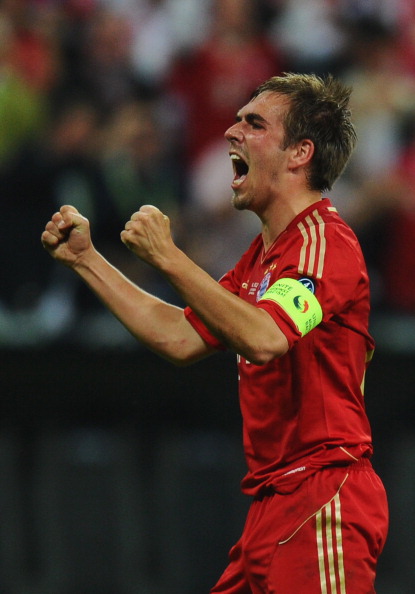 When one speaks of a defender, the first thing that comes to ones mind is a tall and imposing person who can build enough pressure to pop corn. And when the defender doubles up as a captain of his club and country, he has to be someone who can rub shoulders with anyone- angry fans, managers, opponents, and naturally, angry teammates. Therefore, it wouldn't be very normal to label Phillipp Lahm, who stands at a mere 5'7″, as the captain of last year's Champions League finalists and the 2nd Runners-up at the Euros. However, one look at Phillip on the pitch, and you know why the 'Zauberzwerg' ('Magic Dwarf' in German, as he is fondly called) is deserving of the stature he has achieved in local and international circles.
It is not everyday that a classroom joker from Munich gets scouted by the German behemoth, Bayern Munich, especially at the tender age of 11, but that is exactly what happened to Lahm, who was playing for his local youth team FC Gern Munchen. Lahm's coach at Gern Munchen was quoted saying, "If Philipp Lahm will not make it in the Bundesliga, nobody will anymore."  Lahm did make it to the Bundesliga after all, and lived up to his reputation admirably, winning the junior Bundesliga title twice, the second time as a captain.
However, a first-team break for Lahm wasn't just around the corner, since the lines were ably manned by Willy Sagnol around that time. Lahm had just one outing for the first team, a last minute substitution in the Champions League. In the subsequent season, he was loaned off to Stuttgart, where he earned a place in the starting line-up and put up some brilliant displays of skill in his very first season. Initially brought in as a back- up for Andreas Hinkel on the right wing, Lahm's prowess in playing on either side of the field saw him replacing Heiko Gerber on the left wing. Lahm established himself in the Stuttgart team and even started their match against Manchester United in the group stage of the UEFA Champions League, in which Stuttgart stunned Manchester. Lahm's performance saw him being rated as he 2nd best player of the Bundesliga that season, just behind Michael Ballack.
Lahm's second season into his loan stint at Stuttgart was nowhere nearly as good as his first. Following a disastrous Euro 2004, Lahm had a decent first half to the season, but right around Christmas break, Lahm suffered a stress fracture in his right leg, and was sidelined following his injury for the better part of a season. Lahm's comeback resurgence was cut short after barely 5 weeks of his first match since his convalescence due to a torn cruciate ligament, effectively ending his season and subsequently, his time at Stuttgart.
Bayern Munich could no longer see Lahm coming up as the 'next big thing' in the Bundesliga while playing for Stuttgart on loan from their own club. As a result, the injured Lahm was recalled into the team and promptly joined rehab on his long course to recovery. Around November, Lahm managed to get back on his feet and on the field, and following two matches with Bayern's amateur team, Lahm finally made his Bundesliga debut for Bayern Munich- a moment which wouldn't be very inappropriately labelled as one that had changed Bayern Munich into the juggernaut it is now.
Lahm's first season with Bayern in the first team was spent squaring off with Bixente Lizarazu for field time, while the next season saw Lahm starting in each and every one of Bayern Munich's league matches, partly because there was no other left winger, and partly because he was absolutely rock solid in his play. He severely criticized Bayern's transfer policies, encouraging them to get homegrown talents rather than building a team around a multi-million euro buy who couldn't gel with his teammates. Bayern Munich had one of their worst seasons that year, coming in 4th in the Bundesliga with a measly 60 points; but Lahm's point was taken, not before hefty fines though. But that didn't deter Lahm at all; after all, who were the board members to decide what he felt about the policies of the club he had given so much to?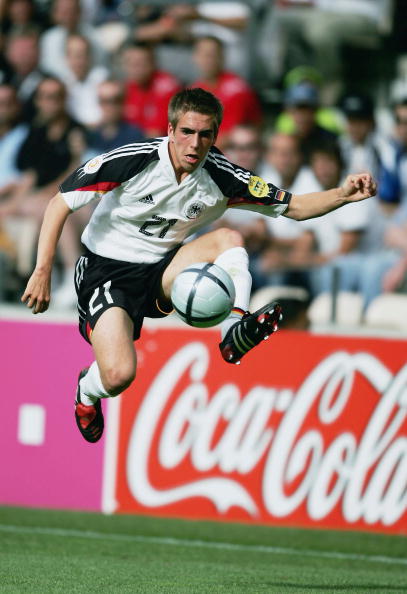 Lahm was always asked to accommodate into positions that he didn't prefer, but could do justice to. Although Marcell Jansen was available to play on the left wing, Lahm had to play on the left due to injuries. He expressed his desire to play in his desired position several times over. With the club's rather awkward transfer policy, and the manager forcing Lahm to play out of position, he soon developed a desire to leave Bayern Munich. And although he was heavily linked up with the Catalonian giants FC Barcelona, Lahm decided to test his luck and stayed with Bayern Munich, signing a contract that would keep him in Western Germany till 20th June 2012. Awkward position or not, Lahm would show the world Bayern's and his own prowess by achieving great success with the club.
Lahm also had a brilliant outing for his national team at the Euros and was adjudged the man of the match in the semi- finals, an honour he humbly said he was unworthy of. However, it was due to a miscommunication between him and the then-goalkeeper of Germany, Jens Lehmann, that allowed Fernando Torres to grab the winning goal for Spain. The tournament ended with Lahm being included in the Tournament XI nevertheless, and with Germany finishing as runners up.
The 2009-10 season brought about a welcome change of atmosphere to Lahm, who was waiting for his position and teammates of choice. With Louis Van Gaal's appointment as manager, Lahm finally managed to cement his place on the right wing, and with the arrival of Arjen Robben from Real Madrid, he now had a blossoming partnership that no team had an answer for, except Inter Milan, who convincingly beat the resurgent Bayern Munich in the finals of the UEFA Champions league.
However, the season was a transition of sorts for Bayern Munich. They had re-declared themselves as a major force in Europe for the first time since the 2001 season, when Bayern Munich had last won the Champions League. Bayern Munich now had their main man; a rock in defense, a threat in offense, one who played every game of the season in a lung bursting wing back role; a magical dwarf with a magical touch.
The next season proved to be a major turning point in Lahm's career, as Mark van Bommel left for Inter Milan. Lahm, who was the vice- captain of Bayern Munich at that time, was promoted to the role of captain and he ably stepped into those shoes. His qualities of leadership were abundant and he could inspire his teammates to do their best by setting an example. He would get into bodily tussles with players twice his size and still come out victorious, not due to unerring skill, but a desire to win; that is something that makes Lahm so lethal. He is everywhere on the pitch, from clearing the ball in his own box, to making runs and scoring goals, willing to work himself down rather than lose the match.
The 2011-12 season for Lahm was a disappointing one. It was by some cruel coincidence that Lahm, who was into his second season as the captain of the team, stood second in the Bundesliga, the German Cup and, in a completely unexpected manner, reminiscent of 1999, and thus completing the European Treble (unfortunately of second places rather than wins). Lahm's personal performance, however, remained as encouraging as ever, as he put in a dogged performance in each match to drag Bayern out of quite a few tight spots.
Lahm's form and leadership continued into the current season as well, with Bayern achieving a record number of wins and becoming the fastest team ever to secure the numero uno rank prior to the winter break in the Bundesliga. With Bayern having found David Alaba for the left wing, Lahm no longer needs to compromise, and can play with his all his might in his position of preference, and link up with Arjen Robben to deadly effect.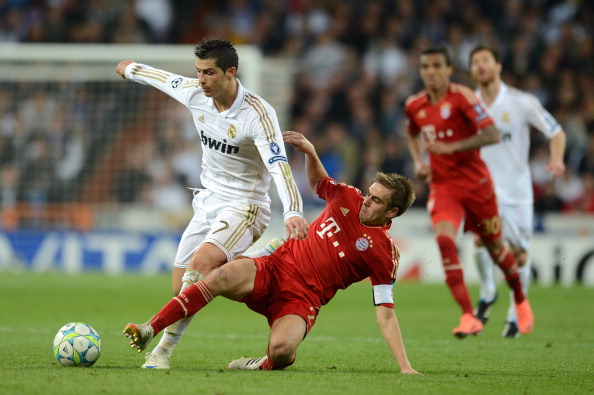 Lahm is indeed everything Bayern ever need as a captain, player and leader. He is tenacious but not selfish, a no-nonsense defender but not rash, ready to receive yellow cards and place the team ahead of himself, but never unfair enough to receive a single red card in his career (an amazing feat in itself), a hard pressing leader who leads not by domination, but inspiration. Swift to criticize, even swifter to adjust, ready to argue, ever ready to concede, strong, stoic and a true legend at the Allianz Arena.
Here are some of Lahm's finest moments in the Bayern Red :-
You can read more about other such club legends here.