Liverpool's Season: So Far So Good? - Part I
961 //
28 Nov 2012, 18:44 IST
Almost midway into the 2012-13 season and Liverpool now stand in the 11th position in the table. But the table does not reveal everything. The Reds are on an eight-game unbeaten run after their last "unlucky" defeat against arch-rivals Manchester United. Here are the ratings of every Liverpool player who played atleast five matches this season:
We begin with the goalkeepers and defenders in our first edition..
Pepe Reina [GK] (2/5)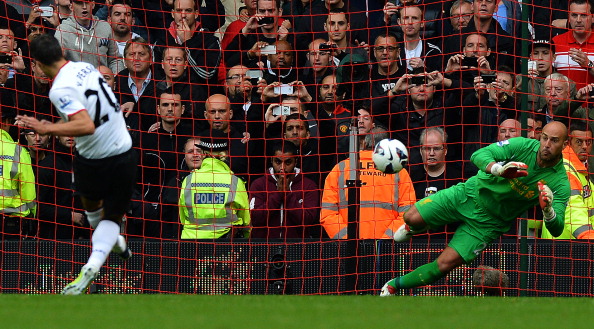 Liverpool's first-choice keeper has experienced a dip in form from last season. There has been no notable improvement even this term. Reina in first three years as a Liverpool player made it quite clear that he is no short of being world class. But his recent form must be a concern for Liverpool, as rumours have already started to float around that the Reds are reportedly looking for a replacement.
Brad Jones [GK] (4.5/5)
The Aussie international got his chance when Pepe was left out of the squad after getting injured during international duty. In the absence of Doni, he did not disappoint the Liverpool supporters, as his excellent service to his team assisted in a seven-game unbeaten run in the Premier League before being replaced by the "fit-again" Pepe Reina.
Martin Kelly [RB] (3/5)
Martin Kelly has always shown a complete commitment whenever he has represented Liverpool. This season has been no exception. This Liverpool defender booked his place in the starting XI, forcing Glen Johnson to shift to the LB position. But a terrible injury suffered to his anterior cruciate ligament during the clash against Manchester United has now ruled him out for the next six months.
Glen Johnson [RB/LB] (4/5)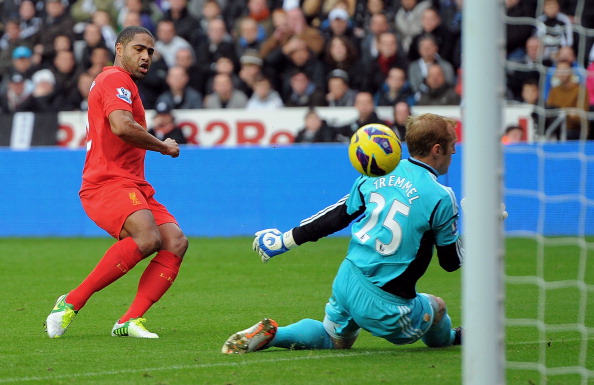 The fee of £18 million might have looked too much for an English right-back when Liverpool bought him, but Glen Johnson has proved to be the most aggressive and reliable side-back in the Premier League. His defensive abilities as well as his attacking threats have been vital for Liverpool over the last three seasons, and this season does not hold any different story. He has adjusted well in his left-back position for Liverpool, as Andre Wisdom has now taken over the duties of the right-back after Martin Kelly's injury.
Andre Wisdom [RB] (3/5)
Andre got his chance when Martin Kelly was left injured after the match against Manchester United. He made his debut against Young Boys in the Europa League, and his aerial abilities proved important for Liverpool as he scored on his debut. Later, he took over the right-back duties in the Premier League as well. Inexperienced, yet helpful is how we can describe this teenager. His commitment levels have been well appreciated by the Anfield crowd, but there is a lot of space for improvement for this young defender.
Sebastián Coates [CB] (3/5)
Some supporters have pointed out that the Uruguayan defender has not got the opportunities he deserves at Liverpool. Sebastian has represented Liverpool mostly in League Cup ties and Europa League matches. Although his stupid mistake led to Lacina Traore's goal against Anzhi, this youngster is an asset for Liverpool. With his rock-solid and no nonsense defensive abilities, Coates can and will improve under the guidance of veteran Jamie Carragher and Brendan Rodgers.
Jamie Carragher [CB] (2.5+1 /5)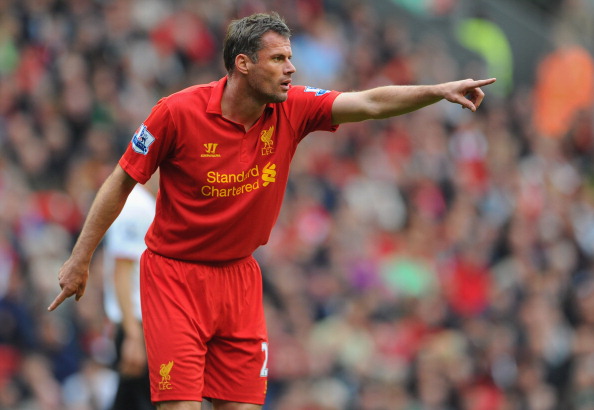 Old, but gold? Nobody can question this man's abilities. His age is acting against him, trying to slow him down, but James Lee Duncan Carragher, Liverpool's number 23, doesn't have the word 'give-up' in his dictionary. The introduction of a new reliable pair in Liverpool's defence has resulted in Jamie's lesser appearances in the red jersey. But whenever he has been asked to take over the captain's armband and lead the defence, Jamie Carragher has proved why he still has more to offer. A +1 for his commitment. "J23C"
Jose Enrique [LB] (3/5)
Jose Enrique was forced to stay out of the starting XI due to some leg injury as well as a prominent dip in form. He was replaced by Glen Johnson in the left-back position from the beginning of 2012-13 season. Later in the season, Enrique started his "new' Liverpool career as a left winger ahead of Glen Johnson and till now has done quite well. He got his first Liverpool goal as he scored against Wigan Athletic. His physical abilities and pace can be an asset to any team, but his "over-doings' at certain situations can be a concern too.
Martin Skrtel [CB] (4/5)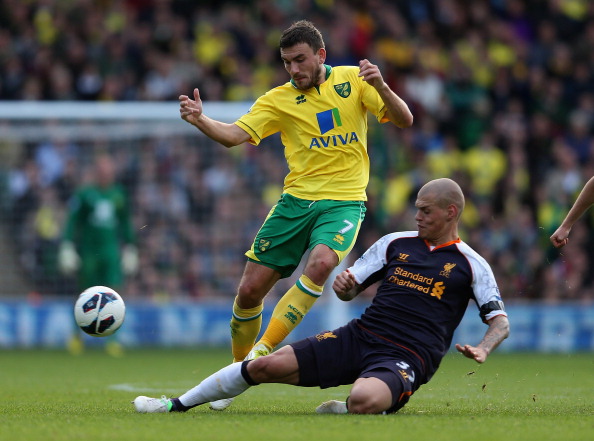 Martin Skrtel was reportedly on the radar of Manchester City as they were looking to bolster their defensive depth. But Liverpool were quick enough to renew his contact and keep him till 2016. The player of the season last time has continued his excellent form this season too. He has just made a silly mistake against Manchester City which led to the equalizer, but otherwise has been rock-solid for the Reds. Bossing the Liverpool defence alongside his partner Daniel Agger, Liverpool are surely under the safe 'security' of this Slovakian.
Daniel Agger [CB] (4.5/5)
Hardly any reason to complain about, this Danish defender has earned his position in the Liverpool team alongside Martin Skrtel. Having endured an injury-prone last season, Daniel Agger has remained fit and fine this time around, and has not made any 'notable' mistakes. Pre-season transfer rumours revealed that Manchester City had offered £25 million for "Dagger", but a 'YNWA' tattoo on his knuckles convinced the Liverpool management that he wants to stay put at Merseyside.  A contract extension after the season began makes the Denmark international a Liverpool player until 2016. Strong and determined, Daniel Agger becomes our "best player" in this category.
We will follow with midfielders and strikers in our next edition of "Liverpool's Season: So Far So Good?"