Lowdown on Arsenal's possible Champions League Opponents – 1
1.06K //
18 Dec 2012, 20:50 IST
After the quirky and humorous lowdown by Arseblog on Arsenal's possible Champions League opponents, here is the definitive lowdown on Arsenal's possible Champions League opponents.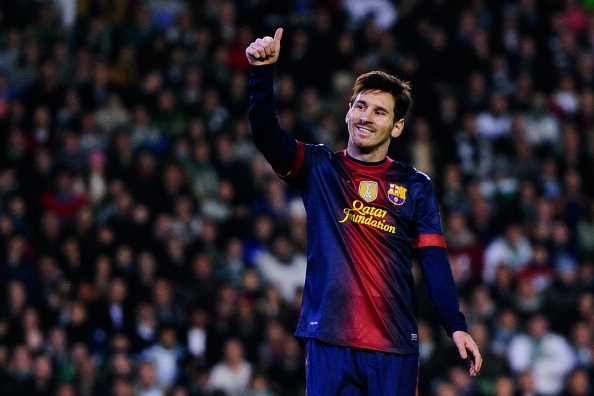 The Team - Let's face it. Barcelona are the best club side in the world at the moment. They retain the ball like no one else, score goals like no one else, press like no one else, and win games and trophies like no one else. Filled with stars of the Spanish national team, from back to front in Carles Puyol, Gerard Pique, Jordi Alba, Xavi, Sergio Busquets, Andres Iniesta, er, Francesc Fabregas, David Villa, etc., they also possess the best footballer in the world at the moment in Argentine Lionel Messi. It's a formidable lineup, enough to send shivers down even Madrid's expensively assembled Galacticos.
The Manager - Pep Guardiola heralded a fantastic generation of Catalan football, and sprinkled with a few foreigners, made them into an all conquering force. Having taken over as manager in 2008, he won a hat-trick of league titles, 2 Copa Del Rey's and more importantly, 2 Champions League titles, among others. But after missing out on the Champions League and the La Liga title, Guardiola resigned from his post to take a breather. Next in line was his right hand man Tito Vilanova, who knows the squad inside out, having worked closely with Guardiola in delivering 14 major trophies. He doesn't come with a great CV, but so far, this season, has proved his tactical nous.
The Arsenal Connection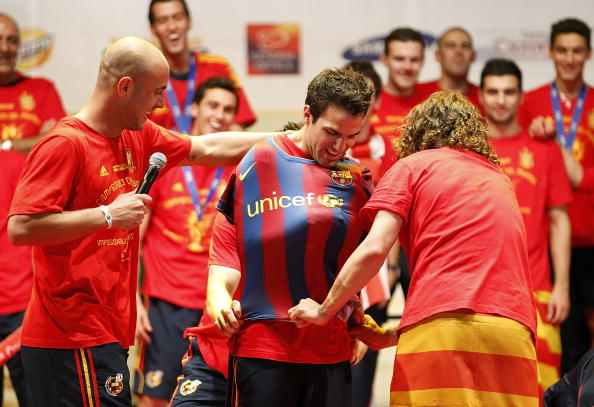 Arsenal and Barcelona have had a relation of a seller and buyer over the past decade. The Catalan club, which boasts of having such a proud and clean record, have themselves gone out of their way, and at times even illegally, to tap up Arsenal players in the past. Among their techniques to lure Arsenal players are
1) Hiring Pepe Reina/ random Villarreal fan to force a Barcelona jersey over an Arsenal player.
2) Using the power of the presidency, Joan Laporta and Sandro Rossell make phone calls to their favorite Arsenal players to speak about a possible transfer. Marca reveals it as just a casual chat.
2) Directing their own players to tweet about how good their Arsenal target is.
3) Use that joke of a newspaper, Marca, to accuse Arsenal of taking away their own talent (who they weren't going to upgrade to the first team anyway)
4) Use that joke of a newspaper, Marca, to accuse Arsenal of being hard to deal with. (They think they have the right to buy any of our players at any time they wish, with minimum of fuss.)
Arsenal players to have transferred to the Nou Camp (a list which by no means will end anytime soon) are Marc Overmars (2000), Emmanuel Petit (2000), Giovanni van Bronkhorst (2004), Thierry Henry (2007), Alexander Hleb (2008), Francesc Fabregas (2011), Alex Song (2012), while the Gunners have 'poached' Fabregas and Jan Toral from the La Masia Alien Football Academy. Additionally, Pep Guardiola earned few of his UEFA coaching badges under Arsene Wenger at Arsenal, while young Arsenal defender Ignasi Miquel was part of Barca's youth set up not too long ago.
Past Games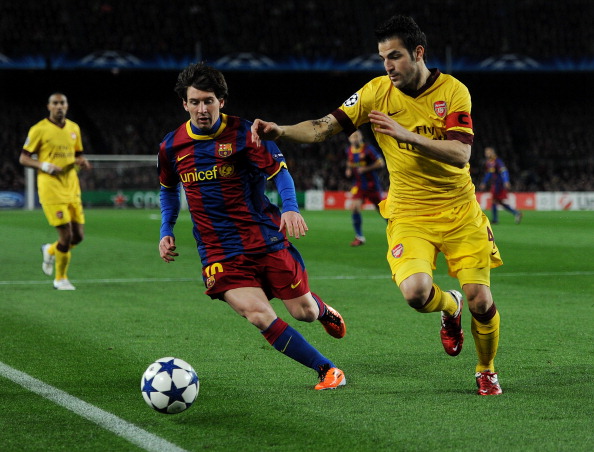 1) Barcelona 1-1 Arsenal, 29th September 1999, Champions League Group Stage, Nou Camp
A heroic performance from 10 man Arsenal, to rescue a point after going behind in the 16th minute through Luis Enrique. Having been outclassed in the first half, the Gunners came out with more purpose, but were dealt a blow when Giles Grimandi was sent off for an elbow on, er, Pep Guardiola. Arsenal however equalized moments later through Nwankwo Kanu.
2) Arsenal 2-4 Barcelona, 19th October 1999, Champions League Group Stage, Wembley
In an enthralling battle, Barcelona were 2-0 up in no time, after Rivaldo converted a penalty, earned by a diving Philip Cocu and Luis Enrique scoring after some poor Arsenal defending. The Gunners, however, playing in their adopted home, temporarily, dominated the rest of the half and got a goal back through Dennis Bergkamp. The Catalans, proved to be too strong, Luis Figo and Cocu scoring, before Overmars' late consolation.
3) Barcelona 2-1 Arsenal, 17th May 2006, Champions League Final, Parc des Princes
Arsenal had battled an injury ridden season to earn their place in the final against a Barcelona side, having names such as Ronaldinho, Eto'o, Giuly and Deco. However, Arsenal were dealt a blow when goalkeeper Jens Lehmann was sent off after just 15 minutes. Arsenal defended bravely, and took the lead when Sol Campbell thumped in a header in the 31st minute. It looked like Arsenal would pull of a miracle, but two goals in the space of 5 minutes late on put an end to the Gunners' resistance and broke their hearts.
4) Arsenal 2-2 Barcelona, 31st March 2010, Champions League Quarter-Final 1st Leg, Emirates Stadium
Arsenal produced a stirring comeback against a sizzling Barcelona side. In a close first half dominated by the Catalans, Arsenal lost Arshavin and Gallas to injuries, who were replaced by Eboue and Denilson. Super Swede Zlatan Ibrahimovic scored twice in the first 15 minutes of the second half, but Walcott pulled one back in the 69th. In the 85th minute, Puyol pulled down Fabregas in the box and was sent off. Fabregas scored the equalizer from the spot, and injured himself in the process.
5) Barcelona 4-1 Arsenal, 6th April 2010, Champions League Quarter-Final 2nd Leg, Nou Camp
Lionel Messi produced a masterclass as a depleted Arsenal side were brushed aside by 4 goals from the Argentine. The Gunners took a shock lead through Niklas Bendtner, after he contrived to miss at first. But Messi had other plans, as he scored a hat-trick before half-time. The Gunners weathered the storm till a late fourth from Messi added gloss to the scoreline.
6) Arsenal 2-1 Barcelona, 16th February 2011, Champions League Round of 16 1st Leg, Emirates Stadium
In an epic encounter which could probably be one of the best games of football ever played, Arsenal stunned Barcelona and beat them with their own style of football. In a frantic game of chances at both ends, Arsenal had the first crack at goal, before Barcelona settled into their stride, Messi assisting Villa for the opener. However, Arsenal knocked and knocked, and finally the door opened when Robin van Persie scored from the narrowest of angles in the 78th minute. 5 minutes later, the Emirates erupted again, when Fabregas and Nasri combined to setup Arshavin for a delightful winner.
7) Barcelona 3-1 Arsenal, 8th March 2011, Champions League Round of 16 2nd Leg, Nou Camp
Arsenal were undone by the referee again on a forgettable night. Barcelona dominated the entire game, and had the lead late into the first half. Arsenal were given a lifeline when Busquets clumsily headed into his own goal, but the referee decided to turn the tables into Barcelona's favour, by harshly sending off van Persie for kicking the ball after the referee had blown the whistle. As expected, Barca did the needful and dumped the Gunners out of the competition.
Record
Played 7, Won 1, Lost 4, Drawn 2
Prediction
Arsenal fans will sincerely be hoping they avoid Barcelona, considering the past record, wherein the Catalans have managed to play with 12 men (including ref) on the field against Arsenal's 10 on more than one ocassion. At the moment, Barcelona look like they could stampede any side they come up against, while Arsenal are suffering a poor season under Arsene Wenger. If drawn, Barcelona would be expected to win easily, unless the Gunners can park the bus like Chelsea did. Going by our defensive frailties this season, that may as well not happen.
Verdict
While the game will be a big draw for the purists, Arsenal fans will cringe more than once if we do draw Barcelona again. On one hand, if we can play to our full potential, we may finally get the Barca monkey off our backs, while on the other hands, it could be another embarrassing drubbing.
BAYERN MUNICH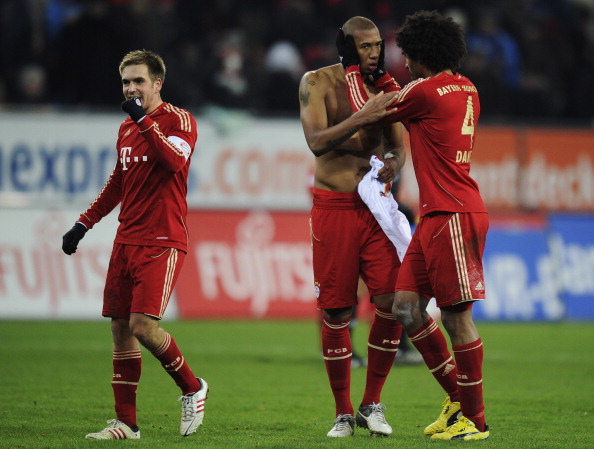 The Team - Last year's finalists Bayern Munich have an extremely talented, young and strong squad, with a very German core. Having won the competition 4 times in their history, they came close twice in recent years, in 2010 and in 2012, losing to Inter and the Chelsea on home soil respectively. Bayern are almost as much Bavarian as Barcelona are Catalan, with a host of stars coming through their youth team. Philip Lahm, Holger Badstuber, Bastian Schweinsteiger, Thomas Mueller, Toni Kroos are all full German internationals from Bayern's youth sides, while they have some talented European names in France's Frank Ribery, Spain's Javi Martinez, Netherlands' Arjen Robben, Switzerland's Xherdan Shaqiri, Croatian Milan Mandzukic and German Mario Gomez.
The Manager - Former West Germany international Jupp Heynckes brings with him a wealth of experience, having managed teams in Germany, Spain and Portugal. He is in his 3rd stint as Bayern manager. In his first stint lasting 4 years, he won two Bundesliga titles, whilst winning the Champions League when in charge of Real Madrid in 1998. After a short stint in 2009, he was reappointed as manager in 2011, where he lost the final of the Champions League to Chelsea on penalties, and the league and cup to Borussia Dortmund.
The Arsenal Connection
The strongest is that of Lukas Podolski, who enjoyed, or rather, didn't enjoy his 3 year stint with the German giants. Following Cologne's relegation from the Bundesliga in 2006, Bayern signed Podolski, who had just won the Young Player award during the FIFA World Cup. His career at Bayern never took off and was blighted by poor form and injuries. The arrival of Luca Toni further reduced Podolski's game time, and he would return to his beloved Cologne in 2009. Apart from that, there aren't too many connectors between the two clubs. Jens Lehmann and Oliver Kahn were at loggerheads for the German goalkeeping gloves, while Arsenal defender Per Mertesacker was close to joining Bayern, according to some reports, before choosing Arsenal.
Past Games
1) Arsenal 2-2 Bayern Munich, 5th December 2000, Champions League Second Group Stage, Highbury
Arsenal got off to a flying start, taking the lead through Thierry Henry in as early as the 3rd minute, and continued to dominate the game with Bayern having to relent on counters. The Gunners were deservedly 2-0 up 9 minutes into the second half when Kanu scored a cracking goal. But Bayern hit back at the restart through Michael Tarnat, before Mehmet Scholl levelled the scores 8 minutes later.
2) Bayern Munich 1-0 Arsenal, 14th March 2001, Champions League Second Group Stage, Olympiastadion
Bayern won an edgy match 1-0, having taken the lead through Brazilian striker Giovane Elber, to top the group. The Gunners would be eventually knocked out by Valencia in the next round.
3) Bayern Munich 3-1 Arsenal, 22nd February 2005, Champions League Round of 16 1st Leg, Olympiastadion
Bayern Munich turned on the style on a chilly night in Munich against a poor Arsenal side who never looked threatening. Claudio Pizarro scored in the 3rd minute, and the Gunners repelled waves of Bayern attacks. However, 20 minutes into the second half, Bayern were 3-0 up, thanks to another goal from Pizzaro and then Hasan Salihamidzic. Kolo Toure pulled one back late on.
4) Arsenal 1-0 Bayern Munich, 9th March 2005, Champions League Round of 16 1st Leg, Highbury
In a cagey game, it was Arsenal who took the lead in the 66th minute through a well taken finish from Thierry Henry. But Bayern nervously held on to progress 3-2 on aggregate.
Record
Played 4, Won 1, Lost 2, Drawn 1
Prediction
Bayern have superior squad strength, in terms of personnel and cohesion. Their vast array of talent and experience will be up against a newly assembled Arsenal side. They are going great guns in the Bundesliga, and extremely high on confidence. They are an extremely well disciplined unit and hard to break down. But they do have a tendency of profligacy, and that may just about balance the scale. A very hard game, but more even than you think.
Verdict
Surely, facing Bayern in the next round will not be on the wishlist of any sane Arsenal fan. Then again, it would be an intriguing clash between two teams, similar and dissimilar in numerous ways.