Malaga 0-1 Barcelona: The Catalans survive scare at La Roselada
2.12K //
26 Aug 2013, 03:48 IST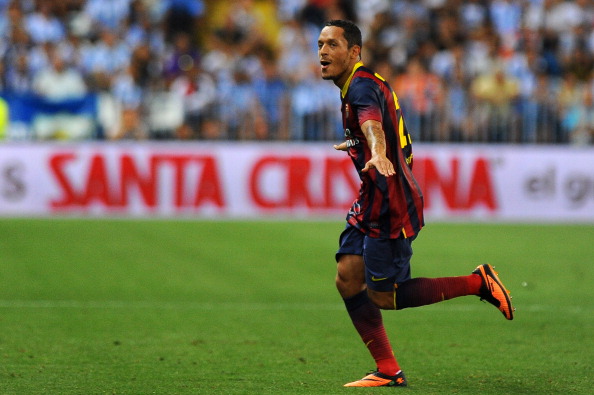 We got the three points. The three points are what matter. This is what Tata Martino, the Barcelona players and fans will be saying to themselves after a night of end-to-end football played at La Roselada against a new look Malaga side, with Barca finally clinching the all-important three points, just about. Of course, the three points are truly what count, but Barca can count themselves quite lucky not to have dropped points in only their second league game. Not if you want to win the two-horse race or maybe now a three-horse race in La Liga.
Tiki-taka takes a break?
The first thing which struck me as the match progressed was quite intriguing and slightly refreshing. It slowly dawned upon me and took quite some eye-rubbing to believe it. Barca for reasons whatsoever (prime suspect – Martino) seems to have abandoned tiki-taka. There was still a lot of ground passing involved, however, the number of passes to get the ball into the box were a lot less. With Fabregas involved, who started in place of Messi as the false nine, this became a lot easier, as time and again, he was involved in a lot of penetrating passes in the final-third, no, more like the final-fifth of the pitch, left, right and centre.
Ideally, this should have resulted in a lot of shots, that wasn't the case as Barca probably created only one genuine clear goal-scoring opportunity in the first half, in the form of a heading chance for Alexis Sanchez after Fabregas nodded it down for him in the area. Malaga's new coach Bernd Schuster seems to have laid out the defence plan clearly as Malaga tracked and blocked Barca players successfully for 43 minutes. Martino, who was the more active of the two coaches on the touchline, was prepared to give his team a good talk once the whistle blew.
Adriano scores his trademark goal
Last season, Adriano scored six goals for Barcelona, five of them coming in La Liga, good numbers for a full-back. Mostly his efforts were curling shots from the corners of the 18-yard area and this one was no different. In fact it was a little further away. Just when it seemed that for all of Barca's relentless attacking, they would end half time at a stale mate, Adriano came up with a wonderful shot cutting inside from the right wing, which in hindsight, the Malaga keeper, Caballero, could have handled better, but as I said, it was completely unexpected and so un-Barcelona-esque.
Much of the credit for this gritty first-half performance of Malaga must be given to their midfield engines, Tissone and Fabrice, who put in energetic performances, continuously tracking Barca midfield players.