Malaga: Dortmund next up for the Los Boquerones
635 //
20 Mar 2013, 20:15 IST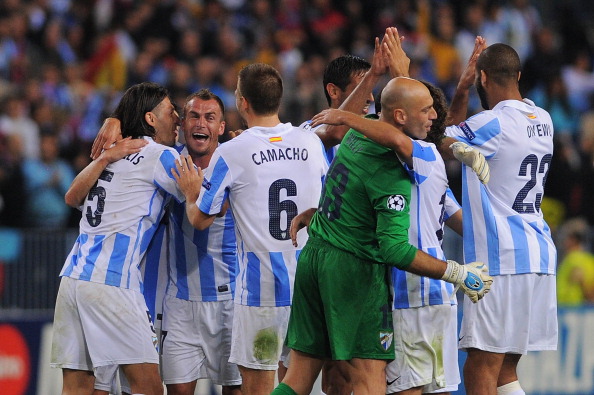 The modern day game of football does not present many happy tales. However, in the case of Malaga, one side is attempting to buck the trend this season and present all observers with a positive outlook on the game.
Before even a ball was kicked this season, the outlook seemed rather bleak for a side that would be competing in Europe's elite competition. After a summer of financial turmoil that witnessed the departures of several key players, the coming season did not present one of promise. However, with a couple of new additions to the rather beleaguered and wafer-thin squad, the club have confronted their adversity and succeeded thus far.
Having qualified through their initial Champions League group, they were drawn against Porto, where a two-nil home win at La Rosaleda saw them successfully through to the quarterfinals. They have now been drawn against Borussia Dortmund and will now face one of the outside contenders for a place in the semifinals.
Whilst Dortmund have struggled a little for consistency domestically this season, their European campaign has been somewhat of a revelation so far. When the initial draw for the group phase was made, it seemed unlikely they would qualify after being paired with Ajax, Manchester City and Real Madrid, but they surpassed all expectations and won the group. It was not that they were not regarded as a force, but it was assumed that their inexperience in Europe could cost them.
However, with the talented young players they have at their disposal they have turned themselves into serious contenders for the Champions League crown and will prove to be a serious threat for Malaga. Boasting a squad consisting of Mario Gotze, Robert Lewandowski and Marco Reus, to name but a few, they have some seriously talented players. The Spanish side will have to be extremely well organised in order to maintain a level of control over the opposition attack, whilst still managing to pose a threat themselves.
One of the key players in the tie will be Isco, who Malaga will have to ensure is fit and available for both ties. It was he who scored the opener against Porto in the previous tie, and his movement and technical ability will be pivotal in opening up the German side.
There are very few weakness in Dortmund's side at present, and some individual brilliance could go along way to deciding the tie. As they showed in the last round against Shakhtar, their form at the Westfalenstadion is imperious so they will need to ensure they win in Spain.
Considering some of the views before the season began, it is remarkable just to be thinking about Malaga competing in the last eight of the Champions League. Now though, having got there, they will face possibly their toughest opponents thus far which will severely test them.
So far this season, they have defied the odds and proved the critics wrong. Why start backing against them now?