Manager-nama: A saga of two of football's greatest tacticians
1.22K //
24 Dec 2012, 23:40 IST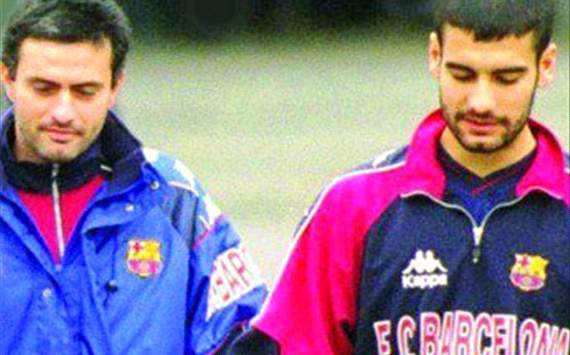 Spain has been the scene for football's possibly greatest rivalry ever in the form of the El Clasico fixture. Many individuals have risen over the ages, tilting the axis of power from the southern throne in Madrid to the Catalan lands in the north, and vice versa. But in recent years, not even the likes of Messi and Ronaldo have been able to overshadow the tussle for power between Pep Guardiola and Jose Mourinho. The former is a thorough bred Catalan, rising from the ranks of the La Masia, while Jose Mourinho's skills were influenced by the likes of Sir Bobby Robson and Louis van Gaal.
Guardiola, at the end of last season stepped down from the Catalan throne, amid suggestions that things needed to be started off with a fresh view at the Camp Nou. The highlights of the Spaniard's reign may be the two European Cups, but the consecutive demolitions of their fiercest rivals, home and away, are what the Barca fans are going to remember for many years to come. Mourinho may have orchestrated some of the greatest tactical victories in the history of the Serie A and the English Premier League, but Guardiola's Barcelona have been a persistent thorn for his Real Madrid teams.
While the Portuguese aims for success and a perfect record at the end of season, Guardiola has asked for perfection, domination and flair.
Following the departure of Manuel Pellegrini, Mourinho was expected to breath fresh life in to the Madrid team and build a team around the high profile signings of Cristiano Ronaldo, Karim Benzema and Ricardo Kaka. With the additions of stars like Mesut Ozil, Sami Khedira, Angel di Maria and Ricardo Carvalho, the second generation of Fiorentino Perez's famed Galacticos were supposed to propel Real out of its slump and back into contention for the La Liga crown and most importantly, the European Cup.
But the reconstruction hasn't been as smooth sailing as planned, with the Portuguese only managing to win the Copa del Rey and La Liga, apart from the considerably insignificant, Spanish Super Cup. The La Liga title restored their domestic supremacy, but their reign atop the Spanish throne, has been far from convincing with the Los Blancos now trailing the Catalans by 16 points.
The league defeat against Malaga was Madrid's fourth domestically, and seventh overall. The defeat saw Jose Mourinho field second choice keeper, Antonio Adan, with Bernabeu legend, Iker Casillas being surprisingly relegated to the bench. Mourinho defended his decision to bench the 31-year old Spanish international saying:
"The coach analyses the situation and analyses the players available, chooses the team to play. You can invent all the stories you like but it's a purely technical decision and nothing more."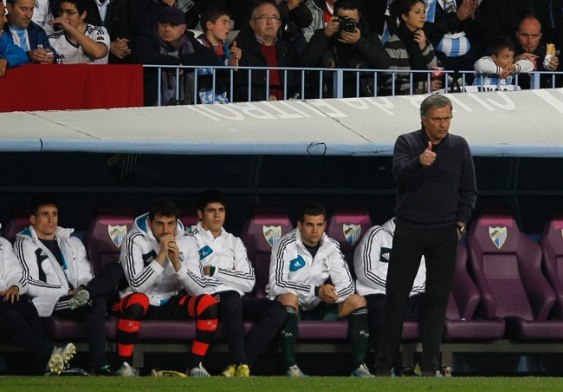 Sergio Ramos, Iker's on-field deputy, has rallied in support of his team, asking the team to focus on its performance. The rift between the players and Mourinho was evident when he sent the duo of Raul Gonzalez and Guti packing off as soon as he took charge of Real Madrid. Mourinho's dictum has been clear throughout his time at the Bernabeu, that no player is greater than the manager.
A number of trusted media outlets have mooted their concern that the Portuguese might be headed for the exit way. Mourinho stands to lose very little if he were to leave the club, with his illustrious resume countering his moderate success at Real. The likeliness of him being sacked is also equally high, considering the trigger-happy nature of Fiorentino Perez.
The most likely destination for Mourinho is England, with a number of clubs vying for his signature. While Manchester City may have publicly expressed their faith in Roberto Mancini, the former Inter Milan manager has put up a pathetic show in international competitions, and the Sky Blues now trail their cross town rivals by six points. Manchester City would be more than glad to offer Mourinho a vast transfer fund and also a hefty pay packet to sweeten the deal.
The other potential suitors are Manchester United, who would be expect their most feared rival to usher in a new era of dominance in world football. Sir Alex has often gone on board, expressing his admiration for his fiercest rival, and would like the Portuguese to succeed him on the Old Trafford bench. Manchester United's healthy tradition of blending home grown players with experienced internationals would also seem to favour Mourinho.
Chelsea fans may kiss Abramovich's feet for raising the status of the tiny London club, but the west Londoners are loyal to only one manager of Roman's era, Jose himself. It is unlikely that Roman will reinstate Jose Mourinho to his former position, but the man's love for his second club might just tilt things in Chelsea's favour.
The other heavyweight in perspective is Pep Guardiola.
Sabbatical. Escape. Soul searching. Family time. There's are many reasons being given for, as to why a young coach like Pep Guardiola would detach himself from his profession after just four years in charge of Barcelona's senior team.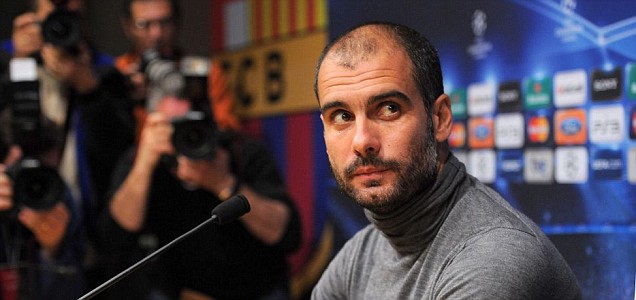 Guardiola is a man with a philosophy and a style when it comes to building teams. The passing game that was Barca's trademark may not have been a device of his own invention, but he surely did add flair and finesse, brought in players of quality and most of all, raised the bar for a number of players, who had long been labelled as the constituents of a talented, yet a flawed generation in Spain.
Xavi, Iniesta, Valdes and Puyol may have been established stars for club and Spain long before Guardiola took the reins in his hand, but it cannot be denied that their rise to prominence as complete players was under the manager. Pep built his first team around players with experience, while slowly handing over the charge to youngsters like Messi, Pedro, Busquets, Jeffren and Pique.
Yesteryear stars like Ronaldinho, Zambrotta, Edmilson, Deco and Eto'o were marked to be offloaded, though Eto'o did stay around for one last hurrah at the Camp Nou. Arsenal legend, Thierry Henry, too was offloaded in his second season in charge. The decadence that prevailed in Rijkaard's last days in-charge was being wiped off to implement a new policy, that would be built around Barcelona's home-bred players and a handful of experienced foreigners.
Guardiola's much maligned transfer policy saw vast sums being spent on the procurement of Zlatan Ibrahimovic, who was promptly shipped off to AC Milan after just one season, which saw him fail to live up to Pep's standards. Millions were spent on acquiring players like David Villa, Alexis Sanchez, Dani Alves, Javier Mascherano and Cesc Fabregas, though all of the aforementioned have thrived on the greens of the Nou. Pep's time also saw the departure of a number of talented stars like Yaya Toure, Bojan Krkic and Giovani dos Santos. Yet his successes outweigh his relatively insignificant failures.
It's unlikely that Pep will return to Barcelona any soon, though he may usher in a second era of success when the club call for his services. Though for now, Barcelona seem to be well off under Tito Vilanova.
AC Milan have been linked heavily with Guardiola, with a number of meetings between the player's representative's and Silvio Berlusconi being reported. Milan have the history that Guardiola desires and despite the club's recent slump, a decent amount of funds would be provided if things were to go that way. Stars like Stephen El Sharaawy, Antonio Nocerino, Bojan Krkic and Ricardo Montolivo could tilt Pep's decision in Milan's favor. Though Milan seem lucrative, the rampant corruption in the Serie A system could be a deterrent.
Other potential suitors would include two of England's most traditional teams, Manchester United and Arsenal. Manchester United may have their sights firmly entrenched on Mourinho to replace SAF, but all that matters to the northern club is success. And Guardiola is equally compatible for the top most job in English football, except the "impossible" job.
Arsenal have been mimics of the beautiful game for many years, and the philosophy that Arsene Wenger has established at the club is much akin to Barcelona's. Guardiola was a part of the Arsenal setup when he was collecting his coaching badges, and holds the north Londoners in high regard. Though the club have been under heavy criticism for their frugal transfer policy and obscure financial dealings, the Gunners have been a consistent presence in Europe for the past fifteen years.
Arsenal's famous youth academy and the world class scouting network have supplied Arsene Wenger with some of the best talents in Europe. The only damning factor has been the reputation for being a "selling club". Post the switch to the Emirates Stadium, the club have sold off stars every year to level accounts and to make themselves a profitable entity.
Guardiola reportedly has issued a 'come and get me' sign to the top brass at Arsenal and the ball is now in Arsene's court. Only when the revered Frenchman decides to step down, will a replacement be considered. And Guardiola perfectly fits the requirements.
Chelsea have an outsider's chance of securing Guardiola's services, which is mainly because of the Russian owner's complete autocracy at the west London club, while the latter prefers to run the team on his own terms.
Until then, only time can tell. But come summer, things will be different and that is a fact, set in stone.