Manchester City vs Aston Villa: Match Preview
702 //
16 Nov 2012, 23:46 IST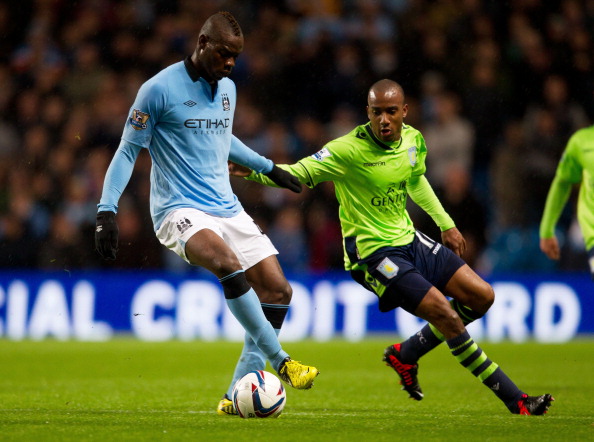 Stadium: Etihad Stadium
Referee: Jonathan Moss
Kick-off: 8:30 PM IST, Saturday, 9th of November
Second placed Manchester City go into Saturday's game against seventeenth placed Aston Villa with a chance to go atop the Premier League table, at least until leaders Manchester United's clash against Norwich later in the day. With a spate of narrow wins buoying them above Chelsea in the league table, City have matured as a team under Mancini, and will be keen to keep their form amid now inevitable European disappointment.
Aston Villa, meanwhile, put in a fantastic performance against Manchester United last weekend, and were unfortunate to emerge with no points in hand. This does not, however, change the fact that they have been considerably poor so far this season, although injuries may be to blame, as their precarious position just one place above the relegation zone shows. Whether last weekend's performance was just a flash in the pan or the beginning of a resurgence for Villa will be proven with the sternest of tests at the Etihad stadium.
Manchester City: L W D D W
As far as results go, narrow wins will do just fine for Mancini's men, as they hang on to the coat-tails of their cross town rivals, Manchester United. With not entirely justifiable results against Swansea, West Ham, and Tottenham, their three opponents over the past three weekends, City have been riding their luck a fair amount, but have also had some good individual performances to thank. Their unstoppable midfield force, Yaya Toure, has seen a slight dip in form recently, but as demonstrated last weekend, with Dzeko's goal, it is his driving runs into the opposition box that make City tick. With Sandro absent, and Westwood & Bannan to contend with, City will be reliant on their midfield to dominate play, and score a convincing win for the first time in a while.
Aston Villa: L D W W L
Aston Villa have, for all the million and over tactics employed, miserably failed to find the back of the net. Paul Lambert's men, however, managed to score two goals last weekend, and will be hopeful that they can muster a few more this weekend, because they will most certainly need them. With a leaky defence having conceded 17 times already this season, and little to no cover from midfield, one can't help but feel sorry for the Villa defence, which was once famed for goalless draws, under Martin O'Neil. With Bannan, Weimann and Benteke on offensive duty, however, Villa do have a sniff at goal, and will need to make every chance count.
Injuries, Concerns & Suspensions
Manchester City: Jack Rodwell, Micah Richards, Samir Nasri, Gael Clichy, James Milner, Joleon Lescott.
Aston Villa: Stilian Petrov, Charles N'Zogbia, Nathan Baker, Gary Gardner, Chris Herd, Richard Dunne, Darren Bent, Joe Bennet, Barry Banan.
Christian Benteke vs Vincent Kompany
Belgian recruit, Benteke, has grown more impressive with every passing game for Aston Villa. Just last weekend, he ran the Manchester United defence thin, especially targeting the returning Smalling, who was absolutely dominated when Benteke set up Weimann's first goal. Vincent Kompany, on the other hand, was last season's defender of the year in most pundits' books, and has been doing fairly all right this season. His experience will likely see him take on Benteke himself, rather than risking the Belgian getting past young Nastasic. A man of considerable physical stature himself, Kompany may finally be the man who manages to keep Benteke quiet for a full 90 minutes.
Edin Dzeko vs Roberto Mancini
There will always be people who will argue that scoring goals off the bench doesn't really make a case for including them in the starting line-up. After all, if he is good at doing that, why not permanently assign him that role, and entrust him with rescue missions week-in and week-out? Well, six league goals this season, with lesser minutes played than the other two top scorers for City, for starters. The argument that the Bosnian is just a really good finisher, without doing much else, and it actually falls in his favour since City have struggled in that exact area this season; finishing. The sooner Mancini realises that keeping the Bosnian on the bench will likely mean losing him to a wiser manager come the transfer window, the better it shall be for the Sheikh's club.
A City victory. It's the most probable result when most teams visit the Sky Blues' home ground, and it shouldn't be much different this weekend either. Aston Villa have scored just 10 times this season, and playing against a team with Joe Hart in goal will only make the challenge steeper for them. And while some of City's performances might not merit the results they have managed to bag so far, it is well known that it's the quality of champions. They'll do well to keep it up.