Manchester City vs Manchester United: A Tactical Analysis
2.14K //
10 Dec 2012, 23:05 IST
Manchester United clinched a handy 3-2 victory at the Etihad Stadium on Sunday against Manchester City. The win sees Manchester United 6 points clear of their prime rivals in what appears to be a two-horse race for the league title. Sir Alex Ferguson was delighted, as his side showed why they are one of the best clubs in the world, but what would have brought a smile to his face probably was the fact that Robin van Persie, in his first Manchester derby, got on the score-sheet, and moreover, when the team needed him the most.
Here is a tactical look at all the goals scored during the match.
Manchester United
Manchester United went into the game on the back of a dramatic 4-3 away victory at Reading, and a 1-0 home loss to CFR Cluj at home in the midweek. Antonio Valencia and Tom Cleverley made their comebacks to the starting XI and 19-year old youth product Sam Johnstone was on the bench in the absence of Anders Lindegaard.
Wayne Rooney (16′)
Rooney's first goal came from a Manchester United counter attack, as City's defensive line was caught unawares after an Aguero attack. Here, Ashley Young cleverly runs past Zabaleta, who is unable to match him for pace and so too Kompany. We can also see that Barry, who is supposed to be marking Rooney, is a good yard away from him, and Nastasic is completely left alone without the aid of his fellow defenders. Gael Clichy too can be seen making his way towards Rooney.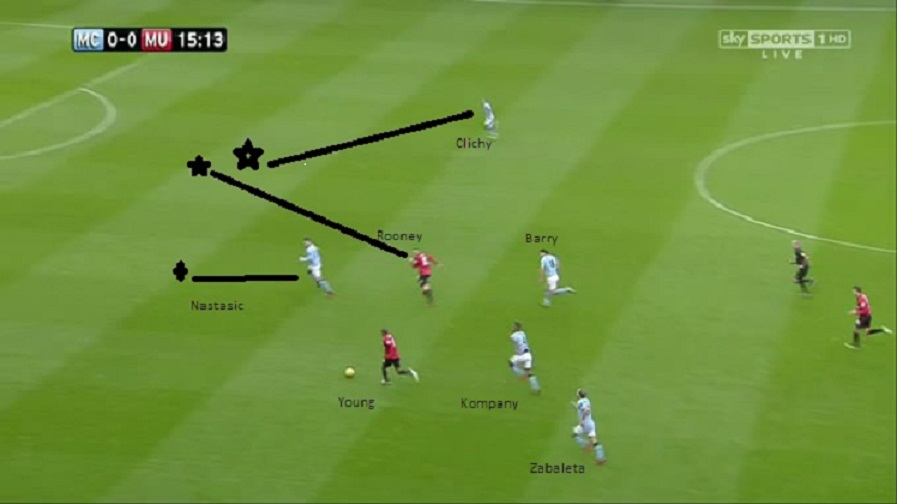 In the following snapshot, Clichy, who has now run past Rooney, is completely wrong -footed by him, also not allowing Gareth Barry or Vincent Kompany to get their challenges. He also blocks Joe Hart's vision of the ball, not allowing him to make proper judgement for the save. This is a defensive problem which will have to be addressed by Roberto Mancini, as this has led to their undoing and exit, not only from the Champions League, but from all Europe competitions.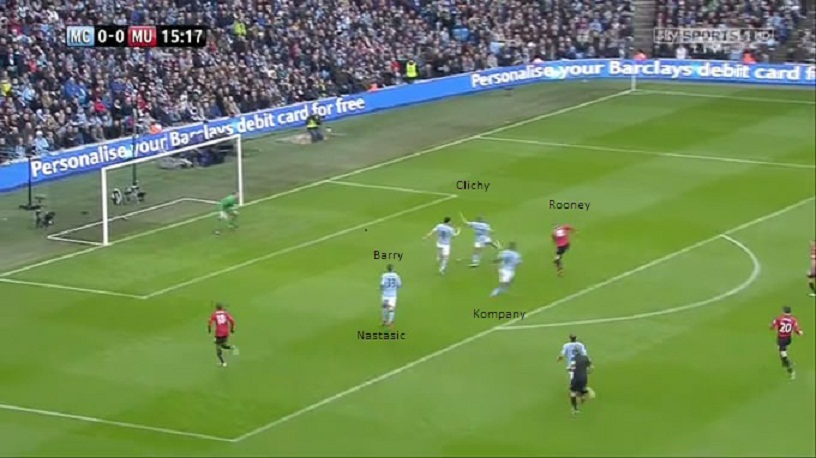 Wayne Rooney (29′)
The above set play has been the most profitable for United in recent times. A midfielder or a defender will make a long pass to Valencia, who is in a perfect position as always on the right wing, and the duo of Rafael and Valencia will weave their magic. Here, Valencia waits for the run of Rafael, who is brave enough to run into advanced positions.
The effectiveness of this set play is the time factor. In the following screenshot, it is evident that Valencia has waited for the right amount of time before releasing Rafael, while giving enough time for Rooney, Van Persie and others if any to make themselves available in the box.
Here, Barry, who is supposed to mark Rooney, is again a yard or so away from him, and in the following screenshot, Clichy is beaten once more for pace after getting wrong footed by Rafael. This was the second time, and is unacceptable on the Premier League stage. Another problem to be addressed by City.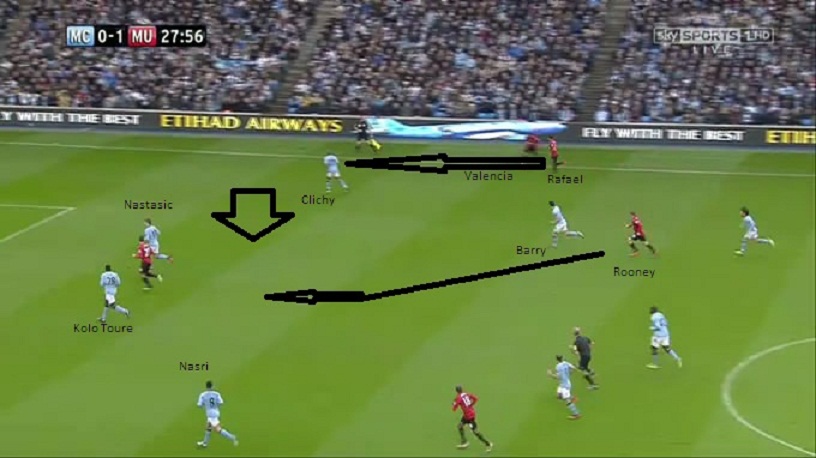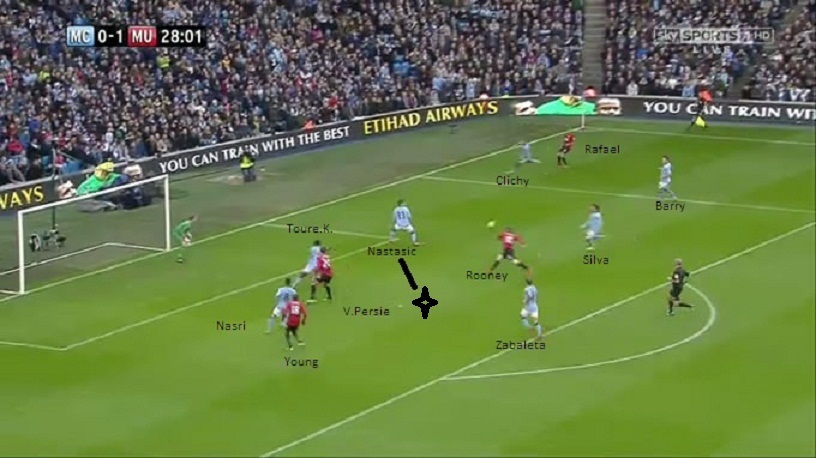 Robin Van Persie (90+2)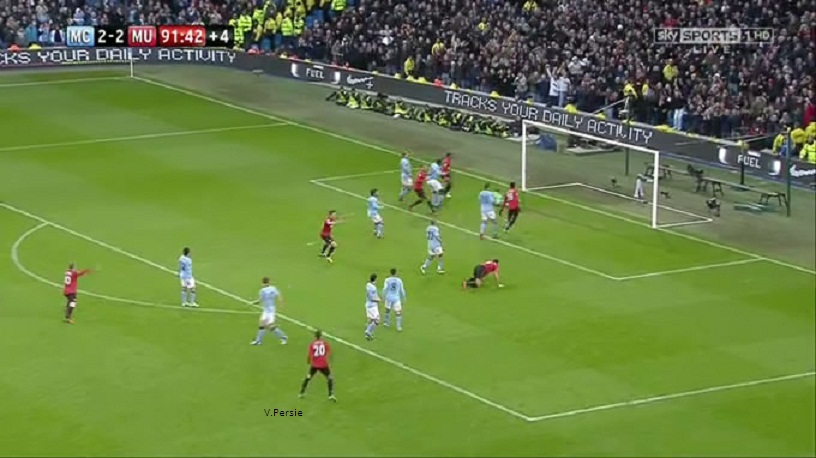 Van Persie has shown this season why Sir Alex invested so much money for his services. A reckless tackle on Rafael by Tevez earned United a free kick, which was curled into the bottom corner by a calm Van Persie via a deflection off Samir Nasri.
Manchester City
Roberto Mancini men succumbed to the first defeat of their 2012-13 Premier League campaign, as they were let down by their defensive frailties. Captain Vincent Kompany hobbled off the pitch after 21 minutes, an incident which added misery to the home side trailing by a goal. Yaya Toure and Pablo Zabaleta brought City back on level terms, but they were eventually undone by a curler from Robin van Persie. City were coming off a humiliating loss to Borussia Dortmund and an exit from Europe altogether. Mancini insisted that the players would have a good game due to lesser responsibility, but it was not meant to be. City played their regular formation of 4-2-3-1.
Here is a tactical approach to the two goals scored by Manchester City.
Yaya Toure (60′)
Aware of United's defensive problems, Carlos Tevez was introduced later on. His impact on the pitch was instant. The energy he brought to the team was spontaneous. Here, City go on the break as Cleverley tries to recover, but Tevez has too much pace for him, which opens up the option of David Silva, unmarked by Rafael, a problem Ferguson has faced throughout this season.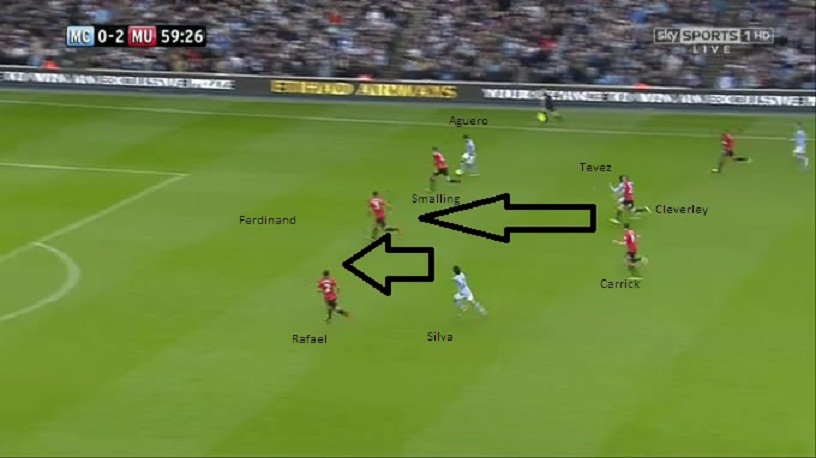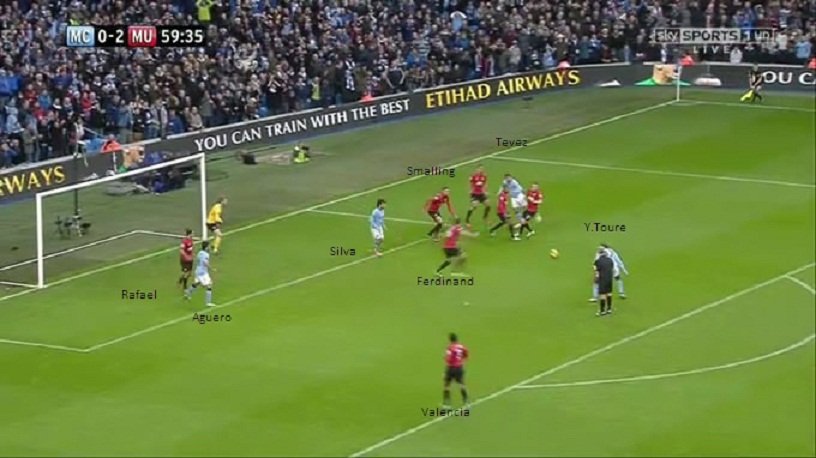 In the above snapshot, it is evident that Silva is offside, and Tevez uses his strength to get up to the ball to bring it down for Yaya Toure, who now has a clear shot at goal. Ferdinand too has himself in a tangle, as does Smalling.
Pablo Zabaleta (86′)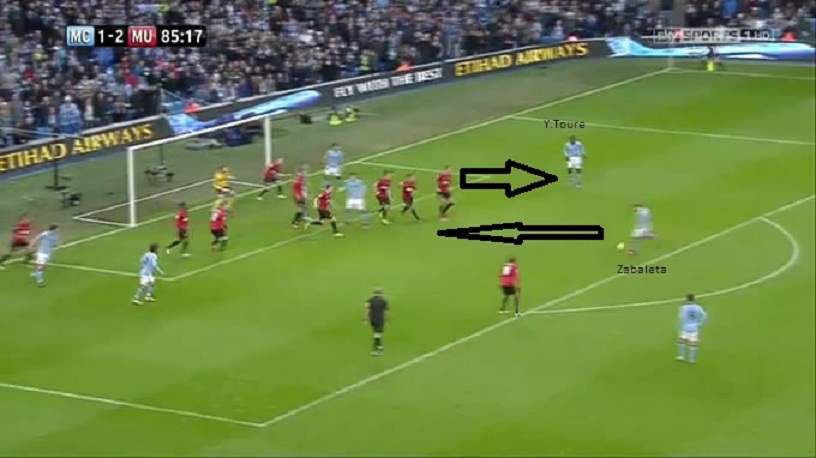 After being handed the captaincy upon the departure of captain Vincent Kompany, Zabaleta led by example, as City pulled back 2 goals to draw level. Here, we see the typical United defence this year, as Zabaleta is not marked and neither is Yaya Toure. It goes on to illustrate how bad United have been at the back, and they will have to tighten their screws if they are to compete with the best in Europe.
The Controversy
As the saying goes, no Manchester derby ends without a controversial headline. Ashley Young must consider himself an unlucky man as his strike in the beginning of the second half was ruled out. However, replays went on to suggest that he was played onside as Van Persie's shot off the cross bar came down for him.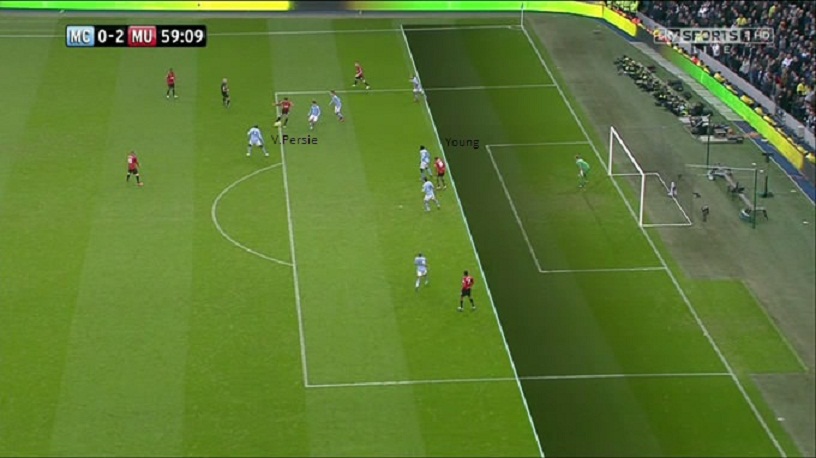 The only other controversy, that of the coin being thrown at Ferdinand, was quickly played down.