Manchester City's striker conundrum
999 //
20 Mar 2013, 00:08 IST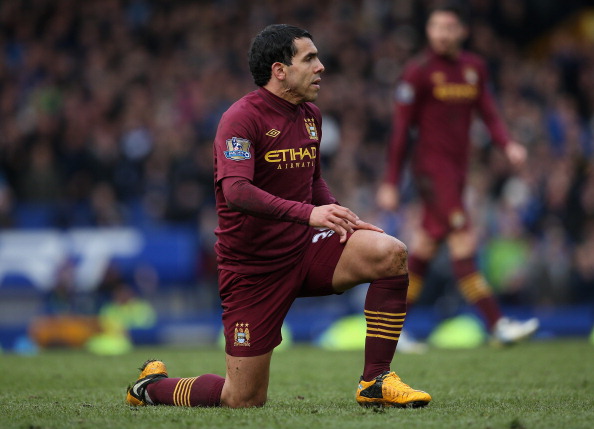 15 points behind the league leaders Manchester United, crashing out of the Champions League in the knockout stages and bowing out the Carling Cup against relegation contenders Aston Villa; disappointing would be an understatement to describe Manchester City's season so far after the high standards they set for themselves given last season's grand finish.
Mancini also strengthened his squad to good extent with the likes of Javi Garcia, Scott Sinclair, Maicon and Jack Rodwell. However, he could not get his tactics right this season and neither has there been a stand out player for City this season who has delivered match winning performances on a consistent basis.
Especially, their strike quartet of Sergio Aguero, Carlos Tevez, Edin Dzeko and Mario Balotelli (till December).
Let's delve into some numbers first, so that I have facts to back my argument.
City's quartet of forwards scored 54 goals between them in 2011-12 season, 43% of City's total goals that season. This, while Tevez was playing Golf and throwing tantrums for more than half the season (However, since Balotelli has moved to Milan in January, our calculations are unaffected by Tevez's antics).
And the same quartet has scored only 29 goals between them this season (till date), which is 57% of their total goals scored this season.
The high percentage of goals contributed by the forwards this season clearly show Manchester City's over reliance on them, but the low number of goals scored as compared to the season before also indicates that they have not been performing as well as they should be.
The main problem lies in Mancini's tactics, rather than a loss of form. Sergio Aguero has scored 9 goals this season in the Premier League, but has probably been one of Manchester City's influential players this season too. However, compare his 9 goals this season to the 23 he scored in 2011-12 season and you can clearly see the difference his performances have had on City's season. But that can also be attributed to the fact that the performance of the entire team has been dismal and the team's performance does have an effect on the player's performance too.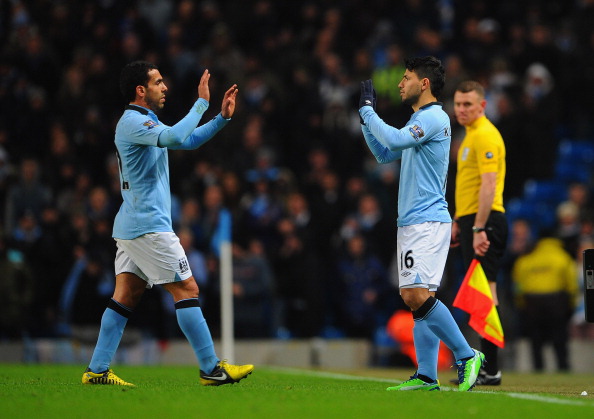 Aguero has largely been deployed as a lone centre forward many a times this season. And his natural tendency to drift into the wings does not help Manchester City's cause. Last season, he had Dzeko or Balotelli as the main striker who would be available as a target in the box and would also act as a distraction for the opposition defenders, which allowed Aguero space to manoeuvre.
However, this season, Balotelli had problems with Mancini from the start of the season itself and has been sold to Milan whereas Dzeko has been used as a substitute for most part of the season. This left Aguero no one to rely on in the centre and thus the blip in his goal tally.
But his partnership with Tevez has seemed perfect for Manchester City. Both understand each other's movement very well. Both have similar styles of play too(Drift down the flanks, dribble past defenders, play quick one touch passing etc). While one stretches play and provides width, the other takes advantage of the space created in the centre. This is also exploited by the central midfielders like Silva and Yaya Toure. No wonder Mancini rarely fields a natural winger in the line-up.
Their combination reminds me of Rooney's partnership with Tevez back in 2007-09. Rooney's natural movement is dropping deep into midfield unlike Aguero who goes wide. And Rooney and Tevez always took turns to drop into midfield to create space for the other. The width was provided by the likes of Ronaldo and Nani, who also regularly ventured into the space created by Rooney/Tevez.
Mancini has rarely fielded both Tevez and Aguero in the same team this season and this might explain the low return of goals from the strike duo. Though Tevez has been involved in controversies this season too, he has not always been used when available and that has proved costly for Mancini's team.
And when he has been used, the results are there for everyone to see. Tevez was brought on in the second half against Manchester United while City were trailing 2-0, and he almost single-handedly earned a point for City (he scored one and assisted the second goal) but he couldn't stop Van Persie from scoring the winner in stoppage time.
Manchester City's recent match against Chelsea (which they won 2-0) is also a fine example of Tevez's influence. He was brought on in the second half when the scores were level at 0-0 and this instantly gave Aguero more freedom. Manchester City scored two goals, one of which was a Tevez screamer. You can find a detailed report of the match at -
Manchester City vs Chelsea: Why Chelsea lost it – A tactical analysis
Clearly, Tevez is the answer to Mancini's problems, but whether he would stay next season at City is anybody's guess.
Balotelli has already left for Milan in January and there are rumours aplenty of Dzeko leaving for Germany too. Tevez has made it public that he would like to return to Argentina. This leaves Mancini with Aguero as the only possible striker for next season.
Obviously, City have started to look for alternatives to be bought in the summer. The three players who are most likely to end up at City next season are -
Edinson Cavani
Radamel Falcao
All three are hugely talented and would offer a different facet to City's gameplay. Whether they could strike a partnership with Aguero is something we will know only when the transfers actually happen.
Until then, Mancini has to sort out his strike problems if he wants to prove that Manchester City's League win last season wasn't just a flash in the pan.