Manchester United: Story Of The Club Which Never Gives In
2.40K //
04 Jul 2011, 22:07 IST
Disclaimer: This piece of writing is not meant to belittle the achievements of other clubs. Anything that points in that direction is to be considered as an attempt to be unnecessarily humorous.  Also, the author is not responsible for any change of club loyalties after reading this article.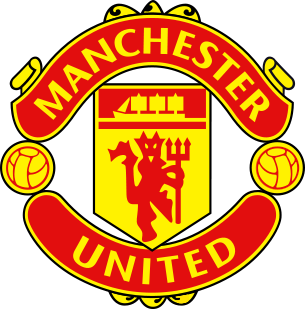 Contrary to what most might think after reading the title, this article is not the usual yada yada about how a certain, club from Manchester came into being and became the biggest club in the world. Its rather an attempt to show what hard work, perseverance and the usual dose of luck can do for a person, a team, or as in this case, a football club.
But first, here's a little history about Manchester United before we jump into the details. Rather surprisingly, although hailing from the city, United didn't use Manchester in their name early on, nor were they United. It all started as Newton Heath LYR (Lancashire and Yorkshire Railway) Football Club in 1878, some 14 years before a club named Liverpool came into existence.  Heath played their games against other railway sides and were quite successful. Funnily, when they dropped the LYR from their name, Heath got relegated to the second division in the 1894-94 season. I assume that's why they changed their name to Manchester United in 1902 which resulted in securing promotion in 1906 and winning the First Division in 1908 and 1911. Thus you see, the name Manchester United itself had success written all over it. Enough of these old boys, let's move ahead.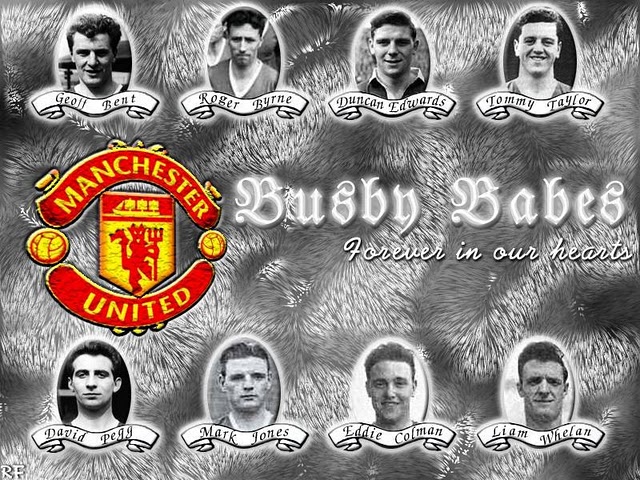 After the Second World War, a man named Matt Busby was appointed manager of United, to stop United from being the yo-yo club that they were. Busby was like no other manager in the league before him. The respect that he demanded and the control that he had over the players' work-rate and discipline began to show. Busby led United to second place finishes in the league in 1947, '48 and '49, winning the FA Cup in '48 and finally the league in 1952, United's first in 41 years. All this he did with an average squad age of 22 years. Busby also led United to the semi finals of what was then known as the European Cup in 1957. While you might be tempted to think that this is almost exactly what Arsenal have been doing under Monsieur Wenger, let me remind you that his babies haven't finished second for a while, they've been mauled in the FA Cup and less said about the Champions League the better.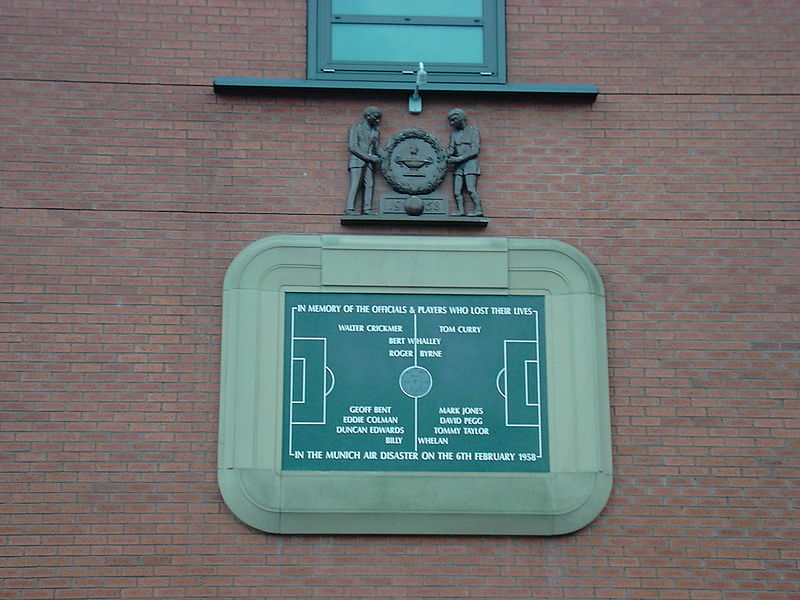 Chuck the lousy humor, time to get serious for a change. It was the following year, in 1958 when possibly the worst thing that could happen to a team/club happened to United. On their way back home from a European Cup quarter-final victory against Red Star Belgrade, the aircraft carrying the Manchester United players, officials and journalists crashed while attempting to take off after refueling in Munich, Germany. The Munich air disaster of 6 February 1958 as it came to be known, claimed 23 lives, including those of eight players – Geoff Bent, Roger Byrne, Eddie Colman, Duncan Edwards, Mark Jones, David Pegg, Tommy Taylor and Billy Whelan – and injured several more, including manager Matt Busby who was seriously injured and fought for life in hospital for many weeks; his life expectancy very low rendering him unable to appear in the dugout for the rest of the season. Reserve team manager Jimmy Murphy took over as manager while Busby recovered from his injuries and the club's makeshift side reached the FA Cup final. An already remarkable feat due to the loss of first team players was even more tremendous considering the mental state of those who survived the crash and those back home who were a part of the support staff at United.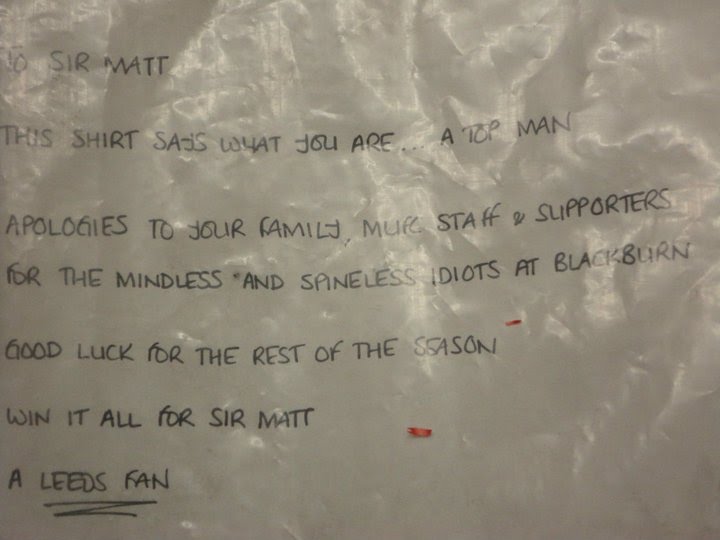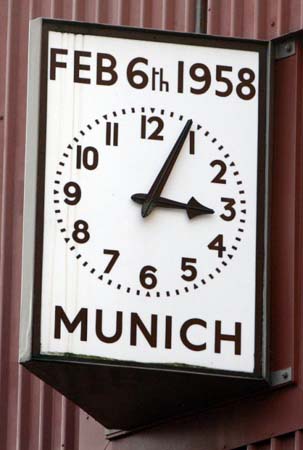 The great, youthful, Busby Babes were gone with still so much to achieve. Sick fans at Blackburn and Liverpool made a mockery of it.  But the team continued to play at a pretty high level which made the entire world became aware of the desire and never say die attitude of Manchester United. Matt Busby recovered, yet doubted in his own mind that he had the desire to carry on. But carry on he did and, within 12 months, he set about creating the third great United team. With Munich survivor Bobby Charlton plus signings like Pat Crerand and Denis Law, and new youth players like Kidd and George Best amongst others, United returned winning the FA Cup in 1963 and two League titles in 1965 and 1967. They played 'Busby football' as the Babes had before with style, attacking flair and genius and attracted a new legion of fans and the imagination of football fans the world over.
On May 29th 1968, the most successful, but probably not the most gifted, of his three United sides won the European Cup for the first time. The nation and most of the TV watching world was behind United that night, with the memories of 1958 willing on United to defeat Benfica 4-1.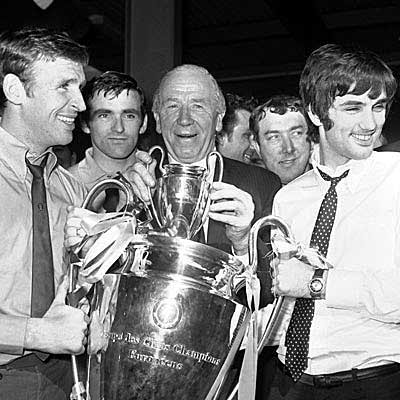 Queen Elizabeth II Knighted Matt Busby in 1968 after which Busby, having achieved his goal, retired from Manchester United as manager in 1969. He 'moved up the ladder' and took up the role of General Manager. In 1970, Busby returned the managers seat as a temporary appointment following the sacking of Frank O'Farrell. In 1971, Sir Matt was appointed to the United board. In 1982, Sir Matt was appointed Club President for life and held high positions in the Football League management committee. What Sir Matt did was not just encourage a style of football full of flair and passing technique, but also ensured that a major part of the club's focus and funds were spent on improving and promoting youth players, who obviously did not cost anything with respect to transfer fees but also were more used to the team's style of play, a method later on adopted by some Catalan club managed by Pep Guardiola (and people credit them for their youth policies) :P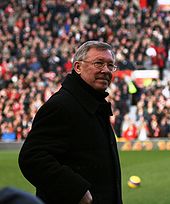 Sadly for United this was the end of an era and the club drifted from the heights of that success to mediocrity to downright disaster when they were relegated from the First Division in 1974, losing to Manchester City on the final day of the season. 28 seasons of top-flight football came to an end. While United bounced straight back, winning the Second Division at first attempt, it was not until 1986, when a Scotsman named Alex Ferguson was appointed manager of Manchester United to stop the so called rot and reinstate United as the dominant force in the country or as he famously said;
"My greatest challenge is not what's happening at the moment, my greatest challenge was knocking Liverpool right off their f**king perch. And you can print that".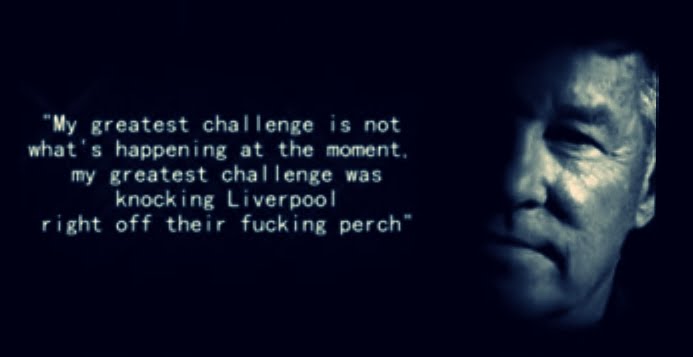 United's fortunes continued to fluctuate and Ferguson was on the verge of sack in 1990 when a victory in the FA Cup final ensured he stayed on for another year(a rumor which hasn't yet been confirmed). That would be decision that the boardroom would not regret and one that would change the history of football in England; for good. Ferguson re-introduced the Busby philosophy for youth development and with it United won its first Championship for 26 years (the inaugural Premiership), in 1993. Sir Matt took great pleasure in presiding over Ferguson's revival in which United played with the same style and flair he himself loved in his own teams. It was fitting that Sir Matt Busby proudly celebrated that achievement in the director's box as the faithful crowd hailed his name.
Sadly, less than a year later, on the 20th January 1994, Busby died aged 85.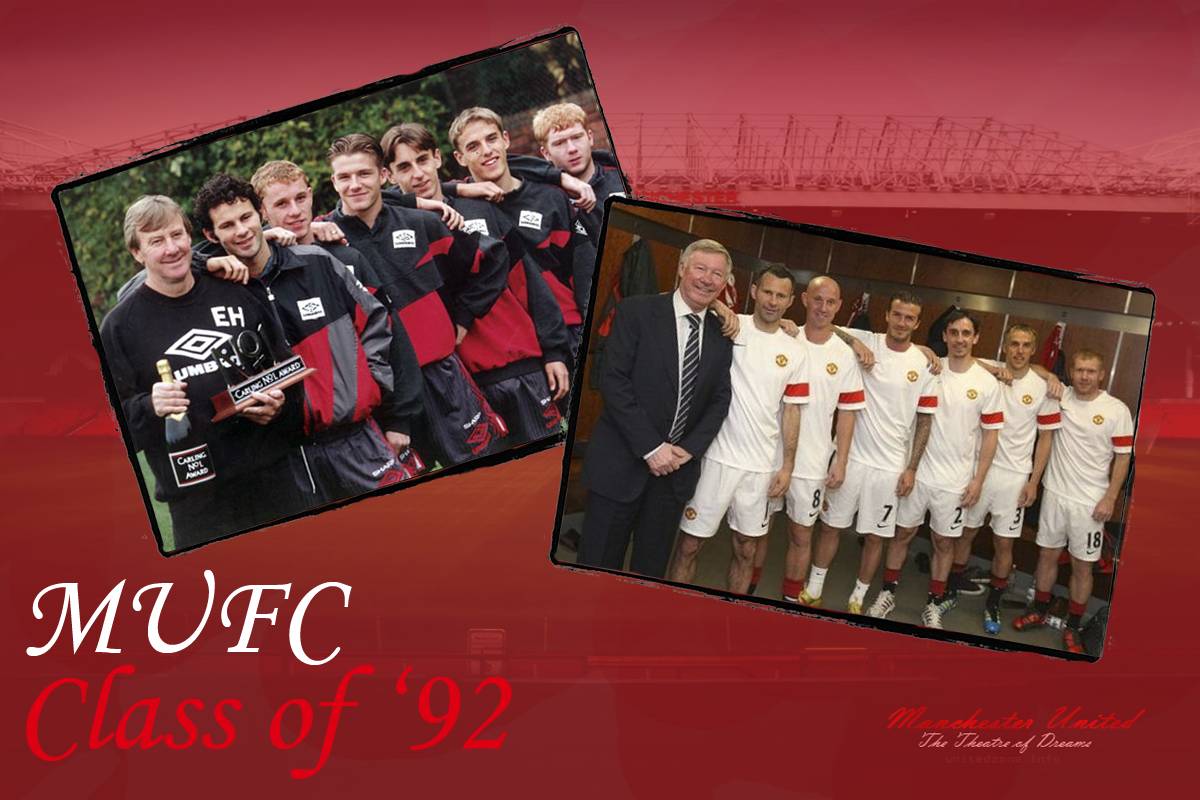 In the '92-93 season, a handful of talented youth players, namely Ryan Giggs, Paul Scholes, Gary Neville, David Beckham, and Nicky Butt stepped into United's first team. This lot with an average age of 22, quite similar to the Busby Babes, began displaying a bit of cockiness and flair that was yet to be seen in any of the English sides. Along with star players like Eric Cantona, Mark Hughes and Steve Bruce, Fergie's Fledglings as they came to be known, won the title in 1992 and won the League and FA Cup 'double' in the following year, the first in United's now glorious history. I could go on a few more pages about the players who played under Fergie at that time, but then this is supposed to be about United and its dominance of the league. Under Ferguson, United built up a reputation of scoring last minute goals and snatching victory or at least a draw from the jaws of certain defeat.
The 1998-99 season saw something that no English club had done previously and I don't think any club from the country will ever repeat. Manchester United won the League, FA Cup and Champions League in what was called the "TREBLE". A little description here wouldn't harm. With the Premier League title secured, United played Arsenal in the FA Cup Semi Final. It was looking like heading into penalties when Ryan Giggs scored what many reckon is the greatest goal in the history of the FA Cup. Describing it would do it injustice, so just follow the link. 1999 was not over here. Cut to the finals of the Champions League against Bayern Munich. United trailing 1-0, 91st minute. The transcript of the live commentary went something like this.
"Can Manchester United score, they always score. Beckham..corner.. Giggs with the shot.. Sheringham!!!..who with 30 seconds left on the clock has equalized for United.  We're heading into golden goal time here at the Nou Camp unless Ole Solskjaer can conjure up another. 92nd minute now, Beckham with another corner. Surely United's last chance to do anything.. Is this their moment?? Beckham..into Sheringham and.. SOLSKJAER HAS WON IT!!!!!!!!!!! Manchester United have reached the promise land"!!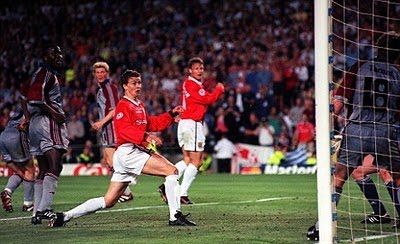 Here's a link of that match in case my description doesn't suffice. That is considered as the greatest footballing comeback of all times. Liverpool fans can rant all they want about the Istanbul game, it's not changing my and the World's opinion. United beat Palmeiras to win the Intercontinental Cup that year. Alex Ferguson was subsequently knighted for his services to football.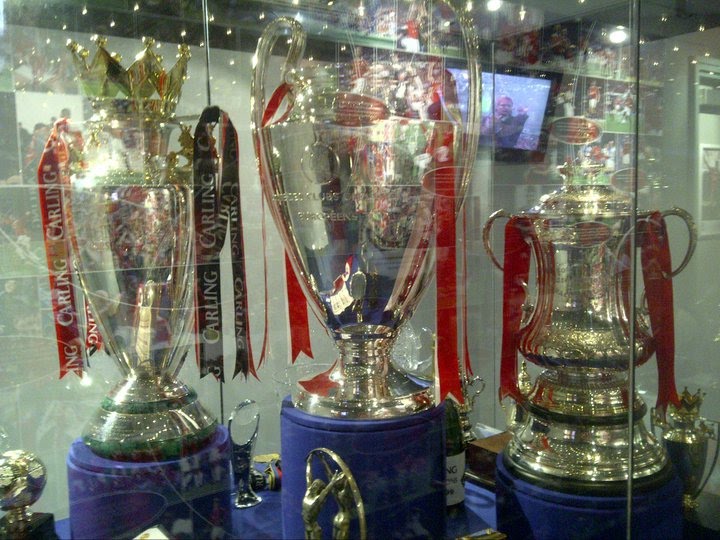 That helped continue a spell of utter dominance of English Football as the titles and awards flowed to the Old Trafford trophy cabinets. Yes, smaller teams such as Arsenal FC, moneybags like Chelsea FC have won League titles in the last decade and old timers like Liverpool FC have run United close, but on all these occasions United have bounced back even more convincingly that the previous year.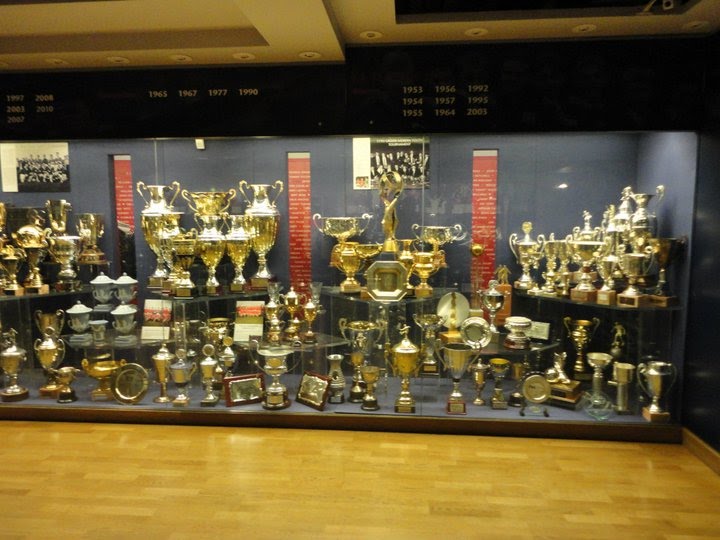 In the 2007-08 season, a Portuguese winger scored 42 goals. He, alongwith an Argentinean striker and Wayne Rooney contributed immensely in helping United win a Premier League and Champions League double. The first two left United a couple of years later, the latter in controversial circumstances moving over to rivals and new moneybags(or should I say 'moneywells') Manchester City. Many thought that United were finished and now Sir Alex would have to seriously consider buying some superstars to re-build his squad. Sir Alex surprised everybody by buying a relatively unknown Ecuadorian winger Antonio Valencia and re jigging his formation. Although they didn't win that year, they finished a close second to Chelsea. No other team in my opinion would have managed to be anywhere close after losing two of their top players and not really replacing them.
After the Glazers took over United, it was assumed that they'd give Sir Alex a deep pocket to spend and United would be the Galacticos of England. What happened was astonishing. The Glazers had debts of their own, which they piled onto the club, and for the first time since the early 1900's, United were plunged into the red; Deep into the red this time. Again, one thought that Sir Alex was in trouble. That now he'd have to let go of more star players so as to help the club function smoothly. But as he's proved time and again, he pulled a rabbit out of the hat. A bargain signing in the form of Javier 'Chicharito' Hernandez turned out to be a masterstroke.
Last season, United had another issue of player leaving the club (well almost) when star striker Wayne Rooney handed in a transfer request. He sighted lack of ambition from the club and an inability to attract top players as a reason for not signing a new contract. This did not go down too well with United and Rooney fans likewise. They bombarded newspapers, internet forums criticizing Rooney for his attitude and arrogance after what was a poor World Cup for him personally as well as for England. Once again, any other team would've almost collapsed had something like that happened. Arsenal can't play without Fabregas, Chelsea can't without Lampard nor can Liverpool without Gerrard. But United, inspite of all this nonsense continued to be as professional as ever on the field and notched up impressive results. Maybe that's what struck Wayne. He realized that no player can ever be bigger than the club or the game itself. Had he left, the void would've been difficult to fill, but somebody would've stepped in, as Chicharito showed. Rooney decided to sign a multimillion quid deal and helped United win their 19th title, in the process "Knocking Liverpool off their Fu***ng Perch".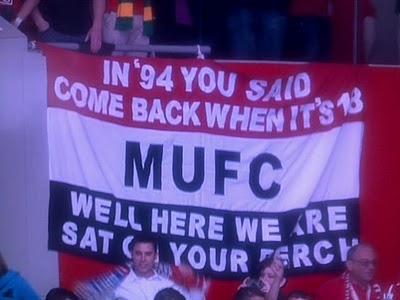 Time and again Manchester United have shown that it takes much more than just skill on the pitch to get you results. Yes, it does need some pure footballing genius at times (Eric Cantona, Ryan Giggs), a very brilliant footballing mind(Paul Scholes), sheer hardwork and determination(David Beckham), a bit of arrogance and flair(George Best, Cristiano Ronaldo) and being at the right place at the right time(Ole Solskjaer, Chicharito). From past to present, Manchester United players have had it ingrained into them. As Sir Alex famously said after the '99 Champions League Final,



"Football, Bloody Hell!! They never give in, and that's a winner"