Manchester United vs Arsenal - Match preview
957 //
02 Nov 2012, 18:54 IST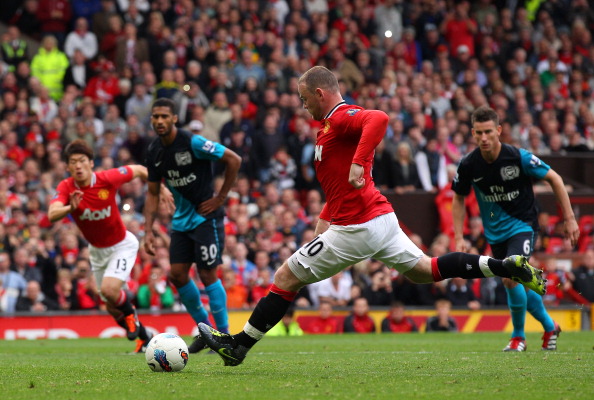 Fresh from their thrilling victory in the midweek cup fixture against Reading, Arsenal will travel to the site of their 8 – 2 humiliation last season; Old Trafford. Their opponents in this Saturday's early kick-off, Manchester United, are coming off the back of an equally thrilling midweek encounter, except that they found themselves at the wrong end of a 5-4 scoreline against London club, Chelsea. So, with makeshift defences of both teams shipping in 5 goals a piece, the forwards in both squads will be licking their lips at the chance to make a name for themselves in this clash of the titans.
The Gunners, who currently sit 6th in the league, just 6 points behind 2nd placed United, will be eager to cut the deficit in half, while the Red Devils will be looking to stretch their lead to 9 points, and, more importantly, occupy the top spot in the table, at least until Chelsea's match against Swansea City. Robin van Persie will find himself face to face with his former team mates for the first time since his mega-money move to Manchester, and both parties will be keen to make a point. With that in mind, let's take a look at some key aspects of tomorrow's explosive fixture.
Manchester United: W W W W L
The circumstances of their league victory over Chelsea notwithstanding, Manchester United have been in sensational form going forward this season, with a league-leading 24 goals scored in their 9 games. Boasting arguably the best attacking players in the league, Sir Alex's team have almost made a habit of conceding early leads, only to come from behind and claim victory. With 5 wins in their last 6 league games, and impressive performances in Europe as well, Sir Alex will be quietly confident about his team's chances of sending the Old Trafford faithful home with a smile on their faces. The injury to Kagawa, along with the return of Ashley Young has seen width restored to a United side which seemed to be struggling to cope with a 'diamond' formation. Thus, we might very well see a start for Ashley Young, scorer of a brace in last season's encounter, along with the consistent Antonio Valencia on the other flank. The defence, however, still seems short on confidence, and has left De Gea helpless on several occasions already. Whether the defense can take its game to the next level, however, remains to be seen.
Arsenal: W L L W W
Arsenal's start to the season has been somewhat erratic, in what has become an almost inevitable trait over the past few seasons, and has left them with only 3 victories in their last 6 games, with 2 defeats, and a draw. The blame, however, squarely lies on the shoulders of Arsenal's newly assembled forward line, which has been unable to match up to the goal scoring prowess of a certain departed Dutchman. Arsenal's defence has been pristine this season, with only 6 goals conceded even in the absence of their first choice goal keeper; the least in the league. Santiago Cazorla, however, has been an absolute perfect fit to Arsenal's midfield jigsaw, and along with Arteta, and the newly returned Wilshere, should pose a credible threat to United's frail defence. Thus, with the best attack in the league playing against the best defence in the league, the game might end up being decided on the pace with which Arsenal launch counter-attacks; pace which they have in considerable amounts, to burn.
Manchester United: Shinji Kagawa, Nemanja Vidic, Phil Jones, Chris Smalling.
Arsenal: Wojciech Szczesny, Abou Diaby, Tomas Rosicky, Lukasz Fabianski, Kieran Gibbs, Alex Oxlade-Chamberlain, Gervinho.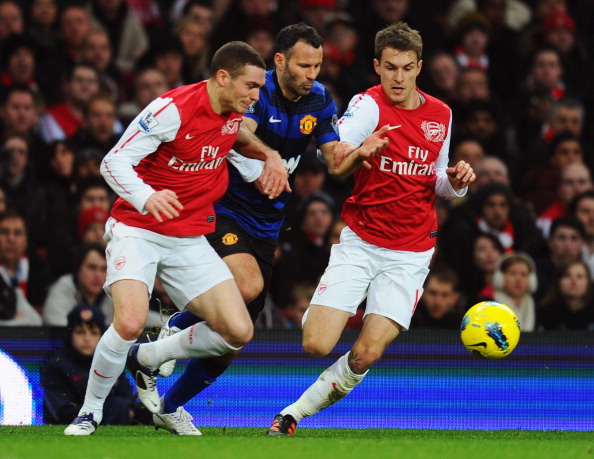 Jack Wilshere & Santiago Cazorla vs Jonny Evans & Rio Ferdinand
As already mentioned, Manchester United's defence has been found wanting on more than one occasion this season. The aging legs of Rio Ferdinand have been incapable of keeping up with pacy attacks, and Evans' positional sense has left much to be desired. With the ever present threat of Giroud up front, United's centre halves may have their hands full, allowing Cazorla and Wilshere space to wreak havoc. Both midfielders love to join in the attack, and have tremendous talent that can leave top defences clutching straws, when on song. This may well be the battle that decides the fate of this match.
Antonio Valencia vs Andre Santos
Whatever Manchester United have lacked in defence, they have more than compensated for in attack, and Valencia has been a key, consistent component of that attack. Playing a significant part in United's away victory over Arsenal last season, Valencia will have fond memories playing against the Gunners, and may well push on to new heights. With Kieran Gibbs confirmed missing, Arsenal may well deploy Andre Santos at left back, and the Brazilian's tendency to lose focus at key moments may well seal the fate for Arsenal.
Robin van Persie vs Arsenal
No matter how great a professional van Persie is, there is no denying that this fixture will have an effect on him. While he may choose not to celebrate if he scores against his former club, whether he performs with added determination remains to be seen. There is also the unpredictability of the Arsenal fans' reception to him, and his response to it. Arsene Wenger has revealed, quite opportunistically it would seem, that van Persie turned down a chance to move to the Etihad, and that he would like van Persie to treat Arsenal with respect. A respect which, for moulding him, Arsenal truly deserve. But, as we all know, Robin is a bit of a hothead, and an overly enthusiastic fan waving a wad of money in the crowd may just make him go berserk.. and score a flurry of goals!
Knowing the characteristic traits of both teams, as well as accounting for nerves, one must say there is a high likelihood of goals aplenty. Early goals, late goals, own goals, van Persie goals, and all the other sorts in between. One might also be witness to a few brazen assaults on Robin van Persie's fragile ankle, launched by the boisterous Arsenal defence, as a token of their old friendship. Oh, and also, plenty of taunts about the 8 – 2 thumping from the Stretford end!