Manchester United's cavalier approach defies belief, yet the team is halfway to the title
1.85K //
29 Dec 2012, 00:33 IST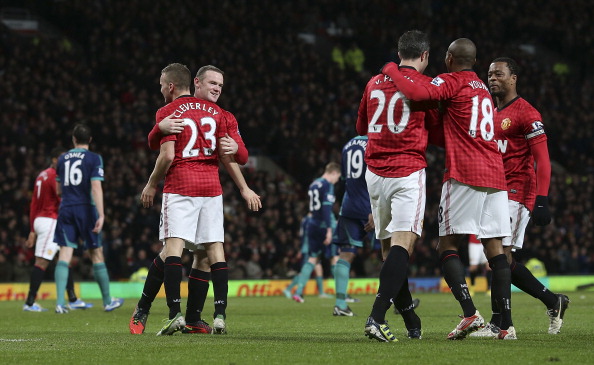 At Manchester United, Sir Alex Ferguson always sets out milestones to be hit over the course of a season, to keep the team on track on the twisting and unruly road to the English top division league title. And since it's traditional for Manchester United to perform better in the second half of the season as compared to the first 19 games, Sir Alex usually wants his side to be within earshot of the top of the table by Christmas, preferably within 5 points of the team in first. So one can imagine he will be sitting in a comfy chair at home, a glass of wine in hand, sporting a beaming look when he glances at the league table. Far from being knocked out by last season's last-minute hammer blow by Sergio Aguero, United have come out swinging from their corner and blitzed the field, sitting pretty in first place with a comfortable gap of 7 points separating them and the chasing bunch.
In league matches this season, Sir Alex has sent out a team consisting of two proven goalscorers up front, two direct wingers that like to stretch the play, two central midfielders that like to pass and move forward, 2 attack-minded fullbacks who are more likely to be found in the opposition's half and two central defenders who are comfortable in possession and like to bring the ball out from the back. And behind all of them is a goalkeeper who saves the most difficult shots in an outrageously acrobatic manner but lets in the easier ones.
It has made for a ridiculously cavalier side, a team that seems to value goals more than clean sheets, and one with a disdain for slow, possession based football and a penchant for the chaotic, gung-ho, I-will-score-more-than-you philosophy. This Manchester United team is the classic example of trying to fit in more attackers and more attack-minded players than permissible in to a football side, and then sitting back and watching with fingers crossed what comes out at the other end.
Miraculously, the experiment has been a runaway success, and Manchester United have failed to score in only 2 of 19 matches and have won 15 in the league so far; proof that a team can be both attacking and successful at the same time. Arsenal have, under Wenger, averaged more possession, but have often been guilty of overplaying and not converting possession into goals. The Chelsea sides that Jose Mourinho led to the title played dour, safety-first football at times, and although successful, never attacked in the same breathtaking fashion as the United side of this season. Jose Mourinho would never allow 2 of his fullbacks to attack at the same time and leave the central defenders one-on-one with the opposition forwards. But Sir Alex has overlooked such gambits, and has in fact encouraged his defenders to contribute to the attack. And the stats back that up – Evans, Evra, Rafael and Buttner have between them scored 10 goals so far this season. By comparison, Man City, Arsenal and Chelsea defenders have contributed 3, 2 and 9 goals respectively.
A lot has already been said about the glaring weaknesses of this Manchester United side – a fragile midfield, a leaky defense and an overrated, inexperienced and error-prone keeper, among other things. They also have a winger incapable of using his left foot for anything other than balancing himself (Valencia), a centre back who till last season was their best defender but has just returned to first team action following a lengthy injury lay-off (Vidic) and a hardworking midfielder who is in his first season back after a life-altering disease (Fletcher).
To add to that motley of 'misfits', their most dynamic winger Nani is also missing in action, having played only 7 games so far in the campaign, with talks of a potential transfer to Italy and Russia doing the rounds after a falling-out with the manager and teammates.  Suffice to say, Manchester United don't have the greatest of squads, yet they find themselves better off than all of their more affluent rivals. Fans moan when both Giggs and Scholes are in the starting line-up, but the manager's hand is forced in that department. If Carrick and Cleverley have played a game 3 days ago, then by natural squad rotation, Giggs and Scholes are the only midfielders left to select. Fletcher is clearly raw and will take time to come back to his usual, buzzing-all-around-the-park style of play. Anderson is never a guaranteed starter because of his injuries. But still, in spite of all these restrictions, the team wins more often than not.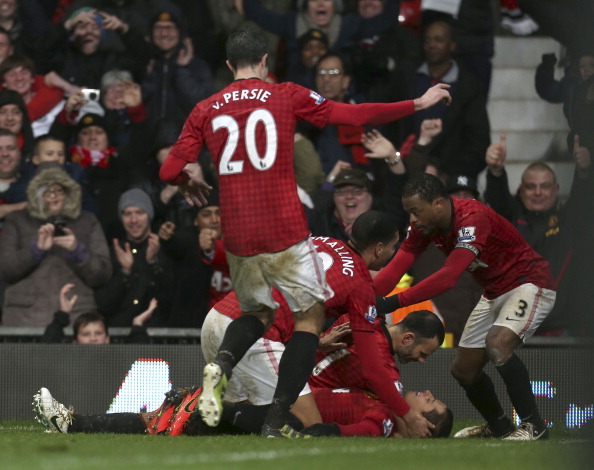 The strikeforce has been excellent all season, and the newly acquired forward from Arsenal has been an instant success. Among them, Van Persie, Rooney, Hernandez and Welbeck have scored  27 off the team's 48 goals this season in the league. In all, United have 14 more goals than their nearest rivals, and 11 more goals than the second most attacking team, Chelsea. With 46 points after 19 games, United are on course for a record 92 points, second only to Chelsea's 95 points in the 2004-05 edition of the EPL, which the Londoners won with a yawning gap of 12 points from second-placed Arsenal. It's obviously too early to say this, but the stats don't lie – at this rate, the Red Devils will have secured the title by April.
It's an odd scenario, and a scarcely believable one. Logic suggests Manchester United should have found it difficult to compete with the Hazard-ous Chelsea and the flush-with-success Manchester City. Arsenal too had a busy transfer window, with top-tier players arriving in Cazorla and Podolski, and were widely expected to launch a title-challenge inspite of the sale of their chart-topping striker to the current league leaders. This was supposed to be the most competitive season for a while, yet at the moment it looks like a one-horse race.
The other side of the argument is that other sides have not lived up to their billing, and all of them have problems, more severe than a weak defense and a slow midfield. City have found out the hard way what a burden it is to bear the 'Champions' tag, with opposition teams choosing to sit back and protect their goal than have a go at the best team in the country. Arsenal have been up and down, winning gloriously one week and going down in flames the next, and the team is still far from convincing its fans of a genuine title challenge. Chelsea have been true to form, with yet another season of managerial musical-chairs and off-field controversies; issues that have been holding the club back everytime they have had a squad good enough to be champions. The current Man United squad is not unbeatable and is infact vulnerable, yet their competitors have not only not managed to take advantage of the situation, but have also given them a headstart with their kamikaze tendencies. At the start of the season, it was widely believed that Chelsea or Man City would set the benchmarks of attacking football in the EPL, yet it seems they have already blown their chances.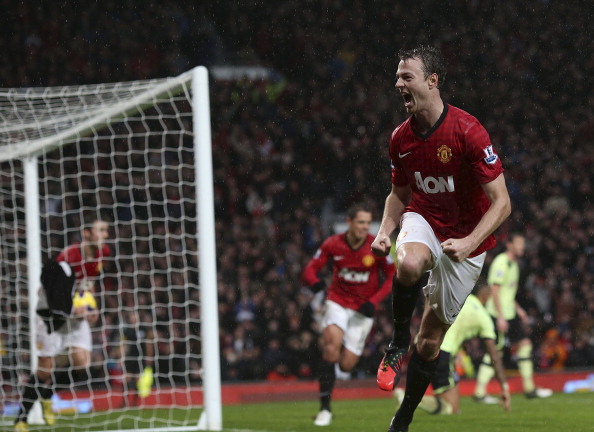 Football is likened to chess for a number of reasons, the most pertinent being that he who controls the centre of the field (or the board), controls the fate of the contest. It is common practice to sacrifice a piece if it leads to more control over the centre of the board. Manchester United are doing the exact opposite – willing to include one less central midfielder in favour of one more striker in the team. Sir Alex has seemingly re-written the rules of the game, choosing to sacrifice midfield superiority for more control over the outcome of a game. And in doing so, he has quashed many age-old beliefs of football. No longer is it crucial to hold the ball in the middle, knock around 5-yard passes and starve the opposition of possession. Nor is it a compulsion to keep your defenders in place and attack with fewer players. The style of football that Manchester United are currently playing is the most direct since the heydays of Ronaldo, Rooney and Tevez in tandem.
From back to front in the blink of an eye, from defending their penalty box to scoring at the other hand – it's been a relentless display of vertical football, choosing to send the ball 30 yards forward in one pass rather than five. Players, even defenders, are given the freedom to bomb forward and overload the opposition through sheer numbers and bravery of position, in the hopes of scoring whenever possible. It's madness, and at times, the plan will go up in flames, the 1-0 losses to Everton and Norwich being prime examples. But in the long run, the team stands to gain a lot more than it loses, and that's why it makes for a viable solution. It's ok to concede 28 goals in 19 games (average of 1.4 goals a game), the most in the top half of the table, provided you compensate by scoring an average of 2.5 goals a game. Simple math will tell you that games involving the Red Devils will produce lots of goals, but Man United will emerge victorious by a one-goal margin.
So I guess this is exactly what Sir Alex had in mind, when he chose to sign Robin van Persie and Shinji Kagawa in favour of the defensive midfielder that the fans were crying out for. Top of the league, most goals scored, more attacking outlets, a more lenient team structure and a top-heavy side that is likely to run away with the title. All the talks of the club being in crisis due to the number and manner of goals that they have conceded, is blinding people from the obviousness of the situation. The Red Devils are halfway to the title, and are pulling away from the teams chasing them. At present, City and Chelsea are specks of black in Man United's rear-view mirror, and if Fergie's men stay true to their style, then the chasing pack will disappear from the mirror altogether by the time spring comes around, paving the way for a stroll to League Title No. 20. Guess the grand old man of football still has a few tricks up his sleeve that the audience doesn't know of.