Martin O'Neill and how he is the man for the future
1.15K //
12 Mar 2012, 14:24 IST
For any manager, it is a titanic job to perform well with a moderate squad. To do that with different teams is even harder. Like his old manager Brian Clough at Nottingham Forest forty years ago, Martin O'Neill has done this very effectively so far in his career.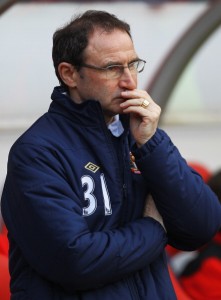 Take any successful manager. We measure their greatness by three main factors – Loyalty, Success and desire to win. O'Neill has exhibited all these things in his career. Let us take three case studies.
Case 1 : Loyalty
In the four years he stayed at Leicester City between 1996 and 2000, the club won the Carling Cup twice, making it to the finals three times, they never finished outside the top 10 in the league and they made it to the UEFA Cup twice.
In 1998, Leeds United were in search of a new manager and it was widely speculated that O'Neill would take that job. This made the fans at Leicester very anxious. They organized campaigns and handed out "Don't go Martin" posters. O'Neill respected them and stayed with Leicester till his contract expired in 2000. With Football getting money-based by the minute, that act of loyalty by O'Neill was much appreciated by everyone.
Till date, he remains the greatest manager that Leicester City ever had.
Case 2 : Success
Obviously, we are not talking success in the range of Jose Mourinho or Sir Alex Ferguson here. But, like Ferguson, O'Neill's success began in Scotland when he took over at Celtic.
The Scottish Premier League is much like the La Liga. Only two teams seem capable of winning the cup and Celtics were comprehensively defeated for the past two seasons by their year old rivals – Rangers. O'Neill in his first derby game against Rangers took Celtic to a 6-2 win.
O'Neill took Celtic to the Champions League and later made it to the finals of the UEFA Cup, eventually losing to Jose Mourinho's Porto. In his five years at the club, he had won three league titles, three cup titles and a league cup title. He achieved 25 consecutive league victories, a record that still stands.
In 2005, he resigned from the club in order to take care of his wife who was suffering from lymphoma.
Case 3 : Desire to win
O'Neill had a great start to his Premier League career at Aston Villa after going 9 games without a defeat. Despite a mid-season slump, Aston Villa finished at 11th, five placed higher than their last season.
In his next season at Aston Villa, the team finished 6th and scored 71 goals (third highest in the league). In the next season, they were placed 3rd after 25 games but could not manage to convert that into a Champions League spot. The next season too they finished 6th, defeating Chelsea, Liverpool and Manchester United at home.
For the third time in a row, Aston Villa finished 6th in the league. They also made it to the finals of the Carling Cup.
In August 2010, Martin O'Neill resigned as the manager of Aston Villa stating that he was unhappy with the funds that were at his disposal. The desire to win is what makes a manager succeed. After finishing three seasons in a row at the same place, one would want to improve his squad. Since the board didn't share the same view as his, O'Neill felt that it was time to part ways. A brave decision that only a brave man can make.
Now, O'Neill has joined Sunderland. He has totally revamped the season for the Black Cats who were once toiling at the relegation zone. Now, they are well inside the top 10 and are posing a tough challenge for the Europa League spot. They have already defeated title contenders Manchester City in the process.
O'Neill is surely the man for the future. He is perfectly suitable for top jobs and I would like to see him replacing Sir Alex Ferguson one day at Manchester United. The English National team is also a possibility in the future.