Match Preview: The Manchester Derby
1.01K //
07 Dec 2012, 12:52 IST
With the Champions League group stages coming to an end this week, attention has now shifted back to the Premier League. And what better way to spend a Super Sunday than the Manchester derby – a top of the table clash that could tilt the title race in United's favour or bring the two teams back on level terms!
United are currently on top of the table, three points above their city rivals. They had a topsy–turvy game last weekend at the Madejski Stadium against Reading which ended 4–3, where United had to mount a comeback twice. However, they lost their final group game in the Champions League against CFR Cluj with a 1–0 scoreline, albeit with  a second-string United lineup.
Manchester City, on the other hand, have not won their last 2 matches, having drawn 1 – 1 with Everton last weekend and losing 1 – 0 to Dortmund in the Champions League. They have been ousted out of the Champions League, having finished 4th in their Group, and many feel this might prove to be an advantage for them in the title race.
Let's have a look at some of the stats before we start analyzing the teams –
| | | |
| --- | --- | --- |
|   | Manchester City | Manchester United |
| Current League position | 2nd | 1st |
| Goals scored | 28 | 37 |
| Goals conceded | 11 | 21 |
| Top goal-scorer | Carlos Tevez (7 goals) | Robin Van Persie (10 goals) |
| League Form (Last 6 matches) | DWWDWD | WWLWWW |
| Home/ Away Form (Last  6 matches) | Home form – DWWWWD | Away form – WWWWLW |
| Unavailable players | Clichy, Kolarov, Milner, Richards, Rodwell | Anderson, Kagawa, Nani, Valencia, Vidic, Cleverley |
| Match Timing and channel- | 7.00 p.m (IST), Sunday | ESPN |
How will Manchester City will line up:
It is sometimes difficult to predict how Mancini will line up. Will he go for a 3-5-2 formation or a 4-2-3-1?
Joe Hart is the obvious choice in goal. Manchester City have conceded the least number of goals in the Premier League so far this season and he has certainly played a big part in it. He has kept a clean sheet in six league matches this season and the City faithful would certainly expect him to be at his best during the derby.
Considering Manchester United will probably start with Van Persie and Welbeck with Rooney supporting them, Mancini would be tempted to opt for a three-man central defence with Zabaleta and Maicon playing as full backs. But that would leave them short of personnel in the middle of the park where Rooney will certainly make his presence felt along with the two other central Manchester United midfielders. So, I'd stick my neck out and say that City would probably start with four at the back with Kompany and Lescott in central defence. Clichy is set to return for the weekend after recovering from his ankle injury, but Mancini would not want to risk him. Also, Kolarov is on the treatment table as well which means Zabaleta would operate as Left Back and Maicon as Right Back.
The central midfield looks more-or-less certain, with Yaya Toure and Gareth Barry playing in the middle of the park. Barry is the deep–lying midfielder, someone who calms things down, like Michael Carrick does for United. His solid, defensive play gives Yaya Toure the license to go on his marauding runs through the middle and considering the lack of defensive awareness from Manchester United in the middle of the park this season, Toure will certainly play an important part in the fixture. His battle with Rooney in midfield will certainly be something to look forward to.
Javi Garcia can also be expected to start in place of Barry, but Barry seems to be a more experienced candidate for such matches and might just get the nod.
Nasri, Tevez and Aguero are more likely to be the players playing behind the lone striker Dzeko. Silva is doubtful for the clash with a hamstring injury, otherwise he would have replaced Nasri in the starting line–up. Nasri and Aguero would work the flanks with Aguero taking up goalscoring positions in the box as well. Tevez will play off Dzeko, looking to draw one of the central defenders out of position, enabling Aguero to take advantage of the space created. City's goal – scoring chances depend largely on how these three work together and whether they create enough chances for Dzeko to feed on.
Manchester City have had just 85 crosses put into the box so far this season as compared to United's 180 crosses. This certainly suggests lack of width in City's play and their failure to use their attacking full backs, something which they did very well last season. Dzeko has been influential for City as a substitute, but if he wants to get rid of the super sub tag that he has been labelled with, there wouldn't be a better opportunity to prove his worth in the starting line – up than this.
 

How Manchester United will line – up:
Sir Alex has been toying with formations so far this season. He has never really stuck to the same formation for more than 2-3 matches this season. With the plethora of attacking options that he has at his disposal, this doesn't come as a surprise. But his main concern has been the leaky defence about which he has loathed time and time again. Comebacks have become a routine for the team, but it is something which needs to be addressed with alarming urgency as it will be not be easy to come back against top sides like City.
Guessing who will play in goal for United has become more of a lucky draw nowadays. There is no real consistency as to who plays and no demarcation as well as to whether the goalkeepers would play specific competitions. Yet, De Gea seems to be the right person in goal for the clash against City. Yes, he is weak during set – pieces, but his shot – stopping and reflexes are his major strengths. He had a good game against CFR Cluj as well, where he was unfortunate to have been beaten by a cracker of a goal.
Nemanja Vidic was expected to be fit for the derby clash, but Sir Alex has come out and said that Vidic will definitely not play against City. But the good news for United is that Smalling and Phil Jones are back from long lay offs and have had gained match fitness in the last few games. Last year, Jonny Evans was red carded in the 6-1 defeat against City, but he has certainly improved a lot since then. Sir Alex might thus start with Ferdinand and Evans in central defence with Rafael as Right back and Evra as Left Back. Rafael has been the stand out player for United along with Van Persie this season. He has improved leaps and bounds since last season, but he will have a tough time managing Aguero/Nasri. Patrice Evra has improved upon his performances this season and the arrival of Buttner has certainly made him sit up and take notice of the fact that his place isn't guaranteed anymore. And a good performance against City will definitely go a long way in winning back the trust of the United fans, and more importantly, Sir Alex's faith in him.
Anderson and Cleverley are out injured for the match, which is very unfortunate as both have been impressive so far this season. They add that enthusiasm, pace, energy and dynamism to the otherwise dull, slow United midfield. But Fletcher's return from injury certainly adds a bit more quality to the midfield and he would also put in the odd tackles to help out the defence, something which the Manchester United midfield lacks. Micheal Carrick would be the obvious choice to start alongside him, playing the role of a deep – lying playmaker, who will look to provide long – range passes to Van Persie/Hernandez and also spread play down the flanks.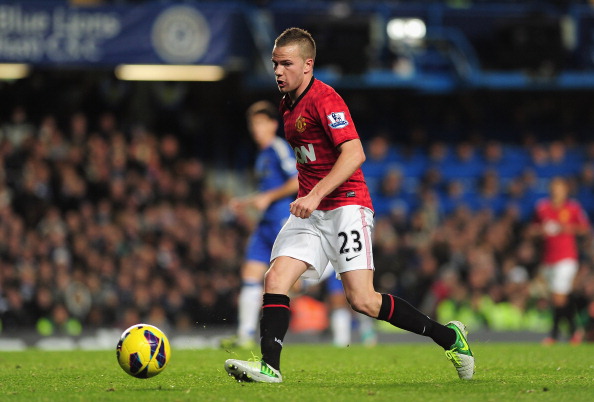 With Nani and Valencia, both watching the match from the stands, Sir Alex does not have many options on the wings. He can go with either Welbeck to play on the left and Young on the right or Rooney on the left and Young on the right. But playing Rooney on the flanks would be a waste as he can provide much more support – both attacking and defensively – from playing in the Attacking midfielder's position. So, Welbeck to start on the left, Young on the right and Rooney as attacking midfielder would probably be an obvious choice. Welbeck will try and get in to the box as much as possible for crosses coming from the right, as most of United's attacks come from the right with Rafael providing the width with his overlapping runs.
There is no doubt as to who will play centre forward. Robin Van Persie is now joint top – scorer in the Premier League and has been hugely successful in leading the line for United this season. With Wayne Rooney in support behind him, he has enjoyed his life at Old Trafford so far. But his battle with Kompany would be an interesting one and something which he too would be eagerly looking forward to. Chicharito would probably join him as a substitute, depending on how the match pans out.
Manchester City are the only unbeaten team in the Premier League so far
Manchester United is the only team to have not drawn a single match in the Premier League so far
Manchester United are the highest goal scorers and City have conceded the least goals in the Premier League so far
Manchester United have had 218 shots so far this season while Manchester City have had 248 shots so far. Interestingly, United have scored 35 goals while City have scored 28.
Manchester City have committed 172 fouls in the Premier League so far and have received 18 cards, whereas United have committed only 133 fouls so far yet received 23 cards (Read poor tackling)
Manchester United goal keepers (De Gea and Lindegaard) have made a total of 68 saves, conceding 21 goals so far while Joe Hart has made only 43 in total, conceding just 11 in the process. (Just goes to show that United have allowed opposition teams to  have a lot of shots on goal this season)
Manchester United have scored 19 goals and conceded 11 goals after the 50 mins mark this season whereas City have scored 19 goals and conceded 8 goals after the 50 mins mark (So expect a cracker of a second half!)
It's a clash between the highest scoring team against the most miserly defence in the Premier League. A win for United means a six–point advantage over City and a win for City would bring them level with United, but the Citizens would be ahead of them on goal difference.
Last season, this match ended in a 1–0 win to Manchester City which tilted the title hopes in their favour and they eventually went on to win it. Sir Alex would be aware of that and revenge is certainly something which would be playing on his mind. His hunger to get even with them after last – season's dramatic finish would be the main motivation for him.  And for this reason alone, it might prove to be a narrow victory for Manchester United. But the defence may let Sir Alex down again, as has been the case the entire season, and thus eventually a draw might be on the cards as well.
Have a Super Sunday and may the best team win!