Match Review: Sunderland 1-0 Manchester City
635 //
27 Dec 2012, 12:43 IST
Sunderland maintained their home record against Manchester City as they pulled off a close 1-0 victory. Manchester City were now facing a new opponent in packed and organized defenses. The black cats of Martin O'Neill were optimistic as they had experienced the worst this season had to offer and it could only get better.
First Half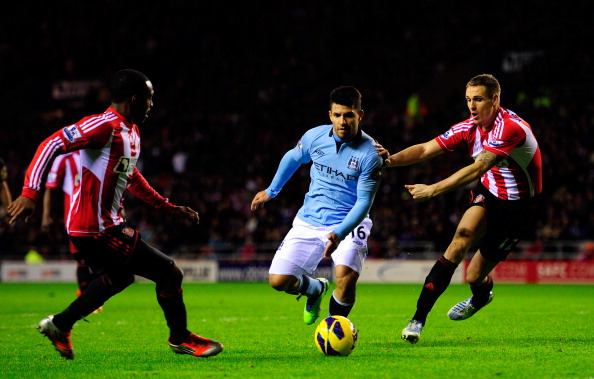 Vincent Kompany was back in the lineup for Roberto Mancini and James Milner was given a start ahead of Gareth Barry. Those were the only two changes from the weekend match against Reading. The City players were fielded in a rather unconventional 4-4-2, it was more of a 4-2-2-2 shape, with Silva and Milner in the second band of 2. Tevez and Aguero were assigned free roles in attack, as they ran all over the pitch dragging defenders apart. Kolo Toure was playing as a right back and Zabaleta on the opposite flank.
Sunderland started with a traditional 4-4-1-1 shape, with Sessegnon playing behind Fletcher in attack. Craig Gardner and Danny Rose were the fullbacks, flanking Cuellar and Kilgallon in defense. The shape of Man City was peculiar as Silva and Milner never tried to make it look like a flat 4 in midfield and were always half way between their highest man and their deepest midfielder. Silva was cutting in more, combining with Tevez and Aguero while Milner operated on the wing, putting in juicy crosses, making the Sunderland fullbacks work.
With Silva drifting into the middle and one of Aguero or Tevez dropping back, there were more blue shirts dominating the center. To compensate for this, McClean played very narrow and was always on hand for any help to his defenders. With Sessegnon dropping deep, there was a potential 4v4 in the mid. But the City players were class apart as they passed the ball around with ease. Adam Johnson stayed wide and was seen playing more of a wing back role. Steven Fletcher was on his own with Kompany and Nastasic to deal with him.
The initial spell of 20 minutes was dominated solely by Man City, as Sunderland sat deep and looked to play on the counter. There were some decent chances for Mancini's men, but a determined Mignolet put in a rock solid performance in goal, as he made some fine saves to deny a City opener. Yaya Toure was the orchestrator to all the city attacks as every move had to go through him. Aguero was pulling Cuellar and Kilgallon apart with his diagonal runs to pick up long balls, and Tevez was found taking up the striker position. Man City were clearly dominating the game as they pressed on high up the pitch to retain possession.
Sunderland grew into the game as they started finding their players with some good, decisive passing and had a few good chances on Hart's goal. Danny Rose was having an excellent night. His defensive solidness was equally matched by his contribution in attacks. Seb Larsson was making some good runs into the box as the City players were slow in tracking players back. Meanwhile, McClean and Johnson stuck to their task and tracked City players into their half and nullified their threat by staying goal-side of the player. There were many fouls in the process from both the teams and this broke the flow of the game. No team was able to maintain proper control of the game after the initial 20 minutes as it was extremely stop and go football.
Second Half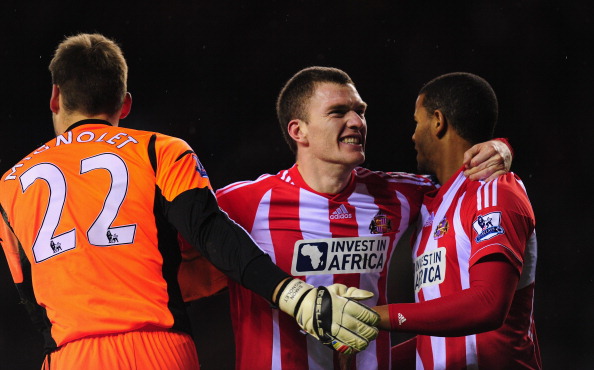 The teams came out after the break with the aim of getting that much needed early goal to put pressure on the opponent. This resulted in a very high intensity first 5 minutes of the 2nd half. A moment of hesitation from Joe Hart resulted in a goal from a long range Adam Johnson shot. Mancini and his team will be fuming at the referee Kevin Friend for not stopping the play when Zabaleta was clearly fouled by Gardner in the build up to that goal. A speculative shot from Johnson wasn't dealt well by Joe Hart and he allowed it to slip under his arms and Sunderland earned that much needed breakthrough. Soon, the players in blue played with a sense of urgency in an attempt to nick a goal back. But Sunderland stood resolute as they played deep in their half closing any sort of gap between the lines.
Similar tactics were employed by Reading in the weekend fixture, but Sunderland were looking a much more comfortable side than Reading, not allowing their opponents anywhere near their box. They allowed Man City to have the ball and decided to play on the counter. Sunderland was not only good on the counter, they were devastating. Fletcher would drop deep to win the ball in midfield and release the wingers in Johnson and McClane. Sessegnon made a dash towards the box and terrified the Man City defense. Nastasic was walking a fine line as he had some scary moments which might have earned him a second yellow of the game. Kompany too was clumsy in his tackles and was warned several times by the referee.
Time was ticking away for Mancini and he introduced Edin Dzeko for Tevez. Dzeko did a good job of holding up the ball, but found himself surrounded by red and white stripes whenever he had the ball. The Black Cats were showing some good resilience in defense, particularly McClean and Johnson. Their tracking back was excellent; one such moment denied Aguero a clear shot on goal when McClean kicked the ball away with a last ditch lunge. Mancini later sacrificed a defender for Gareth Barry and later brought on Lescott. But Lescott was told to play as an attacking midfielder, an attempt to win aerial balls in the final third. This didn't help much as Lescott was wayward in his passing and shooting. Man City were now more suspect to fast counters as they had a weird shape with only 2 players in defense. But it was Sunderland and Mignolet who stole the limelight as then kept their win record against Man City at home intact.
Stat Attack
Action Areas: Manchester City
Action Areas: Sunderland
The passing charts are completely contrasting as Man City made double the number of passes than Sunderland. Sunderland were much more effective in their attacks as they drew many aerial duels and clearances from their opponent. We can observe from the chart of the action areas, most of the play took place around the Sunderland box and not much penetration into it.
Yaya Toure Passing: 87 completed out of 92 (95%)
David Silva Passing: 76 completed out of 82 (93%)
Yaya Toure and David Silva out-passed every other player on the pitch with accuracies of 95% and 93% respectively. Silva has forgot that there is a goal into which he can shoot, as he was always looking to find a teammate even when he had the chance to run into space. Yaya was contained well by Colback as his goalside was effectively covered, preventing him to take any long shot.
Simon Mignolet was superb in goal as he kept City at bay with his sharp reflexes and anticipation. The following are goal attempts of Man City.
Manchester City: 23 Attempts on goal, 7 on Target
Verdict
Manchester City passed the ball around and had decent attempts on goal. Mignolet stood his ground and denied a goal for Mancini's men. Mancini now has to work on breaking down mean defenses and encourage his team to take long range shots rather than passing the ball around with no effective outcome. An inspiring win for Martin O'Neill as he looks to continue the newly found good spell of form. Though the only goal of the match is debatable, Sunderland were more effective in attack than Manchester City. Simon Mignolet was the Man of the Match for an outstanding display.