My Fantasy XI: Marauding Wingers, Sensational Strikers, Impervious Defence and more…
761 //
11 Aug 2018, 14:31 IST
Ever wondered what it would be like to have an embarrassment of choices, unconditional transfer funds and a football strategy that was irresistible to any and every player in the Premier League. The good thing about a fantasy XI is that all those desirables are available to any rank football fan like me.
Therefore, in the all-pervading and limitless possibilities of a dream team, the following is my (nearly) perfect XI. Though, there is a qualification. The players must practice their craft in the Premier League and are likely to play important roles in the first XI of their respective clubs in 2018/19 season.
Formation:
The formation is the classical Dutch or more recently Pep Guardiola's (from his time at Barca) 4-3-3, with one central striker and two forwards who come in from both the flanks on their dominant foot. This gives more space to the crusading full-backs and the forwards can slalom inside and shoot at goal.
The midfield has a deep-lying lynchpin, a typical no. 6. Defensively stout and good enough to take the ball off of the centre-backs and spray it around the field. The two other midfielders flanking the no.6 are dynamic, durable and devastating on counter attacks. They fit the bill of box-to-box midfield machines.
The rear guard has two unflinching centre-backs, one a defensive general and a bruiser of a player like Nemanja Vidic or John Terry and the other, a silky and rapid ball-player like Rio Ferdinand or Carles Puyol. The full-backs are rambunctious (akin to Duracell batteries) with defensive sentience and attacking gusto.
Last and hopefully the least worked player on the team, the man between the goal posts. He is an organizer, dreadfully noisy and scarily commanding. He is somebody you look towards when in a 1on1 and shank the shot in the row Z.
The Cast
Striker:
Well, there is a small list of names: Harry Kane, Jamie Vardy, Romelu Lukaku, Pierre-Emerick Aubameyang, Gabriel Jesus etc are viable candidates but I would pick Kun 'freaking' Aguero.
Great close-control, eerily accurate, built like a tank and explodes like a firecracker. Aguero has scored 143 goals and assisted 43 more in 206 appearances for Manchester City.
He scored the goal that broke Manchester United's dominance in Manchester and has a number of jaw-dropping, game-changing moments to his name. He seems to have his mojo back with a brace in Community Shield against Chelsea.
Wingers:
The right side is usually taken up by a left footer and with a 42-goal season under his belt, this is a no-brainer. Mohamed Salah broke records left, right and centre.
Built like a welterweight boxer, Salah has pace, agility, composure and the dribbling ability to rip through any defence and gets my vote over the likes of Riyad Mahrez, Xherdan Shaqiri, Mesut Ozil, Willian, and Henrikh Mkhitaryan.
The Left side is a more difficult position to pin down. Well, not really. It has to be Eden Hazard. Arguably the second best dribbler in the game (after the matchless Lionel Messi) and best in the league.
Hazard doesn't score many goals but is lethal on counter attacks and icy cold from the penalty spot. He gets his fair share of assists and a lot more penultimate passes before the assists. Other honourable mentions include Alexis Sanchez, Anthony Martial, Leroy Sane (left footed) and Sadio Mane.
Defensive Midfield:
Just because he stopped Messi (love the French song) and remains humble even after rocking World Cups and consecutive League titles, N'Golo Kante gets the spot.
Indefatigable and irrepressible, Kante is like a bad scratch that just does not relent in a game. He remains pivotal to his team's success, maybe to the extent of Harry Kane to Spurs. Some notable mentions include Fernandinho, Jordan Henderson, Eric Dier, Nemanja Matic, Idrissa Gueye and Wilfred Ndidi.
Right Midfielder:
This is again an easy pick. Kevin De Bruyne was arguably the player of the season last year (Salah's team finished fourth!). His ingenuity in unlocking defences is similar to Paul Scholes and he controls a game like Zinedine Zidane.
Great in closed spaces, he stood in a record-smashing team of stalwarts. He pips the likes of David Silva, Delle Alli and Jesse Lingard (though he usually plays a lot higher) to the post.
Left Midfielder:
Slightly controversially, I pick Paul Pogba. A World Cup winner, he continues to divide opinions. A stellar World Cup could spark a revival in his club performances. Going on sheer talent, this wouldn't be contestable but many will find it difficult to swallow. He gets tough competition from Christian Eriksen, Aaron Ramsey, Cesc Fabregas, Gudmundsson and Granit Xhaka.
Midfielders like Fred, Jorginho, Naby Keita, Fabinho etc may force a complete midfield shakedown few months into the season but are yet untested in the league.
Fullbacks:
The right fullback has to be defensively solid and spectacular in attack (more like wing-backs in 3-5-2s of today).
In this regard, Kyle Walker gets my pick even though he seems to be playing more at right centre-back in the 3-man rear guard at his club. Other considerations are Antonio Valencia, Cezar Azpilicueta, Kieran Trippier, Hector Bellerin, Trent Alexander Arnold.
The Left full-back is a toss-up as the likes of Benjamin Mendy and Luke Shaw just haven't been fit enough.
Danny Rose, Ryan Bertrand, Nacho Monreal, Andy Robertson, Ben Davies and Marcos Alonso provide a glut of options.
But due to his impressive versatility and impeccable experience, I will have a right-footed left back in Ashley Young. Much to the grief of my 2012 self, Ashley Young deserves the opportunity on the back of his goal and assist laden season for both club and country.
Centre-backs:
Centre-backs operate in partnerships and so must complement not just each other's qualities but also compensate for each other's flaws. Likes of Otamendi-Kompany/Stones, James Tarkowski-Ben Mee, Koscienly-Mustafi, Smalling-Jones, Cahill-Rudiger etc are impressive but still lack consistency.
In terms of a perfect fusion of ball circulation, strength, pace and gumption, I will put the duo of Toby Alderweireld and Eric Bailly at the heart of the defence. Bailly is one of those 'freak of nature' athlete as he has amply displayed for Manchester United (and Villareal before that).
Toby Alderweireld is great on the ball and exemplary in individual tussles. Other alternatives are Virgil Van Dijk, Harry Maguire, Jan Verthongen and Kurt Zouma.
Goalkeeper:
As the last line of defence and the first point of attack, the goalkeeper is a pivotal cog in any modern possession-based team. Take a look at the costliest signings of the last two seasons and the point will hammer home. Thibaut Courtois has left the League and £71m Kepa Arrizabalag replaces him in the Chelsea line up.
With the likes of Jordan Pickford, Kasper Schmeichel, Allison Becker (new arrival), Petr Cech, Ederson and Loris Karius (maybe not!) the league is certainly blessed with top-class talents.
But for his absolutely imperious performances for Manchester United (4 POTY awards in 5 years), David De Gea gets the glove-man duty. He probably gets the nod in most fantasy XIs in most seasons.
The formation and players are a big part of the plan but the equation is incomplete without a manager. And for his incomparable football philosophy and commitment to football-entertainment, Pep Guardiola is given the reigns.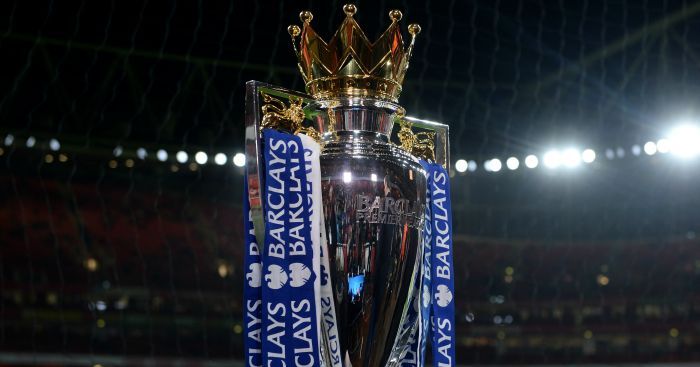 This fantasy XI will surely see some glorious success and surprising setbacks but the challenge is exciting and fun to traverse.
Notwithstanding that, the real action started last night as the Premier League kicked off, and hopefully, the reality will trump even our wildest fantasies.
Let's put down our pens and sheets of paper for now and indulge in the barn-storming and rip-roaring frolics of the Premier League.