Never mind 'Give us our old Arsenal Back' we need our 'Old Arsene back!'
911 //
11 Nov 2012, 18:48 IST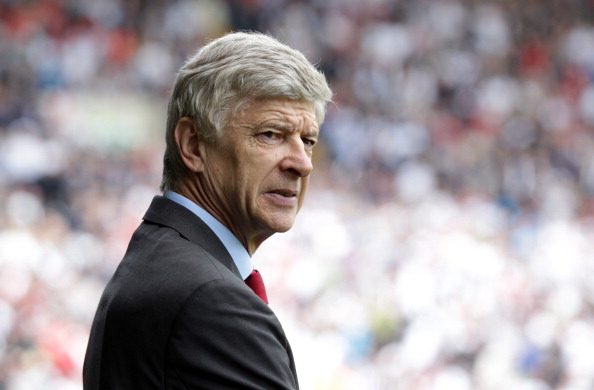 There has been a huge amount of understandable frustration and some very extreme outpourings of emotion after a poor few weeks on the pitch for our team. I did not want to add to the insane level of negativity but rather wait until I had something positive or constructive to post.
I am an Arsenal supporter first. I support the CLUB, not the manager or its players. I have supported since the early 1970s and have seen some quite horrible periods, far worse than we are seeing at present. However, I am not going to sit here and say we should wait for 2014 to compete, or set 4th place as a target. Indeed, I would rather win a cup and finish 5th but I know I am in the minority there. No, I want success and I want it this season; but unlike many, I do not see huge signings or a change in manager as necessarily the route to achieve it.
For me, the change required is a change of mentality from Arsene Wenger, or perhaps a reversion to the old Arsene Wenger. What I want from Wenger is what any fan should expect from a football coach operating at the highest level of the game – tactical awareness and tactical flexibility. Right now, and for at least 4 seasons, I believe we have singularly not seen this at Arsenal.
Arsene has always place huge emphasis on buying intelligent footballers. These are not necessarily always expensive footballers. We don't buy world class players. we create them blah blah blah. Yes, Wenger you do buy intelligent players and I would still maintain you and your scouting network are the best at doing so. However, what is the point of buying intelligent fluid talent and then asking it to play so rigidly? Our players are so intelligent Arsene, that they can easily adapt to changing systems from week to week and even during a game. So please trust them to demonstrate how good they are and select formations and tactics for games and even during games and stop being so bloody intransigent.
Wenger used to be and inspired tactician, converting intelligent footballers' positions and encouraging flexibility and fluidity in his teams. His first title saw us operate with an out and out winger on the left in Overmars and a converted central midfielder in Parlour on the right. Overmars natural instinct was to play further forward and join the attack and when he did so Parlour tucked in and Vieira and Petit shuffled left to convert to a 4-3-3. This type of fluidity was expected and acknowledged. Very early, he adopted a 4-5-1 away in Europe, even using Kanu in centre midfield on occasion to assist ball retention. So what has happened to this chap? Where has this Wenger gone?
Since adopting the 4-2-3-1 formation full time in 2009, we have seen very little tactical imagination. Yes, when at its flowing best with Cesc at the helm, it worked and of course it still can be effective. After all Montpelier, Madrid, Dortmund and to a degree Manchester City won their respective leagues using primarily the same formation. The key word in the previous sentence though is 'primarily.'
All the above teams and, most pertinently, Man City did not play that formation in every game. Also, in the European League, most teams do play a similar system, but Arsenal most weeks are not playing European sides last time I looked. No, we are mostly playing in the Premier League where numerous sides still play variations of 4-4-2 and for me the most effective formation to defeat a side playing 4-4-2 is 4-4-2, particularly when you have superior players. Yesterday, of the 14 teams who lined up for Premier League fixtures, 7 of them played either 4-4-2 or 4-4-1-1. So many feel the system is dead, but this is patently not the case.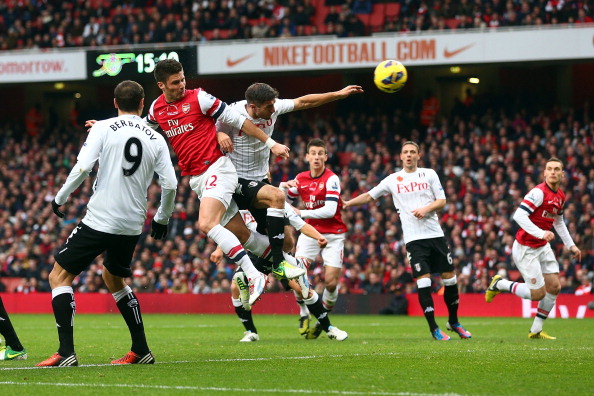 I am just so keen to see Giroud play up front with a partner against weaker sides and other sides that play variants of 4-4-2. We have, in the past week, seen a slight variation in our play with more crosses being sent in rather than the usual cut backs and why not, when we have the power in the air. Wenger's inflexibility has already seen off Bendtner and Eduardo neither of whom were able to or wanted to adapt to being played out wide. Poor old Eduardo, playing up front in a 4-4-2 looked set to take us to the title in 2008, suffered a horrendous injury, only to return a year later to a team playing a rigid 4-2-3-1. We began 2010/11 playing to Chamakh's strengths as we are now doing with Giroud, and he hit double figures by November, only to see RVP return. Subsequently, as with Nico and Eduardo before him, his only playing time has been out wide, obviously not his position and most now feel he has not cut it at Arsenal. Maybe he is not quite at the level required, but all I do now is that on the 2 occasions he has been brought on to play as a second striker he has been superb and help turn both matches around. Those games being Norwich at the end of last term, when we changed to 4-4-2 to chase the game and Chamakh cause havoc in Canaries defence, and of course Reading the week before last.
My point is that Wenger must begin to show the flexibility that his successful peers have done over the years. If we have intelligent players, as he continually informs us we do and I agree, then use the whole squad and adapt style and formation to suit opposition and circumstances. You only really need to look at Sir Alex Ferguson and Man United to confirm my argument. Would Wenger have done what Fergie did yesterday? Change a formation at half time bringing on Hernandez and taking off Young and sticking Rooney at left midfield?
Ferguson has won every honour over an incredible career, and still does it mostly with a 4 man midfield. However, he is prepared to change the selection and tactics week to week, opposition to opposition. I call for Wenger to stop playing the same players and same formation each week and to use the squad properly. Stop playing players out of position to suit a formation if it is not essential to do so. Stop being so stubborn and play systems that are right for the opposition and variety is the key. If every other manger knows exactly what our game plan is because it has been identical for 5 year,s it is easy for them to set up to nullify. If they don't know until an hour before kick off how we are lining up, they cannot prepare.
In addition, allow the players to adapt during the game and trust their judgement. One of the best 55 minutes of football we have witnessed at the Emirates in recent times was the fight back against Spurs in February. Why was this so dynamic and effective? Because we showed flexibility and fluidity on the pitch.
Steve Clarke and David Moyes have both demonstrated admirably so far this season how to both use a whole squad effectively and to change formations from game to game to suit the opposition. Moyes has primarily played 4-4-1-1 with Fellaini just behind Jelavic, but he has changed this on occasion to a 4-2-3-1 and also used a conventional 4-4-2 ,often in the second half using Anichebe or Mirallas as a second striker. Similarly Clarke, always recognised as a top coach, has been rotating 4 strikers in Long, Fortune, Lukaku and Odemwinge in various combinations with Gera as well on occasions, and the set up is different almost weekly.  The table, of course, does not lie. Both West Brom and Everton have impressed so far and it is their manager's ability to adapt tactics and team set up week to week that lie behind the success.
So never mind this 'give us our Arsenal back', we need our old Arsene back and our Arsenal will follow. Play the opposition in front of us each week and set up the team accordingly. If we are playing Stoke, Sunderland, Norwich, Reading etc who are playing 4-4-2, play 4-4-2, because our 11 players will be better than theirs. We don't need 3 in midfield against Charlie Adam and Glen Whelan, against Cattermole and Laarson nor against Jay Tabb and Mikele Leigertwood. No, play 4-4-2 and let them worry about our attacking prowess. Also be prepared to be flexible in a game as we did against Spurs in February. Our 4-2-3-1 can easily morph into a 4-4-2 with a diamond with Podolski or Walcott joining Giroud and the other dropping in either temporarily or permanently during a match. Trust the players Arsene and let them use their intelligence and for the love of God, select the team and tactics week to week and game to game; not season to bloody season.