Paris Saint-Germain (PSG) forwards Kylian Mbappe and Neymar Jr. have reacted to LeBron James breaking the NBA's all-time points record yesterday (February 7). Both players posted on their Instagram accounts celebrating the iconic basketball player.
LeBron James is widely recognized as one of the greatest basketball players in the history of the sport. He further solidified his legacy last night by breaking Kareem Abdul-Jabbar's all-time scoring record of 38,387 points in a game against the Oklahoma City Thunder.
Representing the Los Angeles Lakers, King James hit a fadeaway jumper to become the NBA's all-time leading scorer. It was his 36th point of the game.
It didn't take long for PSG forwards Kylian Mbappe and Neymar Jr to congratulate the American professional.
Mbappe reposted an image of the two of them on Instagram to commemorate James' brilliant achievement last night, calling him "The Greatest."
The PSG duo met King James when the American visited Paris during his "More Than An Athlete" World Tour back in 2018.
As per Goal.com, Neymar said:
"I am very happy to have met LeBron James, who is an idol. I went to see the basketball game and got very excited like a child. For me he is the best."
It was also reported that James' chat with Mbappe was a much longer one. The American also reacted to the Frenchman's brilliant hat trick during the 2022 FIFA World Cup final against Argentina.
All three players are phenomenal players in their respective sports and it is great to see the appreciation and sportsmanship they have for one another.
---
PSG defender Sergio Ramos' relationship with Messi, Mbappe, and Neymar revealed
Former Real Madrid captain Sergio Ramos has enjoyed a good second season with PSG. According to reports, he has emerged as an effective leader off the field as well.
As per RMC Sport, the Spain international gets along well with both Kylian Mbappe and Neymar Jr. His relationship with Argentine icon Lionel Messi, meanwhile, is decent as well.
As a veteran player, he is also known to never hesitate to reach out to younger players to offer his advice.
Ramos' contract with PSG is set to run out this summer. While there are no rumors of the club intending to renew his contract, it wouldn't be a surprise if they were to do so.
The Spaniard has been in fine form this season, being solid at the back. He has featured in 19 out of the club's 21 Ligue 1 fixtures so far this season.
The Parisians are currently leading the table, eight points ahead of Marseille. Their next league game is against Monaco away on Saturday (February 11).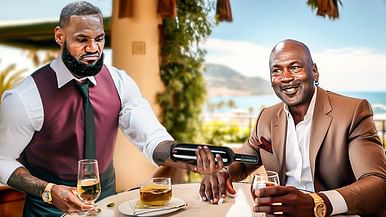 How is Michael Jordan officially richer than NBA's 10 richest players?!