Thierry Henry was surprised by fans' change in opinion of former Arsenal midfielder Granit Xhaka last season following the Swiss midfielder's impressive campaign.
Xhaka excelled in a more advanced role under Mikel Arteta, playing as a six and starring in the role. He bagged nine goals and seven assists in 47 games across competitions as many performed a U-turn over their opinion of the midfielder.
The 30-year-old had been criticised by many before last season for his form at Arsenal. He played as a holding midfielder for most of his spell at the Emirates before heading to Bayer Leverkusen this summer for £21 million.
Henry says that it's no surprise that Xhaka showed improvement, considering he played in a more advanced role. Henry told his former Gunners teammate David Seaman on Seaman Says (via TBR Football):
"People made me laugh last year when they were like 'Granit Xhaka changed'. Well, obviously he is not in front of the defence building so less mistakes."
The Arsenal legend continued by alluding to suggestions that Xhaka had started keeping possession more in his new role:
"'He doesn't lose the ball often'; well, obviously, he is higher. 'Oh, he scores more goals'. Yeah well, obviously he is higher."
Xhaka experienced a topsy-turvy seven years in north London, where his best form came under Arteta. He arrived at the Emirates in 2016 from Borussia Monchengladbach and was viewed by former managers Arsene Wenger and Unai Emery more as a holding midfielder.
However, that didn't really reap the rewards many had expected and coincided with a difficult period at Arsenal. Xhaka was often erratic while playing more defensively, picking up bookings and becoming overly aggressive.
In his more advanced role under Arteta, he was not tasked with being the midfielder anchor and could instead venture forward. That resulted in a brilliant final campaign with the Gunners, so his departure surprised many.
---
Kieran Gibbs doubts Kai Havertz can replace Granit Xhaka at Arsenal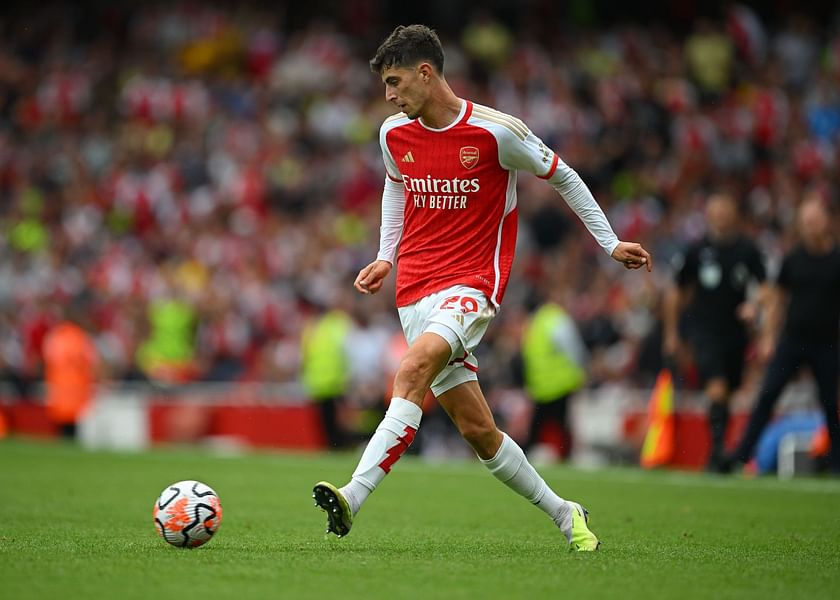 Arteta dipped into the transfer market and signed Kai Havertz from Chelsea earlier this summer for £65 million. It was a questionable move, as Xhaka had been impressive last season, but the Swiss soon departed to Leverkusen.
Many debate whether Havertz has come in as Xhaka's replacement or whether it's the £105 million Declan Rice. Former Arsenal left-back Kieran Gibbs reckons it's the German, but he doesn't think that Havertz has the credentials to do so, telling ESPN:
"That role he's going to play is it basically a replacement for Xhaka, and that's where I think Mikel sees him."
Gibbs has questioned Havertz's physicality to perform the role Xhaka took up last season:
"The Havertz we've seen before, we've just not seen it. I don't know if he's physical enough to be in there, I don't know if he's got the ability to use his body in situations to get out of trouble or the technical ability to play in tight areas."
Havertz, 24, has made an unremarkable start to life at the Emirates, not truly looking fit for the role. He spent last season in a false 9 role at Chelsea, bagging nine goals in 47 games across competitions. Many argue that he's an attacker rather than a midfielder.