Paris Saint-Germain (PSG) superstars Lionel Messi and Sergio Ramos shared an awkward yet funny moment before the UEFA Champions League first leg round of 16 clash at the Parc des Princes.
As the Parisian club were warming up for the high-voltage match, Messi wanted Ramos' training bib. The Argentine took off his own bib as a result and handed it to the Spaniard.
Ramos, however, thought that Messi was asking him for a hug and gave him one. When the Argentine told Ramos about wanting his bib, the Spanish defender could be seen smiling and then handing Messi his training bib.
Fans found the funny side of the incident. Both superstars shared a heated rivalry during their time in La Liga with Barcelona and Real Madrid. They engaged in a lot of on-field altercations. However, since becoming teammates at PSG, they have reconciled their relationship.
Fans pointed out that they can't get enough of the duo's new-found friendship. Some even claimed that Ramos always had a soft spot for Messi.
Here are some of the best reactions from fans across Twitter as Lionel Messi and Sergio Ramos shared a funny moment:
PSG, however, lost their clash against Bayern by a scoreline of 1-0. Kingsley Coman scored the only goal of the game in the 53rd minute with a cushioned finish.
While Christophe Galtier's team provided some moments of scare for the Bayern defense after Kylian Mbappe's introduction, they couldn't find the breakthrough. Lionel Messi saw his late effort blocked brilliantly by Benjamin Pavard on the edge of the area. Ramos, however, put in a great performance as he was rock-solid at the back.
---
Sergio Ramos made a stunning claim about PSG teammate Lionel Messi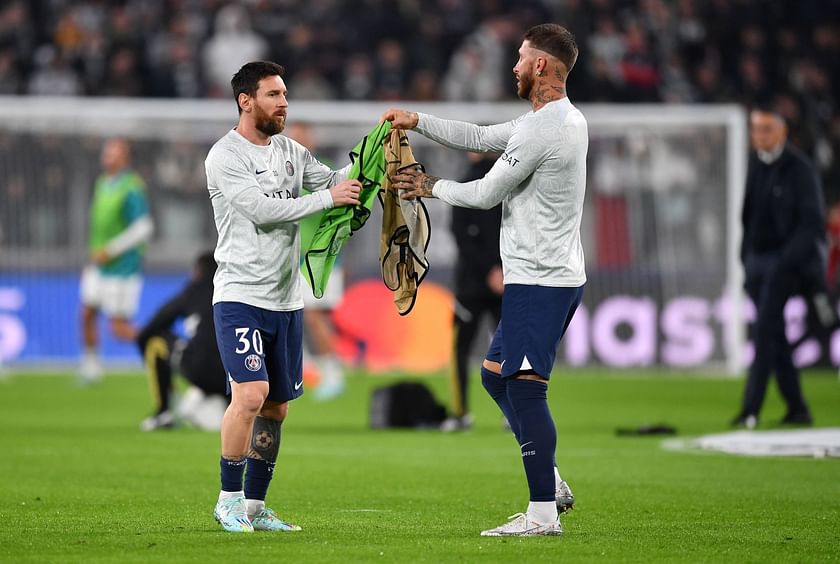 PSG superstar Sergio Ramos recently made a stunning claim about club teammate Lionel Messi, claiming that he is happy that they are now teammates. Ramos said (via GOAL):
"There was suffering for several years playing against Messi. I am now enjoying him. He is the best player football has ever produced."
Both PSG superstars will need to be at their best if Les Parisiens are to overturn the deficit against Bayern Munich in the second leg of the round of 16 clash at the Allianz Arena on March 8, 2023.