Noth London Diaries: Deja-Vu for a 'Bale'-less Spurs, Race wide open
633 //
19 Mar 2013, 17:25 IST
When finishing over their local rivals in the league brings greater joy than at times the hope of a trophy, that rivalry truly classifies as a blood feud. So has been the case in most parts of North London over the past decade. Many an outsider might observe that both groups of supporters rarely have had silverware to celebrate over this period, so they take to the next best thing in full spirit.
The world rarely saw the true face of this rivalry until the later part of the previous decade, or one might say before the Harry era at Spurs. Daniel Levy's eagerness to throw in the money these days has brought up this competition to much more even grounds, as Spurs today are able to match Arsenal man for man. Much more bitter rivalries have suffered due to vast financial differences between the clubs in question; no doubt the Reds and Blues of Mersey-side.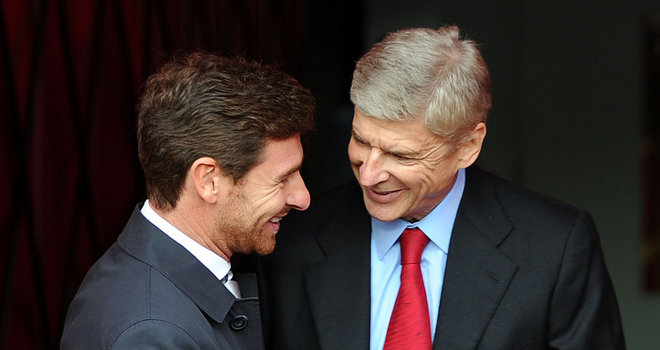 Scene: The Gunners visit the Lane
Advantage Spurs
When the 2 forces in North London met at White Hart Lane a few weeks back, an inspired performance by Arsenal was countered by 2 clinical finishes by a Gareth Bale led Spurs. Most pundits would have shown this match as the turning stone in this rivalry north of the river. With Gareth Bale being announced as the best player in the country from every roof top, comparisons being drawn to a certain CR7 seemed only fair. Bale had, in the last 6 weeks, scored seemingly impossible goals with s ridiculously minimal effort. Free-kicks whizzing past stunned French teams, last minute long rangers bagging the points in the League; AVB finally seemed set to gain some acclaim for all his early season foundations.
Jumping back to the same fixture in February last season when Harry's Spurs were 10 points clear of Arsenal, media speculation for the chair left vacant by Capello was supposedly responsible for Tottenham's downfall. And if the catastrophe that Hodgson was preferred over Harry for his greater tactical astuteness was not enough, Spurs were denied a CL spot even after a 4th place finish when another London team were crowned Champions of Europe.
Though none of these concerns seemed to stand in AVB's way this season, as conveniently none of the English teams have bothered troubling the 4th placed finisher this time around; a new concern stood in front of the Portuguese coach over these past few fortnights. Fixture congestion has always been a feature during the second half of the season for EPL teams, but the inclusion of the small matter of a Europa League tie against Inter Milan in the midst of tough League games has left AVB reeling with injuries and suspensions.
Speaking about suspensions, Gareth Bale, earlier this season, became the 1st player in the League to pick up a 1 match suspension resulting from 5 yellow cards, all for diving. If his exploits in the League were not preposterous enough, the Welshman went forward and committed the same offense in the home leg rout against Inter. At that point, AVB pointed out that the suspension was a blessing in disguise as Spurs would get through without him and Bale would be well rested for the remaining season. How wrong were you Andre!
Scene: Aftermath to 4-1 at San Siro
Fulham game is all about 'a well rested' Bale
Not only did Spurs suffer the humiliation of a 4-1 defeat at the San Siro, they were ridiculed for the whole 120 long minutes. An almost apologetic Adebayor tap-in might have got them into the Quarters of the tourney, but an ill-fated draw saw them get another one of these top European clubs (Man-United slaying) ahead. With 3 other English clubs on offer, the chances of AVB drawing another foreign trip in the last crucial months were slim; this leaves the coach to prioritize his ventures ahead carefully.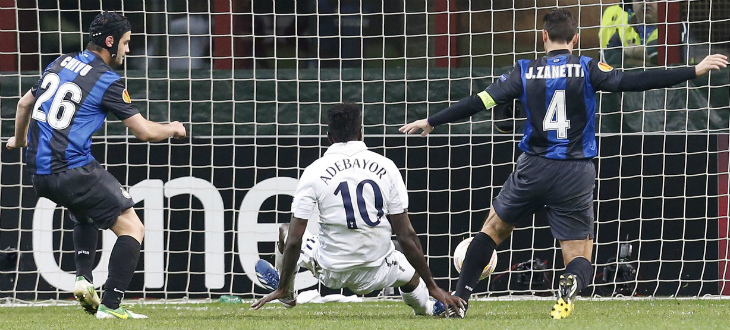 If the embarrassment in Italy was not enough, a down-trodden squad with a fresh Gareth Bale lined up against Fulham at the Lane. In a match-up between a team that had won maximum London derbies this season against a team which had one the least, Spurs were expected to steamroll past the Cottagers. Fantasy football gurus unanimously professed the masses to pick 'the Welsh Wizard' before the game, and one could find very rare odds placed on a Fulham away win. But still a Berba led Fulham created what they had done just 2 times this season, an away PL win.
The fact that Spurs had players tired and short of breath would have been acceptable excuse on any other day, but AVB's sheer persistence to revolve his entire game around 1 single player pissed the crowds off. Initially, with 2 strikers in his ranks, AVB chose to play Bale upfront with Adebayor shifted to the wings and Defoe to the bench. Be it the brilliant tackling of Sidwell in the midfield or the physicality of Hangeland in defence, Gareth Bale was closed down and tackled out quite roughly at the end of the first half.
Even then AVB continued with a now limping Bale operating in much deeper roles as he could barely run or mesmerize the defence. AVB further used up all his 3 substitutes without replacing the Welshman in sheer hope for one of those magical moments to be recreated; this left the in-form Holtby stuck on the bench. A visibly suffering Bale was not able to get Spurs a single point from a game that fans had counted as all three.
This game leaves Spurs a point behind the resurging Chelsea and more importantly just 4 points ahead of Arsenal, with the Gunners having a game in hand. So yet again the gap which was 7 earlier has been reduced to almost naught. And just to add a few more nails to this closing coffin, these are Spurs' next few fixtures:
Away at Swansea
Home with Basel
Home with Everton
Away at Basel
Away at Chelsea
Home with Manchester City
Away at Wigan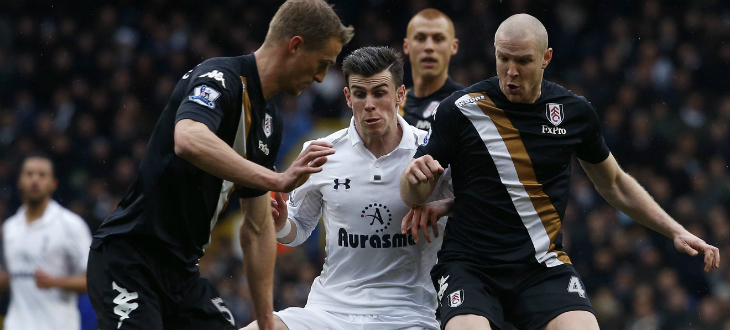 Pre-drawn conclusions have always been ill advised but a look at these games would leave any hardcore Liliywhite cursing the points they dropped at Liverpool and Fulham. Though Defoe provided some stand-out performances earlier this season and Jan Vertonghen has been massive at the back and in front of goal, it would not be the slightest bit erroneous to call Tottenham Hotspur a man team at the moment; and sadly for the fans, the currently injured Gareth Bale has lost just a bit of his spark.