Odds of a top 4 finish for Liverpool next season
1.53K //
02 Jul 2013, 16:24 IST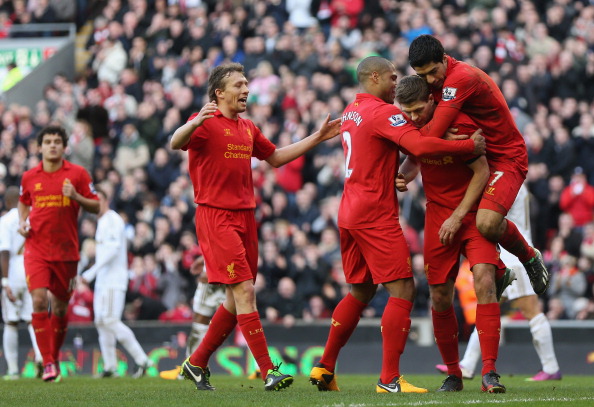 Call me delusional or optimistic, but my personal belief is that Liverpool will manage a top-4 finish during the 2013/14 season and will have a major role to play in the the way the title race for the coveted Barclays Premier League Trophy pans out.
The transformation that Liverpool has undergone ever since Brendan Rodgers stepped in to pick up from where Kenny Dalglish left has been phenomenal. Stepping on to Anfield and laying out his elaborate plans, pundits deemed Rodgers a dreamer but the experienced likes of Mourinho and Wenger never doubted his capabilities for a single moment. Mourinho, during his first interview at Chelsea, mentioned Liverpool as a major threat next season and a possible title contender.
Bringing his Barcelona-type extensive passing style to a team that has traditionally been a sloppy passing side seemed a little naive. However, a year of top quality football later, we can look back and say Liverpool had a decent season. Starting out with an experienced lot which included Joe Cole, Dirk Kuyt, Craig Bellamy and Charlie Adam, Rodgers could never have enforced his plans and ordered their immediate exclusion which led to their eventual sale in the subsequent transfer window.
Under-performing striker Andy Carroll was given due permission to leave or take a seat on the bench and Carroll chose the former. Bringing in youngsters like Sterling, Suso, Wisdom and Coady raw from the academy and eventually converting them into starlets was one of the major positives from the 2012/13 season.
Obviously, the loan out of Carroll meant Liverpool were basically going into the season with Luis Suarez being the only experienced striker. Lot of criticism was directed at Liverpool and Fenway Sports Group for their failure to secure another top striker and for losing out on signing the wantaway Clint Dempsey from Fulham.
The opening game against West Brom saw Liverpool slip to a 3-0 defeat and meant their lone man in front doing all the scoring was a long shot. However, an extraordinary recovery, helped by January recruits, Daniel Sturridge and Philippe Coutinho, saw Liverpool eat up the places and climb to 7th, two points behind arch rivals Everton.
The 2012/13 season was a mixed bag really, with some top notch performances, lowly draws, humiliating defeats and a fair share of controversies. Suarez notched up 30 goals overall and stood second in the Premier League Golden Boot list behind Robin Van Persie, with 23 strikes.
However, all this was overshadowed by some unacceptable behaviour by Suarez, which consequently led to a lengthy 10-match ban that Luis sportingly decided not to appeal. Suddenly, the focus was on Suarez, whether he would continue his tenure at Anfield or, with top sides such as Manchester City and Real Madrid lurking, make a move to a Champions League playing club. This is an unanswered question at the moment but will soon be revealed.
Looking forward, with or without Suarez, the future looks strong. With swift thinking and top bids, Liverpool have already snapped up an experienced campaigner in Kolo Toure as a replacement for the now retired Kop legend, Jamie Carragher. Luis Alberto and Iago Aspas have been brought in to bolster the attack and a top shot stopper in Simon Mignolet is the latest to join the Liverpool squad for the new season.
Exciting developments in recent times will see Henrik Mkhitaryan become the fifth player to join the Reds. The rumour mill also suggests bids going out for Jose Callejon, Christian Atsu, Thiago Illori and Tom Ince. As the transfer window officially opened yesterday, it remains to be seen how many more players will join the squad.
In conclusion, the prospect of a top 4 finish seems exciting as far as the 2013/14 season is concerned. A top manager along with a highly talented squad will look to achieve a feat that has eluded us for five years now. Hopefully, every Scouser's dream of their beloved Reds being back at the top will be fulfilled this season.
In Brendan we trust. YNWA!