Premier League Team of the Decade (2000-2010)
2.26K //
10 Mar 2011, 22:45 IST
Well this was the decade when the Premier League churned in gold and silver at insurmountable rate and became the most sought-after league, both for the players and the viewers, alike. So to take a look at the men, who fought their way through those crunching tackles, those niggling injuries, those unfair suspensions, those heart-wrenching defeats, those moments of sheer agony and ecstasy, and still come out on tops, much like an unbeatable Turk, the men who have made this soccer seductress (well, pardon the sleazy talk) what it is today…..
Note : If you are already planning on a straight grab for my crackly throat, just make sure you bring some wine for your troubles :P
1. Edwin Van der Sar (Fulham, Manchester United)
To be fair, I tried my ass out to find someone who could replace this lanky Dutch in-between the sticks, but to no avail. The man with a career spanning more than 20 years adorned with numerous titles, had his life changed from an old Cottager to a vigorous Red Devil as he was spotted by Alex Ferguson in 2005.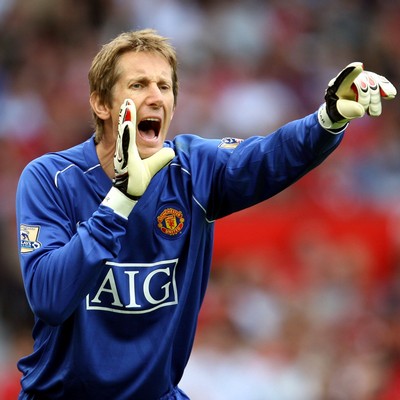 Since then, United has discovered an assured calmness at the back, which they had been craving for since the departure of the legendary Peter Schmeichel. His agility, his cool demeanour, his positioning, his shot-stopping ability and to top it all with a creamy icing, his knack of providing an assist to his forwards (he's 40 for crying out loud!!!), has left teams bamboozled more often than not. Even the thought of him not turning out for Man Utd next season, has given Fergie and the fans ghastly nightmares, to say the least.
A true Legend……
2. Gary Neville (Manchester United)
Well you can loathe him to the point of insanity for his off-field antics and disgraceful comments towards the north-west rivals (You-Know-Who) and I being a true Scouser will give you a bear hug for keeping my back…….but the most capped English Right Back deserves to be in this list.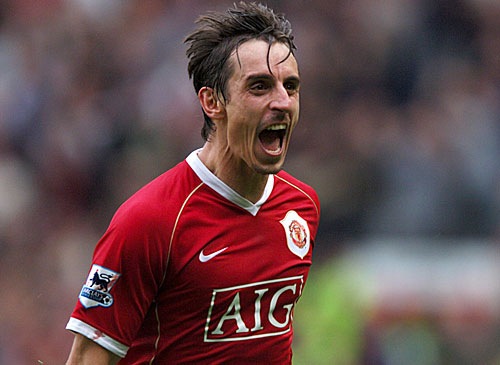 An integral part of Fergie's Fledglings, this full-back has come to United's rescue on uncountable occasions, both with his defensive and attacking prowess. His link-up play on the right flank has opened up pockets of space for his teammates to have a good jog on a sunny football afternoon.
His recent retirement has left a gaping hole in Man Utd's backline and it will take a hellish effort from young Rafael to fill his boots.
3. Nemanja Vidic (Manchester United)
Well those of you, who are starting to strain their necks and preparing to throw some big-mouthed yawns my way,  just hang-in there as you are up for some big surprises sooner than later. Sorry for the digression, but this was a much-needed break from this anecdote on United's defensive stature. (It's so  tough on me you know :P)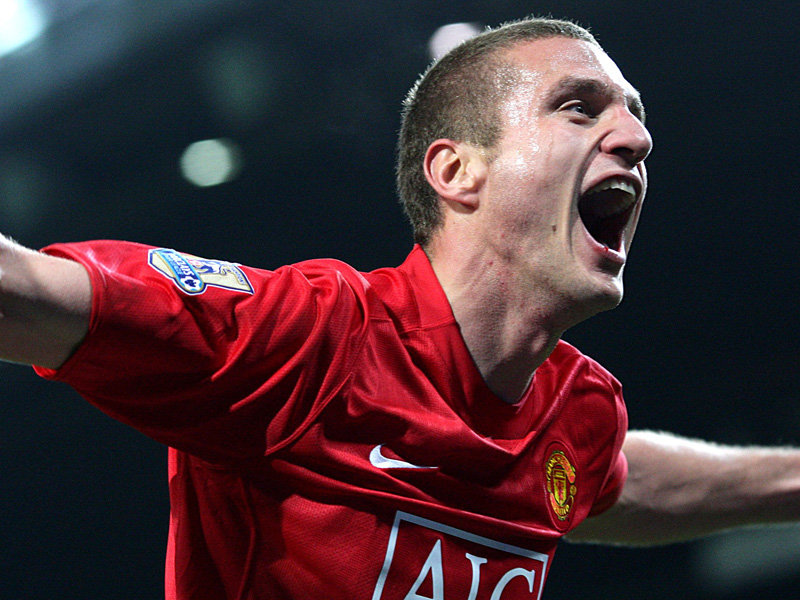 So, getting right back to the point, this no-nonsense defender from Serbia, was signed by Fergie in January 2006 and since then, has gone on to become the foundation on which United's defence is laid. Such has been his leading influence in the team's campaign for silverware, that he has become their skipper. His last-ditch tackles coupled with his aerial ability, have made United's defence a tough nut to crack for any opposition. Ask the beanpoles (read Crouch and Zigic) and you will get a heart-rending account of how their Eiffel tower-esque height has failed them, more often than not, in front of the tough Serb. His importance to the team can be gauged from their crushing defeat against Liverpool, when Suarez and Kuyt, toyed with the makeshift-United defence (pun-intended).His form is a key factor in his team's title aspirations this season.
4. Jamie Carragher (Liverpool FC)
As a starter, those of you who are incensed at the unceremonious drubbing of JT from this list, take a chill pill, have a night out with your friends' wives (keep that smirk on your face)  and come back and bite me.
If being an Evertonian and still playing for Liverpool (Merseyside Ruling : Hanged till Death) is not an achievement in itself, then being the most capped English player in European Competitions, most certainly is. Known for his knowledge of the game, he has been a Liverpool saviour at innumerable times……and only Satan can forget the Champions League Final in Istanbul. It's a less known fact that he advised Jerzy Dudek to use the distraction tactics that finally proved too much for Milan as they lost in penalties. His tackling prowess coupled with his constant guidance to the young players makes him a leader in his own right. He has been a Red throughout his career despite being a witness of unarguably, the most torrid times in the Club's illustrious history.
His fighting instincts and 'You can score only over my Dead Body' defending and his knowledge for the game and most importantly, his faithfulness (:D) helps him sneak past JT into this list.
5. Ashley Cole (Arsenal, Chelsea)
Talk about the unfaithful and the leader of the gang makes the pack. Starting his career with his local club Arsenal, he quickly developed into an able replacement for Sylvinho, who was plagued by injuries. Part of 'The Invincibles', he was a revelation for the Gunners until 2005-06 season when a certain 'Special One' poached for his services and both were consequently fined by FA. But Cole acrimoniously signed for Chelsea the next season, with Gallas making the reverse trip.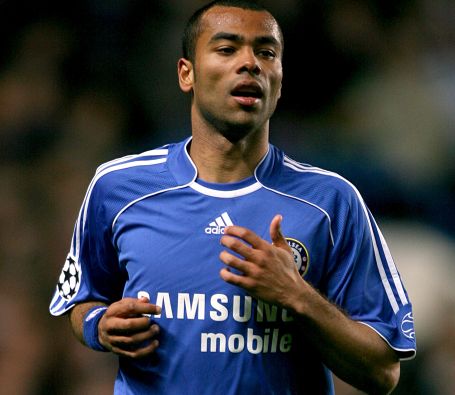 He made his debut for Chelsea in 2006-07 season and since then has become an integral part of the team owing to his defensive abilities, coupled with his deft skills on the ball. His tormenting runs along the left flank has been a constant headache to defenders and he has developed into one of the best left backs in the world, though his off-field antics and his anger issues have left much to be desired.
6. Cristiano Ronaldo (Manchester United, Real Madrid)
Love him or Hate him, this dashing Portuguese winger is considered to be a great player, second only to Leo Messi in the current crop. Despite all his technical ability, the Fifa Puskas Awardee is undoubtedly, the greatest actor to have ever played the game, as he can fall gracefully to the ground like a ballerina, everytime a feather touches him. He can be knocked over with the wind blowing past him. For all its worth, he now has an able understudy in Nani, who is carrying his diving legacy at Old Trafford.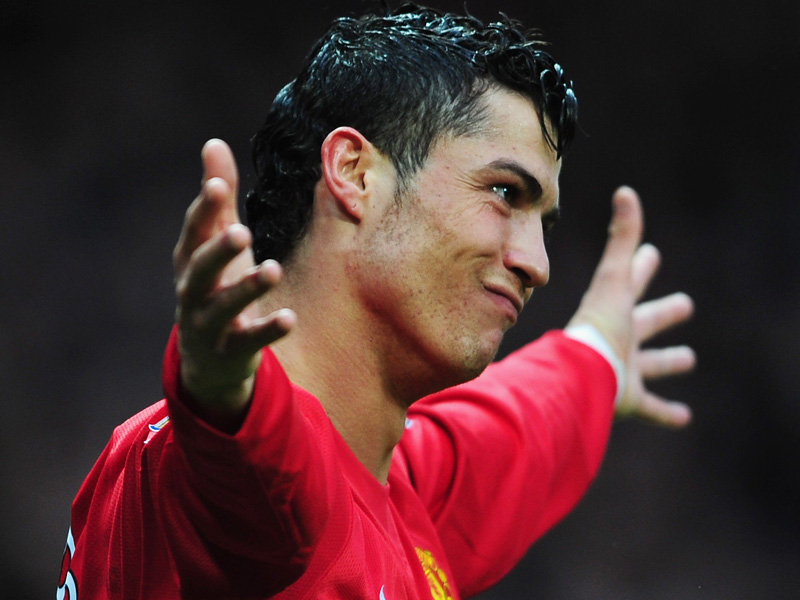 Excuse me for all the rants, though none can be denied, Ronaldo is a gem of a player with great skills and showboating abilities. His deft touches and audacious moves leave most of the defenders in the world, sweating. His ability on set-pieces is unparalleled and so is his shooting. He has won three league titles with Manchester United and played a pivotal role in their duels with Chelsea for the Premier League title. His all-time record mercenary $80 million move to Real Madrid has buried a dirk in the squad, which they are still trying to fill.
He has been a revelation playing for Real Madrid where his goal-scoring record is phenomenal. His deadly partnership with Gonzalo Higuain has left many an opposition week in their knees. His form has been fundamental to Real Madrid's quest to challenge Barcelona for the La Liga title.
7. Steven Gerrard (Liverpool)
Well if you were not expecting him to be in this list with Yours Truly writing a piece, either you are in reverie or just got shot in your arm.
This Merseyside Legend has been the Liverpool Skipper and their saviour since time immemorial. This English Midfielder has been a wizard since his debut 12 years back with his long-distance piledrivers and screamers, second to none. The power and precision in his strikes have left goalkeepers stranded, rooted to their spot, since many years. His marauding runs from the midfield and his poaching ability around the penalty box have caused havoc among many defences. His calmness under pressure has picked Liverpool from the scruff of their neck and he is the epitome of the Club's never-say-die attitude.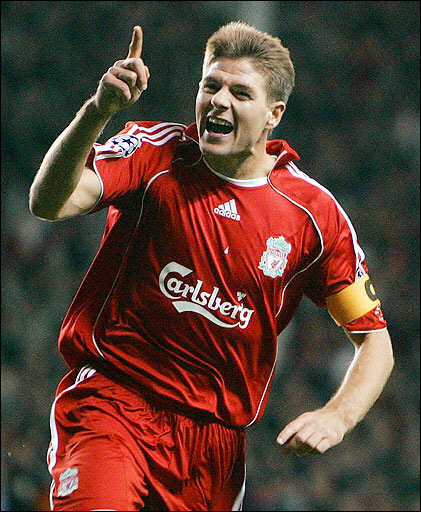 Gerrard has been one of the most inspirational leaders to have ever graced the beautiful game and has been regarded as the best player in the current crop by none-other-than Zidane. His leadership skills were on full display in the Champions League Final where Liverpool fought from 3-0 down to beat AC Milan and lift that elusive 5th European crown. Along with Carragher, Stevie has been shouldering the responsibility of taking Liverpool FC back to the pinnacle of British football. He is one of the most faithful players to have ever played the game.
A Kop idol, a true legend!
8. Patrick Vieira (Arsenal)
To have the skills and the technique to be a part of 'The Invincibles', arguably the greatest team ever to grace the game, is a stellar achievement in itself, to be its skipper is a different ball game altogether. Thus the French Midfield maestro pips Paul Scholes to this spot, because only he could have done so.
In a team made of legends like Robert Pires, Dennis Bergkamp, Thierry Henry, Freddie Ljunberg, it's a prerequisite to either shimmy your way past defenders or elbow through them. Well, Mr. Vieira did both, and how!! Be it the tunnel incident with Roy Keane or his famous penalty against Man Utd in 2005 FA Cup Final, his fighting ability along with his exquisite passing saw him become one of the most revered players to don an Arsenal jersey. Vieira's partnership with compatriot Emmanuel Petit broke the mightiest of defences and his crunching tackles were a treat to the Highbury faithful. He also has the dubious distinction of being one of the players with the worst disciplinary record in the League.
Vieira has had spells with Juventus, Inter Milan and Manchester City since, but has failed to form his magical touch since leaving Arsenal in the summer of 2005.
9. Ryan Giggs (Manchester United)
What can be said about the man who defies age every single day on the field, if you are looking for quantity topped with quality and consistency, your search starts and ends with Ryan Giggs.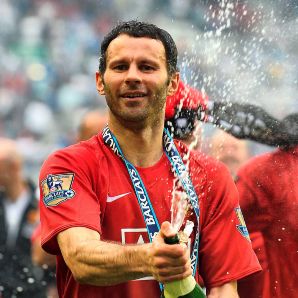 The Welsh man has played for Manchester United his entire career and recently completed his 20 years in Football!! He has been outpacing and tricking his way past defenders since Jack Wilshere was yet to be born and Balotelli was throwing tantrums at his nurse. Giggs has the distinction of being the only player to have played and scored in each season of the Premier League and is the most capped player of the club surpassing Sir Bobby Charlton's record. The English Hall-of-Famer also has the maximum titles won by any player in the club and has received innumerable accolades for his exemplary services to the game.
Still going strong at 37, he has recently signed another 1 year contract with United because if you are Ryan Giggs, age doesn't matter!!
10. Alan Shearer (Southampton, Blackburn  Rovers, Newcastle United)
After excelling in his careers at Southampton and Rovers, Shearer was a prized asset waiting to be captured. And Kevin Keegan pulled off, what maybe, the greatest deal of his career from right under the noses of Manchester United. Thus started an enviable journey which has become the benchmark for any English striker.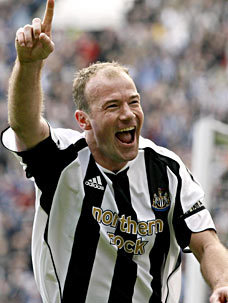 Shearer was the top scorer of the league in the first season for Newcastle and never looked back. He soon acquired legendary status at the club and was awarded the captaincy. Shearer's excellence in front of the goal was the prime driving force that helped Newcastle in their quest for the domestic and European glory. His confrontation with Roy Keane, which resulted in the latter being sent off, led to a memorable win for the Magpies against Man Utd in 2001. He has won numerous titles throughout his career and is widely regarded as the greatest ever striker to have graced the premier League.
He is the all-time top scorer of the Premier League amassing 379 goals in the process.
11. Thierry Henry (Arsenal)
Well for all Nisterlooy fans, I understand your concern; just take a time turner, kill Thierry Henry and your man will be right on this list. As to Henry, the third invincible to have graced the list, he was well 'Arsenal'. Whatever be the contribution of his teammates, Thierry Henry was the sole reason of the fear that Arsenal instilled in the minds of its opposition.
If you are a FIFA addict (nice to hear always), you must be familiar with a certain finesse shot….Well I call it the Thierry Henry shot. If you can find me another striker that can do it better than him, I'll bow to thee and write for you throughout my life.
Henry's intelligent runs, great poaching ability, skills, back-heels, turn-overs, side-steps left Highbury buzzing. Who can forget that amazing strike against United with his back towards the goal or his hattrick against the same opponent where he made Barthez look like a bunny in the goal. His goalscoring ability was unparalleled and Arsenal have struggled to find a finisher of his quality ever since his departure.
Henry holds the unique record for being the only footballer to win the Golden Boot in consecutive seasons. He is the greatest ever striker of Arsenal with 174 league goals and 42 European goals to his credit.
He completed his move to Barcelona in 2007 in a quest for silverware and failed to regain the form that made him the most feared and deadly strikers of the world.
Henry now plies his trade for New York Red Bulls in USA.
Any comments and suggestions are welcome and will be greeted with the bird :P