Premier League top-4 could win Champions League with Messi: Jose Mourinho
6.82K //
09 May 2015, 14:31 IST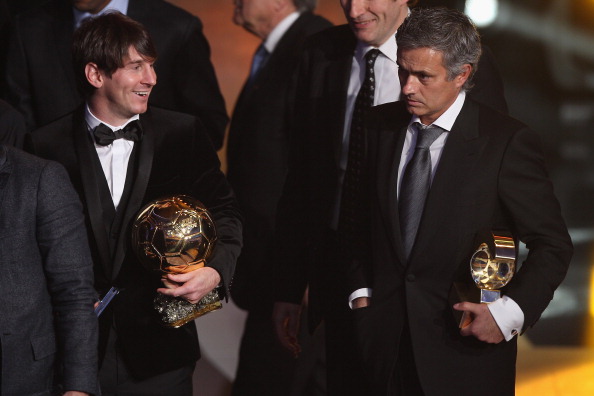 Lionel Messi has garnered praise from all corners of the planet, especially since his scintillating performance against Bayern Munich at the Camp Nou. Jose Mourinho, among his prime adversaries in his time at Real Madrid was the latest to praise the Argentine's prowess on the pitch.
Among the many things he said about Messi's influence on teams was the effect that he would have on Premier League teams.
"I think this guy makes the gap by himself," Mourinho said. "You have doubts that Man City with Messi can win the Champions League? Or Arsenal with Messi can win the Champions League? Or Chelsea with Messi can win the Champions League? Or Man United with Messi can win the Champions League? Don't you think? I think."
"One thing is a team; another thing is a team with Messi. It is a different story."
Another quote from Mourinho's description of Messi's brilliance on the pitch was quite baffling till appreciated in context.
The Portuguese manager said, "He played a Champions League final with [Pep] Guardiola, he is normally going to play in this season's Champions League final with Luis Enrique and if, one day, he plays for Anthony, Anthony will go to a Champions League final with him. When people analyse teams, you have to remember that this boy makes everything different."
'Anthony' is the Portuguese equivalent of 'Tom, Dick or Harry"
Mourinho was further questioned about Guardiola's earlier statement that no defensive system or coach could stop the little Argentine. The Chelsea boss differed on this point, yet, maintained the difficulty of the task was immense.
He said, "Every time I played against Messi, I spent hours studying and trying to stop him. Many times, we were successful. Other times, we were not successful. With Inter, we stopped him in both matches [of the semi-final].
"The best way to do it is man-to-man because that is better than involving everyone. When you go man-to-man, you go with similar power – although man-to-man with him is an impossible job. Every time I was thinking about how best collectively – I am not saying stop him – to give him a difficult match. I think this is the correct word. It is not about stopping him but giving him a difficult match. That is the best you do against him."
Asked if Messi would ever leave Barcelona, Mourinho said, "My personal opinion – no chance to leave.
"Just a personal opinion. Such a big club, such a powerful club. They can't lose that player, that player belongs to them, belongs to their people. I don't believe [he would leave]. In football, you never know, but I don't believe it."